28th September 2003
0 Uploads
#1
14 years ago
I see that Market Garden was kept in 0.65, despite being a good map back in bf1942 and even FH 0.5 it has become obselete compared next to the Arnhem 1944 FH map.This new map would instead of focusing on the German attack focus on the entire battle.
I propose we get rid of Operation Market Garden and Arnhem 1944 and make a totaly new map which includes the best of both!
We could have a similar layout to Operation Market Garden only the town of Arnhem would be expanded and would have proper streets and paths (like in Arnhem 1944) instead of dirt roads etc like Market Garden.There would be 2 methods of getting to the battle, either spawn in mid air near a church like you do on Operation Market Garden or spawn inside the c47 which takes off from a small airstip at the back of the map.I've drawn up a map under here to explain my idea better.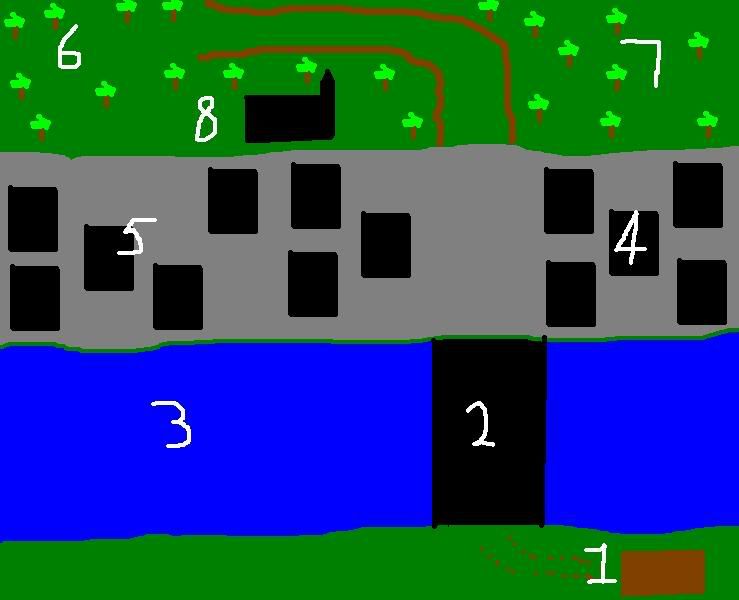 1.Axis main base, pretty much the same as on Arnhem only they have a stug and a Jagdpanzer instead of 2 stugs.
2.The bridge itself, exactly the same as Arnhems
3.The river, this is out of bounds so you can't swim across
4.One side of the bridge, once this flag is capped by the allies a 6 pounder spawns which can be aimed at the bridge.It's pretty average streets etc here.
5.The larger side of the city, there are 2 flags here and 2 6 pounder guns positioned around corners here.This area simply consists of streets etc, theres also a sas jeep which spawns once the brits cap the flag.
6.This is the tiny air strip.A C47 spawns here and it is a mobile spawn point.A jeep and a Bedford truck also spawn here.Once all other flags are capped by Germany a Cromwell, a Sherman Firefly and a Typhoon spawn here.
7.This is not a flag but a clearing in the forest.Here you will find a Glider wreck, a willy jeep and several pick up kits such as deployable machine guns, Tommy guns etc.There is also 3 mortors here so you can get an artillery spot and shoot into Arnhem itself.
8.This is a spawn in the sky into the church yard exactly like on Operation Market Garden.This spawn can't be taken away from the allies but if they do not hold the city flags they will get owned once they land by the Germans.
Spawn menu __________
Britian _____
Close Quarters - Sten mk2, pistol, knife and 2 grenades Assault - Enfield n.04 rifle, knife, pistol, 2 grenades, 1 rifle grenade Anti tank - Piat, pistol, knife Support - Bren LMG, knife Special ops - Sten mkv, knife, 3 exp packs
Germany _______
Close Quarters - MP40, pistol, knife and 2 grenades Assault - K98, pistol, knife, 2 grenades, 1 rifle grenade Officer - Mp40, pistol, knife, binoculars Tanker - Pistol/Mp40 , knife, Wrench, binoculars special ops - Mp40, knife, 3 exp packs
Britian would have there paratrooper clothes with a random chance of spawning with a paratrooper helmet or a red beret. Germany would have there ss camo clothes and have a random chance of a helmet or a cap unless officer or tanker, then they would get the officer hat.
Please discuss, mock etc :smokin:
---
#2
14 years ago
If you're planning to add in spawns for paratroopers, you might as well expand the map to the west & south to incorporate Oosterbeek and Driel, where paratroopers actually landed. Given the scale of the maps in game, I think you could accurately cover the fighting throughout the whole Arnhem sector in one map. Historically it covered like 3-4 square miles. http://www.arnhemarchive.org/PMaps.htm
---
#3
14 years ago
I like the idea...Not to REMOVE the original maps but to create a new one..One thing I don't like in urban warfare is the use of full automatic weapons, so I don't like the pickup stuff, that includes tommy guns and other automatic guns... But as I said...Overall it's a good idea:)
---
#4
14 years ago
I agree with that......never liked the old Op. market garden, and i never liked that new Arhem neither.....and for a reason : the real objective was to capture and hold the bridge !!
Not fight in the city. That city ( Arnhem) was of no special interest, but the bridges were because they were the only way to cross the Dutch rivers with tanks. Especially the Rhine ( Rijn ) has far too strong current and is too wide to built floating pontoon bridges. And even if it can be done ( wich i doubt on that specific river in that place ) there's no way to do that under fire.
Now instead of germans spawning on one side and allies on the other wich is historic incorrect, why not just have the bridge, part of the city on one side and considerable countryside on the other side and all in german hands at the start of the map.......that is how the situation was at Arnhem.
Then spawn paratroopers in C47 ( AI controlled ) and in gliders that can be player controlled. Let them decide where to set it down, but the logical way would seem on a flat piece of land some distance from the river and bridge. ( country near the bridge should be unsuitable to land like in the real battle )
From there they go on foot and try capture that bridge........not have it already, not arrive there in 2 steps or without fighting.
Now the allies didn't have heavy equipment save some jeeps and mortars, their army was far away racing against time and meanwhile being ambushed all the way by stubborn german troops for the other bridges at Nijmegen and beyond. That is 40 km away from this battle, allied tanks were nowhere to be seen.......that is why the allies lost this battle, they could not reach that bridge in time with tanks, artillery and heavy equipment.
The Germans however had a experienced full SS tank devision nearby. That is what the battle should look like.
So :
No allied tanks, fighter aircraft and artillery or heavy equipment in that map Germans hold all ground at map start with infantry units and prepared fixed defences Allies have to land far away from the bridge in open terrain with weapons that can be carried by infantry only...maybe some jeeps. Allies have to fight and march their way to the bridge When allies manage totake the bridge the germans get heavy armour ( the SS tank devision was alarmed )
Voila....the real Arhem battle
---
1st September 2004
0 Uploads
#5
14 years ago
Not those friggin exp packs again! Otherwise good ideas...
---
#6
14 years ago
Beast of WarI agree with that......never liked the old Op. market garden, and i never liked that new Arhem neither.....and for a reason : the real objective was to capture and hold the bridge !! Not fight in the city. That city ( Arnhem) was of no special interest, but the bridges were because they were the only way to cross the Dutch rivers with tanks.
I see your point, but doesn't it make more sense to hold the end of the city nearest the bridge than the bridge itself? Armor still could not pass without being attacked, and buildings are a lot more defensible than the bridge itself. IIRC, (and I know it's just a movie) in A Bridge Too Far ( I think that's it, the one with Anthony Hopkins as the Para commander), the Germans had to dig them out of the buildings. Not much fighting took place on the bridge proper.
---
16th August 2004
0 Uploads
#7
14 years ago
I believe I read a page once which described quite horrible conditions on the bridge - a lot of british troops on one side, and a lot of germans on the other, throwing grenades at each other, with quite big casualties.
i'm trying to relocate that link now
---
#8
14 years ago
My point is that any realistic Arnhem map should have the allies fight for control of the bridge first before they can defend it and hold at all cost......after being dropped off in the open fields quitte a distance away from the bridge, in enemy held territory, and without allies having tanks, aircraft and artillery.
Chances are, allies will not even get to the bridge at all........a fate that befell most of the dropped parachutists and equipment.
The DICE map never had anything to do with that battle except for the fact there was a bridge that looked like the Arnhem bridge, and Jackals interpertation is only about the last stage of that battle and is not historic accurate......
Anyone wishing to map the Arhem battle should first watch "a bridge too far" it is a very good and realistic warmovie based on real events. Maybe then we get a good Arnhem battle map.
When we have to march half a map from the gliders to get to the bridge, and meet increasing resistance from the Germans so we maybe not even set foot on the bridge that round....that is the battle of Arnhem. There should be houses involved to properly fight over that bridge, but not the city streetfighting map Jackal made out of it........it is the other side of the bridge where 90 % of all fighting ocurred !
---
28th September 2004
0 Uploads
#9
14 years ago
good idea but the most stupid idea is one bridge???
1. all allies well go to the bridge making it bascially impossiable to cross the bridge as a german
2. you need 2 bridges in order for the unit to spread out so that one area is not totally crowed making it very laggy which everyone hates.
3. the ablitly to not swim across river is good idea.
---
#10
14 years ago
Rather than have the dropped paratroopers rush over to capture the bridge, the map could simulate what happened in the follwing days: 1. A British spawn is near/at the north side of the bridge at Arnhem. 2. A British spawn is west of Arnhem quite aways at "Oosterbeek" and the drop zone spawn is just west of that. 3. The other British paratroop spawn is at a small village, "Driel," in between Oosterbeek and Arnhem but on the south side of the river. 4. The Germans spawn on the south side of the bridge, east of Arnhem, and inbetween Oosterbeek and Arnhem and maybe east of Arnhem. Basically the Germans start of in control of the south side of the bridge and in control of the Oosterbeek drop zone. They're goal is to capture the northern half of the bridge and Arnhem. However the British primary objective is to regain control of the drop zone, while the other drop is simulating the Polish drop, whose goal is to cross the river in dingies/rafts/whatever and assist the British paratroopers.
---