#1
16 years ago
Is it just me or does it seem to.. "bright" I like it and all but it just seems to stick out alot with whatever bright color scheme is being used on it compared to the map locations its in... Sorta like it doesnt have a "weathered" look to it.. Anyway can just darken the color scheme a few shades?
---
#2
16 years ago
I actually just made a thread about tank that need reskins. I don't think that the new Panthers need to be darkened. They are sexy as is. After all, they are Panthers.
---
#3
16 years ago
Sexy doesnt help you when you stick out like a sore thumb on Sector 318..
---
#4
16 years ago
Its a Panther...
Just hide in some brush pal. I play Sector 318 as a Panther commander all the time. Unless I get ambushed by a Jumbo or Jackson, I go 12-1 in kills per deaths that round.
---
#5
16 years ago
I am well aware and experienced with the use of brush.. pal... the point being any smart tanker changes his position since the enemy.. at least an enemy who has been killed by numerous times.. is almost always bound and determined to kill you and find the hiding spot your in.... which means having to move to different points on the map if you want to live longer.. which means periods of times your exposed.. such as on Sector 318 to those lovely Mustangs flying about.. the Bright Tan color of the Panther.. doesnt exactly conceal it too well against the backdrop of the Fall scene around Aachen.. compared to the other tanks on the map which have at least a darker tone to them that suits them for travel on the map.. You get an average 12:1? Hardly 1.3 KDR in November..a 0.79 KDR in December..and so far this month a 1.12 KDR..with this nickname with a negative average for Flag Points.. With your Evil Cookie nickname however your Axis average for the map is 3:1 KDR while as Allied its 1.91 KDR last month with an overall KDR of 2.05.. That's low for a tanker.. TinkyWinky could do better.. or even BigBird.. http://bftracks.com/appl/bft/Player/view/3338720/200412 http://bftracks.com/appl/bft/Player/view/16503 So don't pal me about setting up ambushes I am well aware of how to use tanks effectively.. the skin needs a darker touch-up I am well aware this will be taken as a hostile post but I don't much care for the "pal" reference let alone the bragging from someone who shouldn't brag.. This was a suggestion and that is all I was doing.. and I apologize in advanced for my tonality..
---
#6
16 years ago
"Flags Taken minus Team Kills [FT-TK] -38" :D
Anyway, I think the panther is fine. If you look at the updates you'll see there are like 4 skins for each panther version, so that's 12 skins in total. Once the A and G model are in I don't think this will be a major concern anymore. (not that it really is...)
---
#7
16 years ago
Course, I don't think the stats break down KDR as tanker vs when he's infantry (could own when in the panther, suck as infantry).
Anyway, the panther on sector 318 never seems to have a problem wracking up kills. Stick to the bushes -- a little darker paint job isn't going to save you if your ass is hanging out in the open.
---
18th November 2003
0 Uploads
#8
16 years ago
It's not that the tank needs new skins, it is true that it is too bright but that could be due to something wrong with the lighting on the model. I was a bit pissed off when I saw the new Panther D ingame, it looked nowhere near as good as it does in the renders, but it shouldnt anyway.
I recall in another thread that I quoted on how the new Panther's skin was messed up, and I compared it to the King Tiger, here was the answer and you will see the reason behind the confusion:
My statement:
NoCoolOnesLeftI also agree that the skin is a little blured and not as good as say, the King Tiger.[/QUOTE] The answer:

[QUOTE=GI_JOEjk]The Panther has only one 1024x1024 map. The King Tiger on the other hand has two 1024x1024 and at least one 512 map. The KT looks the best, but it comes at a cost. My objective was to be able to field at least four panthers in a map, and not get any lag - from them anyway. But there is always place for improvements.
So, maybe it needs a 512 map as well as it's current 1024x1024 map. I'm not a skinner or a modeler, so this is all confusing to me. If it can be done, then I think it would greatly improve the Panther series. __________________
---
#9
16 years ago
well I dunno about a re-skin, personally I think it looks fine. Only thing i could see doing is the doing a commond tank version the panther D1c, which looks like a cross between pIVH and a panther. This person kitbashed one, based off the old tiget though. http://www.gamingforums.com/showthread.php?t=154569&page=7
Quote: Originally Posted by Blackdragon Panther D1c Command tank: Panther d1c, is basicaly a panzerIVH turret ontop of a panther chassis staying true to historical accuracy, the turret traverses only a few degrees main reason behind this was for all the extra radio equipment
from that same thread, a bergepanther Bergepanther Ausf.G-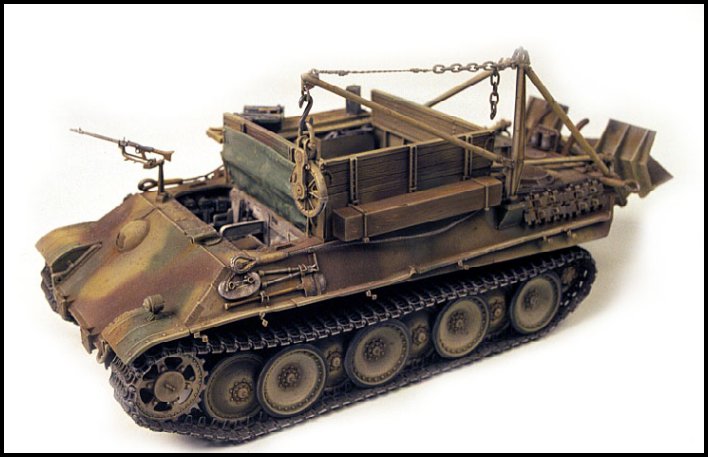 ---
#10
16 years ago
NoCoolOnesLeftIt's not that the tank needs new skins, it is true that it is too bright but that could be due to something wrong with the lighting on the model. I was a bit pissed off when I saw the new Panther D ingame, it looked nowhere near as good as it does in the renders, but it shouldnt anyway. I recall in another thread that I quoted on how the new Panther's skin was messed up, and I compared it to the King Tiger, here was the answer and you will see the reason behind the confusion: My statement: The answer: So, maybe it needs a 512 map as well as it's current 1024x1024 map. I'm not a skinner or a modeler, so this is all confusing to me. If it can be done, then I think it would greatly improve the Panther series. __________________
Its NOT the panther skin that makes it too bright. Its the vehicle/character lighting setup in the map. Also, if the skin is very light in color, then it will tend to glow. But if the skin is darkended, then people complain that they are too dark. You can put the blame on the BF42 engine, it was never designed to deal with such complex "things". :rolleyes:
---