#161
13 years ago
Quick update that I didn't know about. It seems, according to the site I listed earlier (armement reglementaire francais les fusils), that the MAS36 rifle used in FH 0.7 is the incorrect post-1945 version.
The first model MAS36 as used by troops during the Blitzkrieg was different, but the most noticeable difference is the ironsights.
First model ironsights:
Second model ironsights (post-1945):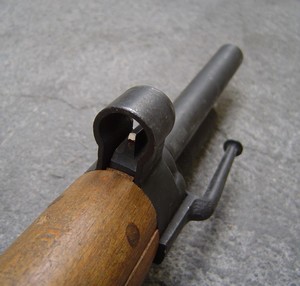 ---
#162
13 years ago
This is a major offense against the french genius!!!!
I shall never forgive the FH devs :p
---
#163
13 years ago
Tres juste pour le Mas 36 !!
I post some other pictures > (sorry for the last post, i can't now edit it and write [ spoiler ] ... but this time i don't forget) First, for the Dev :rolleyes:, more pictures from the "chenillette"
And next, about French fortification > you can see all the holes > little ones for grenade (you launch them inside this holes) and big ones for ventilation and optic signal...
---
#165
13 years ago
Good shots! Where this UE is located?
---
#166
13 years ago
thanks this Renault UE is located near Nice (South West of France, near Italy). It's station in the fort as tractor munition. In the front, we can always found some WH waffenarmt (?) (used in the German army after the French defeat) More pictures in last reply (previous page) :cya:
---