#11
16 years ago
The Germans intended to produce Flakpanzer III's with Ostwind and Wirbelwind turrets, but the end of the war put saw the end of it. This is what they would've probably looked like: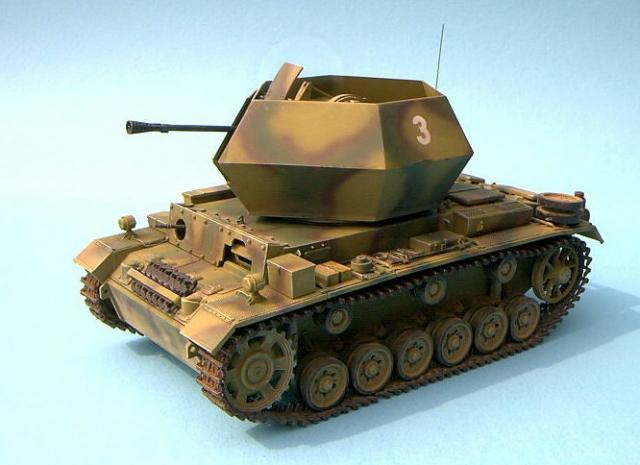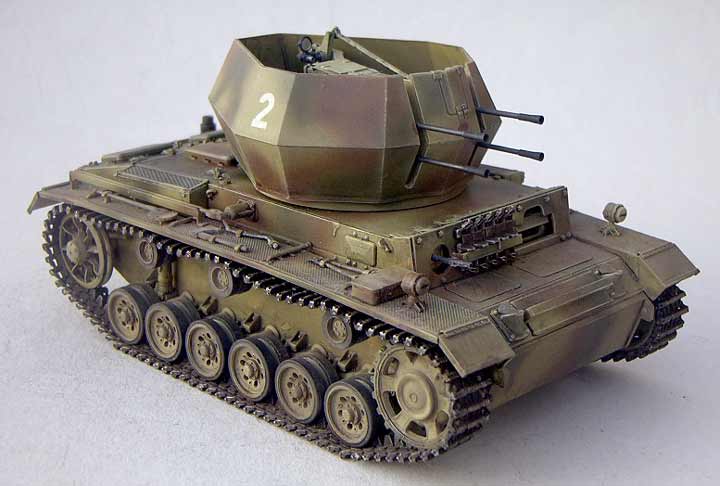 ---
#12
16 years ago
The 13th RaptorThat would make german mobile AA so much better.. the Ostwind is so sucky, i wish the devs would make the wirbelwind.. shouldnt be too hard :uhm:
The Ostwind isn't sucky, (well, except for that stupid view-blocking bar) as long as you have decent ping. I find the key is to not be right next to what you're covering (or you get killed), but to be a hundred or so metres away and have good vis. You don't want to have to be swivelling 360 degrees to find targets. If you have good separation, you can often kill them before they fire. It only takes a couple shells to put the Typhoons out of business on Breakthrough, and Mustangs on Sector 318 are no tougher (but terrain and tree combo not as Ostwind-friendly as on Breakthrough) Now, if the FlaK38 was mounted instead of the 37mm, THAT would be sucky :D
---
#13
16 years ago
It were only build 141 (according to achtungpanzer.com) Flakpanzer 38(t) Ausf.L "Gepard". That makes me wonder: Didnt the germans have a more numerous AA-tank?
Or did they primarly use the halftracks (like SdKfz 7/1) as mobile AA-guns? and how many of those were build?
---
#14
16 years ago
The Ostwind was sucky in real life.......a single small caliber cannon was not much good against fast low flying aircraft.
In FH it is in fact more effective then it was in real life, i know one person that is always very efficient with it in sector 318, on fast flying and very manouverable mustangs......if he can do it, everyone should be able to. So in FH it isn't sucky, it is probably you have to learn how to use it. ( i never had much succes with it neither )
I would prefer the vierling also....so much more firepower, these things always rip up low flying aircraft in seconds. Maybe the devs fear unbalance making this very efficient weapon mobile......it would be very efficient against the fighterbomber tank rape in many FH maps though.....
---
#15
16 years ago
The Flak 43 was definately not 'sucky', it was by no means a small caliber either, it was a 37mm gun, it was also the smallest German AA weapon able to penetrate the armour of the Il-2, i think the Il-2 should be made invulnerable to the 20mm Flak 38 and Flakvierling 38, that would shut up those vierling fanboys.
---
#16
16 years ago
A single 12.7 mm, even quad 20mms would "suck" by the end of the war. One good 37mm round can destroy an aircraft.
---
17th January 2005
0 Uploads
#17
16 years ago
The Wirbelwind rocks! It isn't only good against air also against light armored vehicles and infantry. I would really like too see that tank in the game ! What are the dev. saying to the idea ?!
---
5th December 2004
0 Uploads
#18
16 years ago
all the aa is way to powerful IMO, try making a pass over a radar in BoB without being destroyed.(or any AA that isnt blocked) unless distracted by another plane or the guys lagged or a noob..... your almost always, dead meat. this is completely unrealistic... AA was not a "sure kill" IRL infact the ratio "to hit" IRL was far less then FH's AA represents. especially earlier in the war before radar guided AA many a plane would come back with damage but did not go down.
---
#19
16 years ago
It's the fault of the BF42 engine and pilot behaviour. IRL, if you flew at half-speed a hundred feet off the deck by yourself, you WOULD be dead. Just be happy that AA needs a direct hit to kill you, otherwise it would be far worse :D
---
#20
16 years ago
The 13th Raptorthe Ostwind is so sucky
No its not, its probobly the best mobile AA, one direct hit will waste a fighter. Play Breakthrough and you will see some whore hiding in the trees swatting planes down with 1 hit and they won't just do it once they will do it over and over again :devil:
---