#1
16 years ago
As we all know, the Sherman was one of the most numerous tanks in WWII. It was not the strongest, fastest or the best armoured but it was considered the 'tank that won the war' because of it's amazing power in numbers. In Forgotten Hope currently, we have a basic Sherman which I know is the 75mm. I cant put my finger on the specific model (I'm guessing it's the M4A1 varient) because I'm sure DiCE messed it up and created some sort of 'hybrid' like they did with their T-34.
Now, currently FH has a very good and accurate 105mm, Firefly and Jumbo, which all look great, but I believe they need some small coding tweaks as stated in the suggestion forum. However it seems as though the rest of the Sherman series has been overlooked a little. So, my question is are the dev team planning any specific additions into FH after 0.65? I know we got the Jumbo and the Firefly for 0.65 but will the old DiCE ones be changed eventually, and if so, when? I ask this because we were given the two models and all went very quiet on this topic. I just made this thread to clear a few things and sort any questions anyone may want to ask. I'm an avid fan of the Sherman series and the cast hull version is by far my most favourite tank of WWII, I'd love to see it in FH some day with correct coding (I feel as though the Sherman now is a bit overpowered, and it's armour is not correct, esspecially the front) so here is a few reliable pictures and data I dug out from good old google:
M4A3 Production: 12,596
Total M4 Production: Approx. 49,234
Armour (mm): Front Side Rear Top/Bottom Turret: 75 50 50 25 Hull Upper: 50 38 38 25 Hull Lower: 38 38 38 12
Standard Armament: One 75mm - 105mm, One .50 cal AA, One .30 cal coaxial, One .30 cal hull Traverse: 360° (36°/sec) powered Elevation: +25° to -10° Ammunition: 97, 300, 4750
Horsepower: 400 at 2,600 rpm Crew: 5 Weight (tons): 32.3 Gearbox: Synchromesh, 5 forward 1 reverse Length (meters): 7.52 Speed (km/hr): 47 Width (meters): 2.68 Range (km): 130 Height (meters): 3.25 Radio: SCR528, Push-button (FM)- voice-operated
Powerplants for the American tank production effort was always a major problem. A search for alternatives in powerplants being produced in automotive plants led to the development of the 8 cylinder Ford engine. This engine was originally designed for aircraft, was fueled by gasoline, and developed 500 gross horsepower. After testing this engine, it was designated the Ford GAA, and in January of 1942, the Ordnance Committee authorized it's use in Sherman tank production. The "new" Sherman was designated the M4A3. This tank was to serve the U.S. Army for well over a decade. First tanks were completed in May 1942 and sent for testing at the General Motors Proving Grounds. Minor changes were accepted for production and the early versions still retained the direct vision blocks. A distinguishing feature is that all early production vehicles through the late war production changes used the heavy duty VVSS (Vertical Volute Spring Suspension) bogies. The differential and final drive housing was a one piece casting. The front plate assembly was rolled steel plates and castings but the number of pieces was reduced from that used as on the M4A2 model. Ammunition storage was of the "Dry" type and later modifications were undertaken to remedy this by the addition of 1" armor plate welded to the sides of the hull at the proper location for added protection. The Ford GAA engine proved to be popular and became the "workhorse" of the U.S Army.
The production numbers for the first model of the M4A3 armed with the 75mm was 1,690 , and production was completed in September of 1943. Ford left the tank production program at this time and the continued production of the M4A3 was passed onto other manufacturers such as the Detroit Tank Arsenal and the Fisher Tank Arsenal. By the middle of 1943 modifications for changes related to all models of the Sherman tank were extensive. These resulted from both combat experiences and test programs. A decision was made to "win the war" with the Sherman and to improve it's combat efficiency markedly. Major changes would include main gun - 76mm, a 105mm howitzer, "Wet" ammunition stowage and much larger hatches for the driver and assistant driver in the hull. Production efficiency had to be accomplished as well so concern arose over standardization between models and this was eventually accomplished.
The first noticeable difference is the changeover to "Wet" ammunition stowage for both 75mm and 76mm armed variants. Ammunition stowage being moved from the sponsons ("Dry" models) to racks below the turret which are further protected by water (actually solutions of water and ethylene glycol). "Ready" rounds were also protected this way. The only variant that did not use this method was the 105mm howitzer armed variants but they used armored racks. Floor ammunition racks required that the turret basket be eliminated with a partial floor suspended from the turret ring. The most noticeable external feature is the 47 degree front hull with a newly designed and much larger driver /assistant driver hatches.
Features: Distinguishing turret features included an all around vision cupola for the commander, except on early production which retained the earlier circular split ring hatch and an oval shaped loader's hatch. Those vehicles produced with the circular split ring commanders hatch had it replaced by the all round vision cupola in the field as supplies became available. The M4A1 was first to enter production closely followed by the M4 105 howitzer version. The M4A3 was started in production with 75mm, 76mm and 105mm howitzer armament. The Fisher Tank Arsenal manufactured "wet" stowage 76mm and 75mm armed models while at the Detroit Tank Arsenal production began with the 76mm "wet" stowage and the 105mm howitzer models. Production figures for "wet" stowage 75mm armed models totals 3,071 tanks and ended in March 1945.
First prototype (T6) appeared in September 1941. Production started at 1,000 per month and increased to 2,000 and were built at 11 plants. Production was able to quickly switch over from the M3 to the M4 as they both shared bottom hulls, engines, suspension, and tracks. Gun had velocity of 2,030 ft/sec, and penetrate 3.1 inches at 1,000 yards. Gyrostabilizer was installed. Turret rotated on ball bearing race that was recessed and thus protected from enemy fire. Two hatches in the bow and 1 in turret, plus escape hatch in floor. Auxiliary generator provided extra power and could be used in preheating engine. The tanks had azimuth and elevation controls installed so that the main gun could be used an artillery weapon. Also FM communication radio systems were installed and could be tied into any local field artillery fire control. It could often run 2,500 miles before major maintenance on the tracks and bogies. In 1944 the Horizontal Volute Spring Suspension (HVSS) was phased into production. It enhanced mobility.
M4A3 Sherman with 76mm main gun: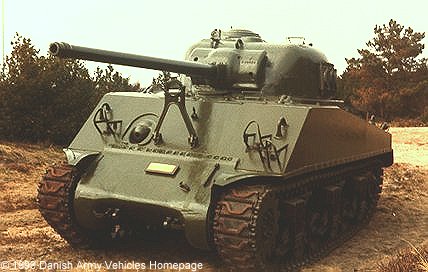 M4A3 Sherman with 75mm main gun:
Cast hull Sherman with 75mm main gun:
Cast hull Sherman with 76mm main gun, notice it's gun mantlet and turret is shaped differently:
Not totally sure on this one, possibly an M4A3E8 'Easy Eight' Sherman:
The back of a British Sherman 17- Pounder Firefly, notice the box on the back. The British firefly's also came in cast hull versions and some had guards around it's tracks:
Early war M4A1 cast hull sherman, I believe this was used in the Pacific. Notice how it has a very vulnerable lower back armour spot:
Shermans were known by the crews the crews to 'brew up' when hit, this is especially true of the early war versions. I know they do this in FH now but it's only very rare (if you manage to knock out the tank at about 1 - 5 health). I was hoping that this could be implemented especially to the M4A1 in a future release?
Also, to compensate for the Sherman's weak armour sand bags were added to slow down or minimise the damage of hand held AT weapons, I'd like to see this added if you can get around to it.
A very long wided post, I'm sure I'll break the forum bandwidth and a few fingers too from all the typing, sorry for it being so long but there is a lot of info. it's a major project but I'm sure if anyone can do it as accurately and well done as can be it will be the FH team.
Please, if I've made any errors or missed out any varients or data feel free to correct me, I'm not the most knowledgable when it comes to tank stuff, and I do get things mixed up more than likely.
---
5th October 2003
0 Uploads
#2
16 years ago
I think the devs wil get on that soon, or at least some of it. Give them time
But I think the focus is now on the Early war stuff.
---
#3
16 years ago
NoCoolOnesLeftAs we all know, the Sherman was one of the most numerous tanks in WWII. It was not the strongest, fastest or the best armoured but it was considered the 'tank that won the war' because of it's amazing power in numbers.
Hmmm..."amazing power in numbers"..."tank that won the war"...try the T34. The whole western front as well as North Africa/Italy were mere sideshows. The war was decided on the Ostfront. LaDigue
---
#4
16 years ago
imho the T34 is more important :P
---
#5
16 years ago
LadigueHmmm..."amazing power in numbers"..."tank that won the war"...try the T34. The whole western front as well as North Africa/Italy were mere sideshows. The war was decided on the Ostfront. LaDigue[/QUOTE]

Well think what you like, but they made 50,000 of them and without them I dont think the Allied advance would of been much good in Italy, Africa and after D-Day. It's true the T34 was a good tank and they had huge production numbers, but you got to remember a good few thousand out of that 50,000 also went to the Eastern Front. The Russians thought they were decent tanks but didnt like the fact that they 'brewed up' so easily, but they also thought it was a major improvement over the M3 Stuart and Grant that they also received in great numbers. Dont focus on what I worded anyway, but it still was stated by many as the 'tank that won the war'.

[QUOTE=BAM]imho the T34 is more important :P
That's great, honest, but I'm not talking about the T-34. I'm not even talking about the prioritory list either.
Guys, stay on topic ok?
---
#6
16 years ago
also the aa machine gun was placed so that the gunner had to stand exposed on the back on shermans and stuarts (perhaps not all versions)
---
#7
16 years ago
That's true D-Fens, I totally forgot about that one. I think it only happened with the early war M4A1 Shermans, but it definately did on the M3 Stuart.
The only problem with adding that ingame would be the gunner position, imagine turning the turret 90 degrees to the right or left, the AA gunner would be floating in mid air. You could limit the turret turning ability when someone is using it but I think it would interupt gameplay and cause all sorts of arguements.
---
9th October 2003
0 Uploads
#8
16 years ago
The whole western front as well as North Africa/Italy were mere sideshows.
Tell that to the veterans of both sides. But on topic I like your ideas, I would like to also see the panzer4 series redone.
---
#9
16 years ago
Actually the FH Firefly is wrong, it still got the Hull MG, which was deleted on all Fireflies to make room for more ammunition, i'd like to see the M4A2 and M4A4 (Sherman III and V).
---
#10
16 years ago
It was not the strongest, fastest or the best armoured but it was considered the 'tank that won the war' because of it's amazing power in numbers.
...no, it was considered the tank that won the war because it's american. and everyone knows they won the war and saved the world.
I'm currently skinning Omni's brand spanking awsome new sherman models that put dice's blocks of crap to shame. You can expect most sherman versions in the future.
we also have a new p4 model awaiting skinning, and (i think) a new t34 model, also awaiting skinning.
---