#1
8 years ago
Thema aktuelle News
Es wird mal wieder Zeit für ein News-Update - wir wissen das viele von euch gespannt auf die Version 1.8 warten. Wir arbeiten mit Hochdruck daran, und um euch das Warten etwas zu versüßen zeigent wir euch heute weitere interessante Neuigkeiten, die auf euch in der letzten, finalen, und - versprochen - wirklich epischen Version von Battlegroup42 zukommen werden. Dieses Mal werden wir dabei den Fokus auf neue Modelle legen.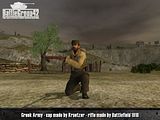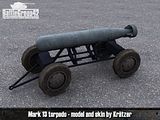 Bevor wir zu den Modellen kommen aber noch eine andere Ankündigung: Bereits in der vergangenen Version haben wir mit den Maps "Kalamas Line" und "Thermopylae" einen neuen Kriegsschauplatz betreten und eine Lücke in unserer Weltkriegschhronologie geschlossen. Gemeint sind die Kämpfe um den den Balkan, genauer Griechenland. Nun sind wir in der Lage, dies auch mit einer neuen Armee zu füllen: Die Griechen übernehmen die Verteidigung ihres Heimatlandes nun selbst, einschließlich griechischer Bot-Namen und selbstverständlich mit griechischen Radio Commands. Ihre Ausrüstung ließ sich problemlos aus dem vorhandenen Fundus von BG42 zusammenstellen, und BF1918 steuerte noch ein passendes Mannlicher-Schönauer M 1903/14 Gewehr bei. Natürlich dürft ihr auch noch neue Schlachtfelder erwarten, aber dazu in einer anderen News mehr.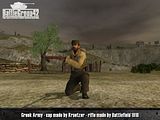 Battlegroup42 hat vor mittlerweile gut acht Jahren als Panzer-Mod für BF1942 begonnen, deswegen ist es für uns ein besonderes Vergnügen, euch ein neues Panzermodell vorzustellen, das eine der wenigen verbliebenen großen Lücken in unserer umfangreichen Modellpalette schließt: Den Valentine. Dieser Kampfpanzer war mit über 8000 Exemplaren der meistgebaute britische Tank des zweiten Weltkrieges und wurde in einer Vielzahl von Varianten von 1940 bis 1945 auf beinahe allen Kriegsschauplätzen eingesetzt. Obwohl er langsam war, schätzten die Besatzungen seine Zuverlässigkeit, die niedrige Silhuette und den guten Panzerschutz. Er bewährte sich auch an der Ostfront: Fast die Hälfte der Produktion erhielt die Rote Armee im Rahmen des Lend-Lease-Abkommens und setzte die Panzer unter anderem bei den Schlachten um Moskau und Kursk ein.
In Battlegroup42 wird es den Valentine in zwei Varianten geben: Als Infantry Tank, MK.III, mit 2-Pfünder-Kanone (40mm) und Koaxial-MG sowie als Infantry Tank, MK.IX, mit 6-Pfünder-Kanone (57mm) und 0.30er Browning-MG auf dem Turmdach. Verschiedene Skinvarianten erlauben den Einsatz des Valentine im russischen Winter 41/42 ebenso wie in der afrikanischen Wüste, dem italienischen Bergland und der ukrainischen Ebene. Skins und das Modell stammen aus der Werkstatt unseres Modellers RuppDee.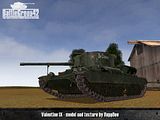 Das nächste Modell das wir hier präsentieren wollen erweitert unsere Palette der amerikanischen Sherman-Panzer um eine wichtige Variante: Der M4A2 Sherman war als einzige Sherman-Baureihe mit einem Dieselmotor ausgestattet. Während das US-Heer vor allem die Typen M4, M4A1 und M4A3 beschaffte, entschied sich das US-Marine Corps für diesen Typ, da man davon ausging, das die geringere Brandneigung des Diesels für eine größere Überlebensfähigkeit von Panzer und Besatzung bei den Landungsunternehmen sorgen würde. Im Rahmen des Lend-Lease-Abkommens wurden viele M4A2 auch an die Rote Armee geliefert.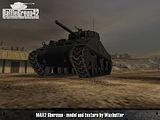 Modell und Skin unseres M4A2 stammen von Waxbutter. Dargestellt ist ein Panzer der frühen Produktionsphase (für Kenner ersichtlich an der 60 Grad Bugplatte und dem Turm mit nur einer Ausstiegsluke), der mit einer 75mm Kanone bewaffnet ist. Waxbutter hat das Modell mit zahlreichen Ausrüstungsgegenständen und Zusatzpanzerung versehen, wie sie für M4A2 auf dem pazifischen Kriegsschauplatz typisch waren. Dort wird der Panzer auch ausschließlich zu finden sein. Die nächsten beiden Modelle helfen uns, ein weitere Überbleibsel aus dem Originalspiel über Bord werfen zu können: Nachdem die Deutschen bereits in der aktuellen Version einen eigens modellierten Lufttorpedo haben, bekommen nun zwei weitere Nationen ein eigenes Modell. Da wäre als erstes der amerikanische Bliss-Leavitt Mark 13 Torpedo mit seiner typischen gedrungenen Form zu nennen. Er war der meistgenutzte Torpedo der US Navy und erwies sich gegenüber anderen Typen als sehr zuverlässig und unempfindlich für magnetische Beeinflussungen. Der Mark 13 ersetzt den Torpedo aus dem Originalspiel bei allen allierten Schiffen und Kampfflugzeugen. Auch die Japaner bekommen mit dem Typ-93-Torpedo eine eigens modellierte Waffe, die den Torpedo aus dem Originalspiel ersetzt. Der Typ 93 wurde von den Allierten auch "Long Lance" genannt und war der Torpedo sowohl mit der größten Reichweite als auch mit dem größten Sprengkopf, der im Zweiten Weltkrieg zum Einsatz kam. Zahlreiche Alliierte Kriegsschiffe fielen dieser exzellenten Waffe zum Opfer. Beide Modelle wurden samt Skin von Krätzer geschaffen.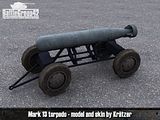 Zum Schluss noch eine wichtige Information für unser Online-Spieler. Unsere Gameserver sind künftig unter einer neuen Adresse zu erreichen: Der Battlegroup42 Conquest Server unter 85.214.45.225:14568 Der Battlegroup42 COOP Server unter 85.214.45.225:14569 Der alte Server wird in den kommenden Tagen abgeschaltet. Damit kommen wir zum Ende dieser News, nicht ohne weitere Neuigkeiten in der nahen Zukunft anzukündigen. Die Frage die euch wahrscheinlich am meisten beschäftigt ist: Wann wird BG42 1.8 veröffentlicht? Ein Datum können wir euch da nicht nennen, aber es wird noch in diesem Jahr sein! Bleibt am Ball und schaut regelmäßig auf: www.hgklan.plusboard.de & www.battlegroup42.de vorbei!
(Quelle: battlegroup42) <<------ The english friends please check out there. There you will be find the ENG Translate!
---
#2
8 years ago
Why are you posting here? This is a dead forum - there is no one here.
---
#3
8 years ago
Thema aktuelle News
It's time for yet another new update - we know that many of you are anxiously waiting for version 1.8. We're working hard on that, and to make waiting a little bit easier for you we're presenting you some interesting new content today which will be in the last, final and epic version of Battlegroup42. This time we're focusing on new models, but another anouncement first.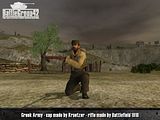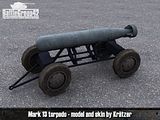 In the last version we stepped onto a new theater of war, closing a gap in the WWII chronology. The battles in the Balkans, or the be more precise Greece. Now we're able to fill it with a new army: The Greeks themselves now defend their homeland, including Greek bot names and Greek radio commands. Their equipment could easily be taken from the existing pool of weapons and vehicles of BG42, and thanks to Bf 1918 we could even add a Mannlicher-Schoenauer M 1903/14 rifle. There'll be even more new battlefields, but that's something for another news.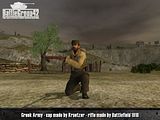 Battlegroup42 started as a tank mod for Bf1942 about eight years ago, and therefore it's a pleasure for us to present you a new tank model which closes one the last remaining great gaps in our immense model pool: The Valentine. This tank, with a production number of more than 8000 units was the mostly build British tank of World War II and was used from 1940 to 1945 on almost every battlefield in a variety of versions. Although it was quite slow, the crews appreciated it's reliability, the low silhouette and the good armor protection. It also proved itself on the Eastern Front: Almost half of the production went to the Red Army as part of the Lend-and-Lease act. The Red Army used this tank at the battle for Moscow and Kursk for example.
In BG42 there'll be two versions of the Valentine: As infantry tank MKIII, armed with a 2pdr (40mm) gun and a coaxial machine gun as well as infantry tank MKIX, armed with a 6pdr (57mm) and a 30cal Browning machine gun on the turret. Various textures allow its usage in the Russian winter of 41/42, as well as the African desert, the Italian highlands and the Ukrainian lowlands. Skins and model come from RuppDee's workshop.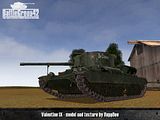 The next model we're presenting expands our pool of American Sherman tanks with an important variant: The M4A2 Sherman was the only version with a diesel engine. While the Army mostly used the M4, M4A1 and M4A3 the US Marine Corps chose that type because it was believed that the diesel engine was less likely to catch fire, improving survivability of the tank and crew during landing operations. As part of the Lend-Lease Act large numbers of the M4A2 were delivered to the Red Army too.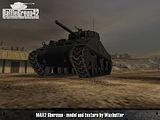 Model and texture of the M4A2 were done by Waxbutter. It represents a tank of the early production phase (experts recognize it from the 60 degree bow plate and the turret with only one hatch) which was armed with a 75mm gun. Waxbutter added a lot of details like equipment and additional armor plates, like they were quite typical for the pacific theater. And that's were this tank can be found. The next two models helped us to throw some remains of the original game overboard: After the Germans had got a completely new modeled and textured aerial torpedo in the last build, two other nations now got their own models. The first one is the American Bliss-Leavitt Mark 13 torpedo with its typical compact form. It was the most used torpedo of the US Navy and proved to be much more reliable and insensitive to magnetic influence than other types. The Mark 13 replaces the torpedo from the original game on all allied ships and planes. The Japanese too got a new torpedo, the Type-93 which also replaces the original torpedo. The Type 93 was also called "Long Lance" by the Allies and had the biggest range and warhead used in World War II. A lot of allied ships fell prey to that excellent weapon. Both models were created and textured by Kraetzer.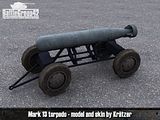 There is also an important news for our online gamers. The game server address has been changed to 85.214.45.225:14568 for Battlegroup42 Conquest 85.214.45.225:14569 for Battlegroup42 Coop The old server will shut down in a few days. With this we're closing the news for today, but not without some announcements for the close future. The question which most of you will ask: When will BG42 1.8 be released ? We can't tell you a date yet, but it'll be definetly this year ! So stay tuned and visit us regularly on www.battlegroup42.de
BUDDY: if nobody talk about its dead.Some people read that news and i hope they think: wow good news there is a active community, i wanna be there.;) (Quelle: battlegroup42)
---
#4
8 years ago
buschhans;5583125BUDDY: if nobody talk about its dead.Some people read that news and i hope they think: wow good news there is a active community, i wanna be there.;)
The fact remains that there is no one left on this forum to read this.
---