#1
13 years ago
Do you release the bomb as high as possible usually? Do you dive down as close to vertical to the target? Do you dive at sort of a 45 degree angle? Do you glide down or go full throttle with the "W" key when you dive? Is level bombing any good?
---
#2
13 years ago
level bombing is less accurate. dive bombing is a matter of personal preferance and the desired target. for attacking AA positions, the vertical dive is optimal, but for moving targets, some prefer a sloping dive. i like to go in full throtle so i can get out of Dodge ASAP.
---
#3
13 years ago
I'll draw a pic: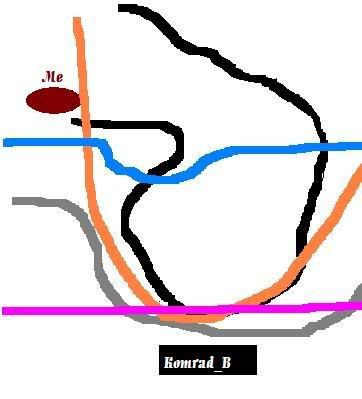 Orange one=is a lazy one I sometimes do, when I donnt fell like climbing.
Black one is my favorirte, lot less chance of killing yourself.
Purple=NEVER DO UNLESS YOU HavE TO.
Pref Angle:65 Speed:Full Bombs:Yes
---
#4
13 years ago
The black one you go upside down, is this normal... Oh, and can you destroy tanks with 20mm?
---
#5
13 years ago
No, Im saying arc back a little so when you come in you won't hit your bombs.
---
#6
13 years ago
what I do is when I take off I fly as High as I can, away from flak and enemy fighters, I use the minimap to tell my position and when Im close to the base I carpet bomb them. I NEVER divebomb, leave that to the fighters
Of course with this method you should start way back from the base as to account for inertia and movement of the freefalling bombs.
---
#7
13 years ago
Fly high, go just past your objective and a bit to the right or left, do a half roll to the side of your flight path that your objective is on until you're on your back, yank back on the stick so you're nearly vertical and on approach to target, release low, speed off on the deck, congratulate on a task well done.
---
#8
13 years ago
Often I release too low, transfixed at the explosion im about to cause, causing me to die myself as well.
---
#9
13 years ago
Depends on the bomb. 500kg, you've got a bit of leeway when releaseing. A 1000kg...You better release that one from a safe distance..
---
#10
13 years ago
Well this is helpful, I pretty much gave up on bombing, cause I'd normally end up bombing myself...
---