26th December 2003
0 Uploads
#1
12 years ago
Is this possible Using the same system in FH42 can it be applied to Fh2 where you deploy the MG, these MG where very important & provided the Heavy Support Role. What I wanta know can a certain feature be added, Can you deploy the gun & adjust the height by pressing the up & down keys, So basically you can deploy uoir MG behind a small him & adjust it to u can fire over it ??? Possible or Not.
---
Moose12
I am also [130.Pz]Gef.Elche Pz
50 XP
6th December 2005
0 Uploads
#2
12 years ago
Maybe I'm wrong, but isn't this basically the same question asked in the FH2 LMG thread? Except for the up=down arrow key part
---
18th August 2006
0 Uploads
#3
12 years ago
Also make it pretty much impossible to fire an mg42 when not deployed.
Unless you put it on someones shoulder!! (They did it in reality, funny but useful)
---
25th September 2004
0 Uploads
#4
12 years ago
Nope, Reinholt is talking about this: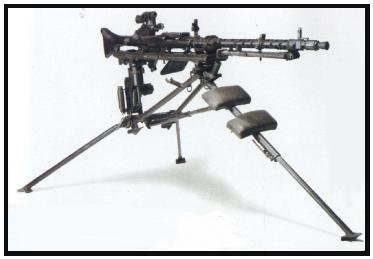 The Lafette tripod was what was used to make the MG34 and MG42 heavy mgs. It could be raised and lowered for height, and was equipped with a 1.5 zoom teloscopic sight. Had a field of fire of 30 degrees, and was designed to be used for sustained supporting and defensive fire. It weighed around 70 lbs, and took 2-3 people to carry deployed, but when in transit, it could be folded up, and carried on ones back.
---