#1
14 years ago
Ok, I'm back after 2 essays (1 more to go... :( )! My team has been busy in the mean time so here's a few shots of our work: Night pilot skins for Bombing the Reich:
I have the SS camo skins working on Arnhem:
For his first skin Gauntlet has recolored the camo of the Matilda II desert skin (just for you Lightning! :D ):
And finally, Rikupsoni has done a new winter camo for the IL2:
...and re-colored the the Go229:
...and spruced up the DICE ammo box: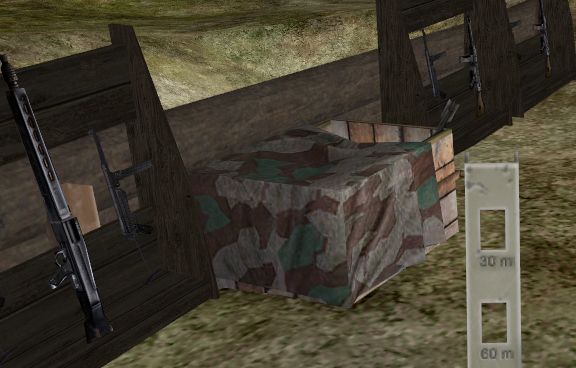 That's all for now picture-wise! Other news: within our team we have been discussing how to join forces with Bratwurst and his sound pack (if he wants to :D ). We also have a whole list of new skins to do so keep your eyes open for more updates! Cheers! :)
---
#2
14 years ago
They look realy nice! I like the Matilda II new desert skin.
---
#3
14 years ago
LOL, Lighting will be pleased to see the Matilda :D
But a good job Chees
---
12th September 2005
0 Uploads
#4
14 years ago
Super. I like the new skin of the ammo-box.:)
---
#5
14 years ago
Ah, the Matilda looks much better now. Thanks Mr. Cheese & co. :D
---
#6
14 years ago
Great job! Still working on that Italian skin for the Stuka?
---
2nd January 2004
0 Uploads
#7
14 years ago
I love that IL2 camo-skin!
---
22nd September 2003
0 Uploads
#8
14 years ago
Good stuff Cheese and team.
Btw. I thought I was seeing things but apparently there is a snow animation on the forums.
---
#9
14 years ago
Ah, the DICE ammo boxes, the last bastion of ugly things we call DICE, other than the radar station and the classic bunker. I'm a big advocate of the ammo box makeover and had often wondered why such a thing, seen on every single map in the game didn't get some kind of attention. I can't say enough.
Great job guys, keep it up! :D
---
#10
14 years ago
Ya you guys should add camo netting on the bunkers.
---