#1
13 years ago
Some people have asked questions and are curious about Shermans so I will attempt to give a little introductory course on Shermans.
These are 3 main hull types.
CAST HULL:
Early M4A1 Sherman. 37 deg to 55 deg front hull. Built by Detriot tank arsenal, Lima Locomotive works, Pacific Car and Foundry, and Pressed Steel Car Company Note vision flaps instead of periscopes and no side armor patches.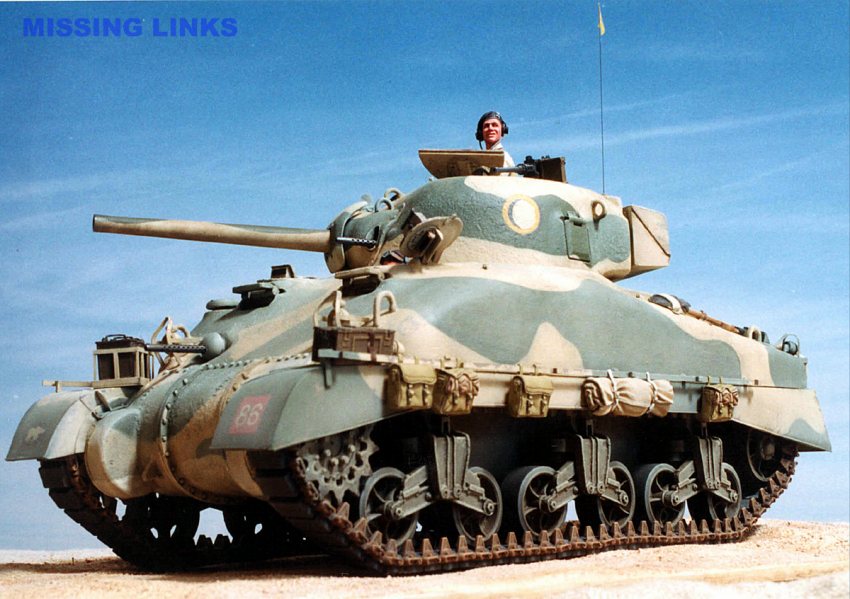 M4A1 Sherman. 37 deg to 55 deg front hull. Built by Lima locomotive works, Pacific Car and Foundry, and Pressed steel car company.
WELDED HULL:
M4A2 early model, 56deg front hull. Built by Federal Machine and welding, Fishers Tank division, General motors, Baldwin Locomotive Works, ALCO, and Pullman Standard. Notice lack of armor side patches, drivers and co drivers positions sticking out into front hull.
M4A2 late model, 47deg front hull. Notice the lack of armor side patch panels and smooth one piece front hull.
M4A3, 47deg front hull. Built by Ford Motor company.
M4A4, 56 deg front hull. Built a Detroit tank arsenal
COMPOSITE HULL:
Composite hull Sherman used cast hull front and welded hull rear. Some small foundries suggested that they could cast a ready made front hull piece to save man hours by not having to fabricate and weld together welded hull front. About 1,140 produced.
HULL HATCHES:
This is the early style small hatch often seen on M4, M4A1 early, M4A2 early, and M4A3 early.
This is the later style large hatch usually seen on later models. To simplify production the US switched the Sherman from 56deg front hull to 47deg front hull. This gave a one piece uninterrupted hull front. This allowed for larger hatches.
The early Shermans used the Vertical Volute suspension system, also known as VVSS. This was adopted from the M3 Grants suspension which was itself based on the M3 Stuarts suspension. It did not give a very good ride and only supported a 420mm wide track. This gave the Sherman a fairly high ground pressure which resulted in not so good cross country performance.
The Horizontal Volute suspension system worked much better, gave a much smoother ride, and supported a 580mm wide track which combined with the more responsive HVSS suspension made the Sherman into a very good cross country performer.
This is a M4A3 with VVSS suspension system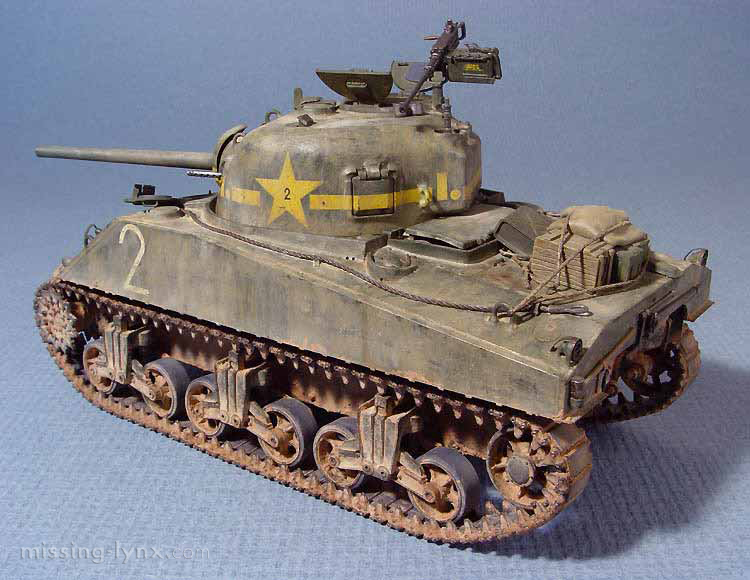 This is a M4A3 with HVSS suspension system.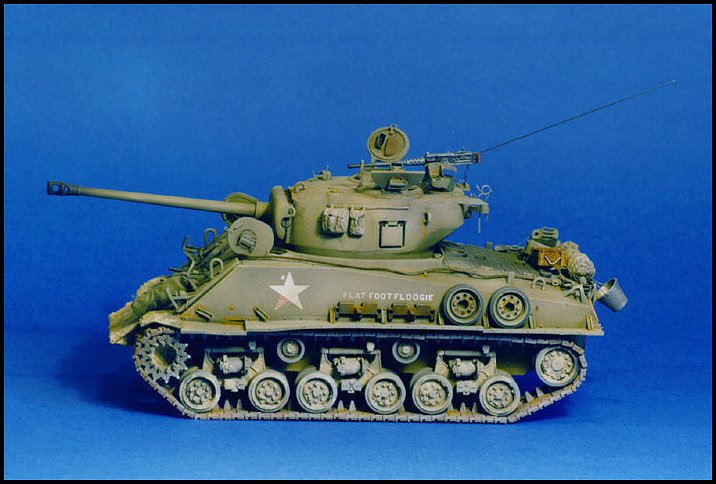 Shermans had basically three types of turrets in WW2.
Early 75mm gunned turret without loaders hatch. Also called a low bustle turret.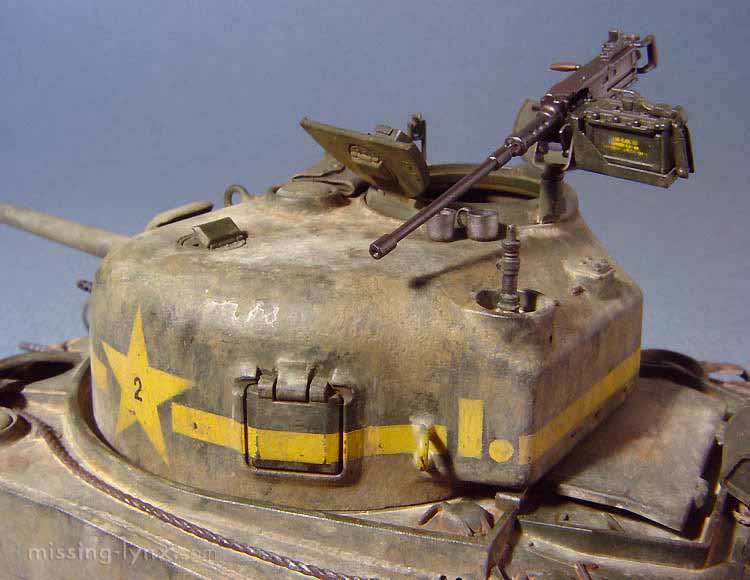 Later 75mm gun turret with loaders hatch and commanders cupola. Introduced in 1943 and also referred to as a high bustle turret.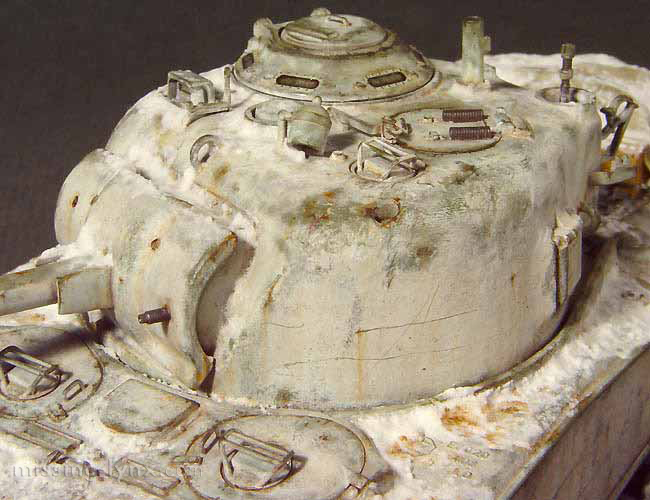 This Sherman has the T23 turret with integrated duckbill counterweight on rear of the turret to counterbalance the 76mm gun. This turret was designed for the T23 medium tank project but the project ws cancelled, The turret however was adopted for the 76mm gunned Sherman and was designed to accept either the 75mm or 76mm guns since they used the same mounts.
Shermans also used two types of ammo stowage. Dry type and wet type. Dry type hulls had one ammo box on drivers side in left side sponson and 2 ammo boxes in right side sponson. The sponson is the part of the hull that overhangs the tracks.
The sponson mounted ammo boxes were just waiting for a incoming round to hit and led to many Shermans destroyed and knocked out not to mention the cost in human lives.
In a desperate quick fix armorers welded armor patch panels over the ammo boxes to help protect them. This only gave German gunners a aiming point and the destruction continued.
Finally the wet hull Shermans arrived and incorporated many fixes.
---
21st January 2005
0 Uploads
#2
13 years ago
...Tank you. That was fascinating.
Damn, did the pun take away from the dry sarcasm?
---
#4
13 years ago
Lots of stuff I didn't know, thanks Anlushac.
---
#5
13 years ago
The wet hull Shermans had larger hull hatches and the ammo was removed from the line of fire in the sponsons and stored in armored water jacketed storage containers mounted in the floor where they were less likely to be hit. Water and anti freeze was used to prevent freezing. Less rounds were stored but protection was much improved.
This shows the dry storage ammo setup.
This shows the wet stowage setup. The two upright bars at the top of the picture is the back of the drivers seat.
There were two custom build Shermans
M4A3E2 "Jumbo":
When reports reached the US War department about Panthers and Tigers the T26E3 Pershing was advanced as the tank to defeat them. The tank ordanance department fought and won to keep the Pershing out of combat, and tried to keep the 76mm gun out of the Sherman.
Since the Pershing was shelved the people in favor of a bertter tank psuhed through a uparmored Sherman program very quitely.
The front hull armor was increased from 64mm to 100mm, side armor increased from 38mm to 76mm, and a special extra thick one piece cast transmission cover was used which increased thickness from 108mm to 140mm.
The turret from the T23 medium tank program was selected and the gun manlet was upgraded from 89mm to 178mm and the turret sides and rear were increased from 64mm to 150mm.
This brought the Shermans weight from 35 tons to 42 tons. To counter this the Sherman Jumbo was fitted with duckbill grousers that were bolted to the track ends by the track pins. They basically added to the tracks surface area and helped disperse the weight better. They are very similar in concept to the German Ostketten.
This is a 75mm Sherman Jumbo. All Sherman Jumbo's had the travel lock on the front. Due to the weight of the gun manlets armor the gun needed supported when not in use.
This is a M4A3E2 Jumbo with the 76mm gun.
In this view you can see the track grousers used to distribute the weight.
Sherman Firefly:
Firefly was the Brits need to mount the 17lbr anti tank gun in a Sherman to counter the Panther and Tigers.
The Brits preferred 76mm wet hull Shermans as they required less man hours to finish. The co driver/radio operator was removed and his radios were moved to a box on the back of the turret. A counterweight to offset the 17lbrs barrel length was added to the back of the turret. The radio box was added to the back of the counterweight. A square loaders hatch was also added to the turret roof.
In the co driver/RO's place a ammo box was welded in. Later models had a bolted in removable ammo box cause it was found that the ammo box needed removed for maintenance.
This is a composite hull Firefly IC. This is a dry hull conversion hence the double thick armor panels on the side hull.
This is a welded hull Firefly VC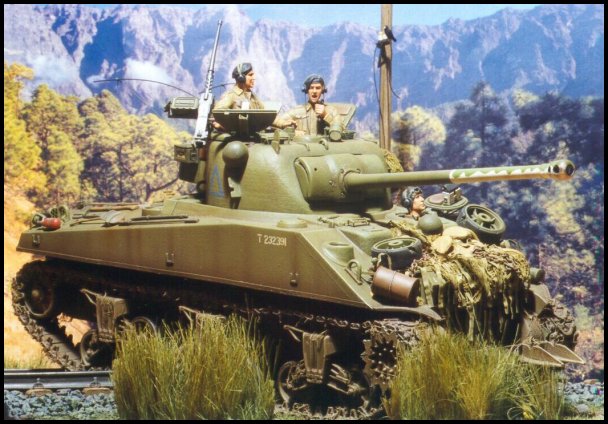 As Fireflys became known on the battlefield the Germans made a point of taking them out first. As a result the underside of the end of the barrel was painted white to make the long barrel harder to see. It worked.
---
silian
40 years of the Ford Escort!
50 XP
10th October 2004
0 Uploads
#6
13 years ago
Most M4 Shermans had Welded hulls, the first Hybrid hulled M4's appeared in late 1943.
---
silian
40 years of the Ford Escort!
50 XP
10th October 2004
0 Uploads
#7
13 years ago
The only thing i didn't really have a clue about Shermans was what versions did the British designations equate to. I recently discovered a table that listed all the variants and their British designation, i think some of you may be interested.
(not included are the Fireflies as they have no official US designation)
M4(75) - Sherman I (2.073 supplied) M4(105) - Sherman IB M4(105) HVSS - Sherman IBY (Small number delivered 1945) M4(75) Combination Hull - Sherman Hybrid I M4A1(75) - Sherman II (885 delivered) M4A1(76)W - Sherman IIA M4A2(75) - Sherman III (5,033 delivered) M4A2(76)W HVSS - Sherman IIIAY (5 delivered- not used operationally) M4A3(75) - Sherman IV (7 delivered- not used operationally) M4A4 - Sherman V (7,155 delivered)
Other Sherman Variants (With official American designations):
M32B1 TRV - Sherman II ARV III M4A2(76)W HVSS DD - Sherman IIIAY DD III (small number in British service, 1945)
British Conversions:
Sherman IC Firefly - M4 with 17pdr Sherman Hybrid IC Firefly - M4 Combination Hull with 17pdr Sherman V Firefly - M4A4 with 17pdr Sherman III ARV I - M4A2 ARV I conversion Sherman V ARV I - M4A4 ARV I conversion Sherman V ARV II - M4A4 ARV II conversion Sherman III BARV - M4A2 BARV conversion Sherman Kangaroo - 75 M4A2 conversions (used in Italy) Sherman III DD/DD I/DD II - M4A2 with DD/DD I/DD II conversion Sherman V DD/DD I - M4A4 with DD/ DD I conversion Sherman Crab I/II - M4A4 with Crab I/II conversion
---
#8
13 years ago
silian

(not included are the Fireflies as they have no official US designation)
M4 17lbr and M4A3 17lbr.
This is a 1/76th scale model of US M4A3E8 17lbr Sherman based on the photograph.
In June 1944 the US began a project to convert 160 M4A3 and M4 composite hull Shermans to mount British 17lbr guns. A US requirement was apparently hydraulic oilgear traverse and the M4A3 wide gun manlet. M4A1, M4A2, and M4A4's were automatically excluded. Wet hull models were preferred as this reduced 25-32 man hours from the conversion.
All of the US 17lbr Shermans were built in the same British shops as Brit Fireflys by Brit workers and using Brit supplied guns and conversion kits. The US 17lbr Shermans were built at Woolwich and Hayes, Middlesex, London. The US 17lbr Shermans also had a larger radio box to hold the US radios.
The conversion were begun beginning of March 1945 and first batch was back on the Continent by March 9th 1945.
Nomenclature was M4 17lbr and M4A3 17lbr. The US did not call them Fireflys. A photo exists of the US 17lbr Shermans but it is copyrighted and permission was not give to put in Mark Haywards Sherman book.
100 vehicles were completed. 40 went to 1st Army and 40 went to 9th Army. 3rd Army refused them due to Army level objections. The remaining 20 were given back to to the Brits. The remaining 60 unconverted vehicles were given to the Brits. The vehicles did not reach the units before the war ended so saw no combat. Fate of the vehicles is not known but it is believed they were given to the Brits after the war.
There was a shortage of M4 Shermans due to reduced Sherman production because War Board thought the war was all but won, because of this the program was pushed back and delayed til early 1945 til available tanks were accuired.
Another factor was getting ahold of stocks of 17lbr AP ammo. This also delayed the program even farther.
The appearance and finally the adoption of the M26 Pershing removed any sense of urgency for the program.
On April 19th 1945 the 555th Tank Battalion was transfered from the 8th Army to the US 5th Army. Listed in their TOE was a medium tank platoon of 12 17lbr Shermans. These 17lbr Shermans are believed to have been Commonwealth 17lbr somehow assigned to this tank company.
On May9th 1945 C company of the 555th Tank battalion of the US 5th Army in Cameri Italy was ordered to turn over all 17lbr gunned tanks back to the Brits.
At this time there is no record of the US 17lbr Shermans ever being used in combat.
Here is a list of the hull serial numbers and type of Shermans converted to 17lbrs. http://freespace.virgin.net/shermanic.firefly/usclistv1.html
---
27th April 2003
0 Uploads
#9
13 years ago
20th February 2004
0 Uploads
#10
13 years ago
Anlushac, I'm disappointed in you - there are lots of errors in your text (I'm guessing US stuff is not your expertise?). The cast hull Sherman is the M4A1, the early M4 Sherman was all welded, only the late and rare composite M4 was partly cast (hull front only). You should fix your title right at the top from Cast Hull/M4 Sherman to Cast Hull/M4A1 Sherman. You also seem to have got confused over the hull front angles. All versions originally had the more steeply sloped front plate - this is why they have the protruding front hatches. Your early M4A2, for example, clearly shouldn't be labelled as having a 47 deg hull front. The construction of all models was simplified mid-war by setting the plate nearer the vertical - this is the 47deg hull front - and so the hatches didn't need to break the front plate, and also allowed the plate to be thicker. Your late M4A2 clearly has this 47 degree hull front. Regarding your question about the new wider hatches, they didn't come with the change of stowage but with the change of hull front angle, for this reason. Hehe, it's nice to see Anlushac doesn't always have all the answers. Nice overall history lesson though, with some good pics.
---