#31
12 years ago
foodmaniac2003;3566431[offtopic] Isn't kincer's avatar the same as Heydude's?...
I don't know, but I commend you for your alertness, foodie. But it takes more than just an avatar to make a Heydude235. What arouses my suspicions is any poster who consistently displays gratuitous hyper-asshattery. So even, say, a new poster who starts a thread about liking the sound of poo-poo words, if he doesn't continue such infantilism in later posts, shouldn't arouse too many fears that he is The Reincarnation. Just an everyday, garden-variety silly ass.
Remember, Heydudism is to the FH forum what the Black Death was to the 14th century, so we must remain constantly on the alert.
---
#32
12 years ago
:0wned: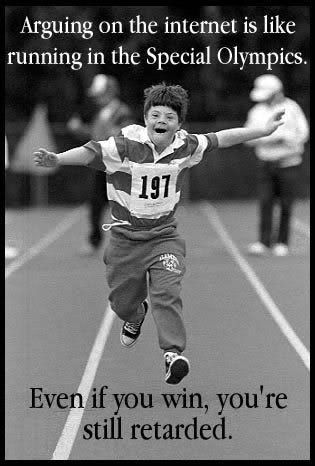 ahhh...poor poor little jumjum...*as dookie's face lights up with glee* in the 14th century its was considered a cure for a headache for a sister of a fool to kiss your ass...tell your sister i feel better buddy
---
#35
12 years ago
please explain the saga of heydude to me?
---
kouji san
Hινε Uρкεερεг
50 XP
29th November 2004
0 Uploads
#36
12 years ago
snipers are cute. Kill me once shame on me, kill me twice shame on you, simply because 9 out of 10 snipers stay in the same location and now I know where you are or the general location/direction you are firing from.
I then proceed to lurk and home in on the sound/muzzle flash. Usually have 1 or two buddies on TS doing the same thing. I also love it when you kill a sniper and then you see him killing again after a while with the sniper kit. Just check his old location with a bullet, good chance he will be dead :D
My advice to snipers is, shoot a few times from one location. then keep an eye out for who you have killed to many times. chances are they are on to your location now. Move out and also remember to shoot them in the back/flank so they don't see your muzzle flash. Another thing might be don't have an ichy trigger finger, see many enemies advancing towards you. Hold your fire and let them pass, then proceed shooting them once again in the back. Only viable if your hiding place is sufficiently covered, if not either retreat or fight (your choice :D )
---