#2
10 years ago
Hmmm.....I might give it a shot, I have a lot on my plate at the moment though, So it may take me awhile to finish it. ~ Raz
---
#3
10 years ago
Okay thanks anyway.
Anybody else willing to give it a go? plzz
---
#4
10 years ago
Ok....just to let you know I got a 404 return when I tried the Log In link, Same for the first pic Link as well. ~ Raz
---
#5
10 years ago
Hold on dude ill fix that.
---
#7
10 years ago
wow, your pics are all across the board. This should be a difficult task to pull off. I'd be courious to see how this comes out.
---
#8
10 years ago
Ok... So I worked pretty much through the night to get this done......but what the hey, I had fun. I hope you like it, I had to change some of the pics so that it'd all fit. ~ Raz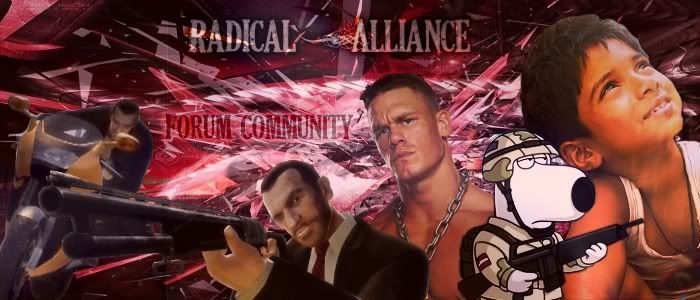 ---
#9
10 years ago
thanks dude thats awesome
---
#10
10 years ago
ive just realised it doesnt look perfectly right on the forums, a bit big.. could you make it smaller in height by quite a bit.. then it will be PERFECT thanks so much
---