#1
12 years ago
I haven't been on for a while but I feel like helping some people :p If you know what a c4d render is and what the difference between a c4d effect render and a c4d render. You should be able to follow easily :) If not let me know
---
12th February 2007
0 Uploads
#2
12 years ago
I like it, thanks! Do make more if you can, this is just what I was looking for. Far better than my first tutorial glad to see you making these.
---
#3
12 years ago
If anyone uses this tutorial don't forget to post your outcome :)
---
#4
12 years ago
ok...this is mine: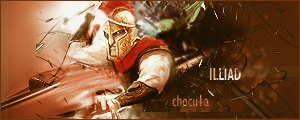 ---
#5
12 years ago
Wow nice :]] , thanks for using! I really like the depth you have going on there.
---
#7
12 years ago
I think you should tell us the difference between the c4d's. :[
---
29th January 2007
0 Uploads
#8
12 years ago
#9
12 years ago
Nice outcome! Although you may want to pick a better quality render next time, it takes away from it a little bit. Great flow btw.
Anyway, to the guy asking about the c4d's... I'm making a new tutorial in the next 1-2 weeks, and I plan on making it so anyone can make the signature, so that means I'll cover everything :)
---
29th January 2007
0 Uploads
#10
12 years ago