#1
12 years ago
I was watching "Tora! Tora! Tora!" a few hours ago, and got inspired to do this-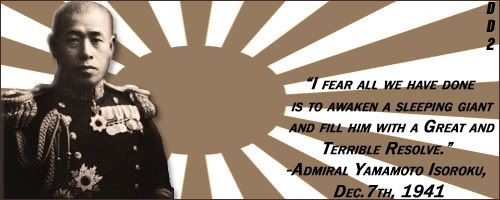 ---
#2
12 years ago
Good shot for your first go! Think of what it would look like, if you lined up the text with the sun rays :P
---
#3
12 years ago
-Section-;3444272Good shot for your first go! Think of what it would look like, if you lined up the text with the sun rays :P
That is such a good idea :eek: Yea nice - very nice for your first go, keep trying find different techniques etc..
You using Photoshop?
---
#4
12 years ago
Yes, I am. And this isn't my first signature, I made all of the Signatures in my Rotator. And thatnks to some suggestions on another forum, I did this-
My question now is how do I make Ripples and Rips?
---
#5
12 years ago
I think I wouldn't do the text in Italics. The second attempt, with the text having the same color looks much better though.
I don't know one-two-three how to make Ripples and Rips, but I suggest messing around with the Filters, I think you'll be able to pull it off with that.
---