#1
10 years ago
As you can see I'm trying to use smudgings more.



---
1st February 2009
0 Uploads
#4
10 years ago
Smudgin is always teh best!!!! All are 10/10 THink of more ideas and more creative sumdgin ways.
---
#5
10 years ago
Thanks for the comments .)
---
#6
10 years ago
looks like you've got it down. I'm trying to use more smudge effects myself... think I need better brushes. Got a link for brushes you use?;) and welcome to the Graphics section of FileFront
---
#7
10 years ago
Uh I use the defualt ones. The circle brushes. Here are my settings: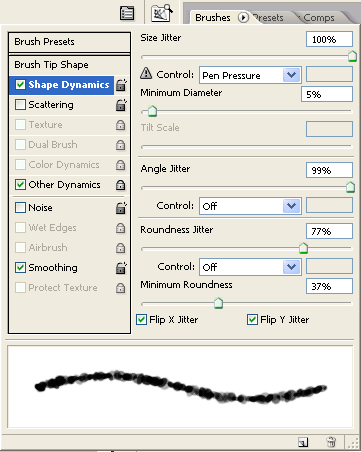 ---
#8
10 years ago
:( I use Paintshop Pro so I got to figure this one out
---
#9
10 years ago
Lol, pretty good sigs for PSP.
---
14th January 2008
0 Uploads
#10
10 years ago
Pretty nice smudge, though few bad things that got my eye.
Well, you should remove the borders. I figured out that sigs without borders are mostly better looking (not all the time though) and the text is bit off it's place. Or then you should just make smaller borders, since the huge ones don't work that well. Covering up too much of the sig.
Did you use the topaz on the first one? =o The tree looks weird.
But yeah, keep on smudging. It's awesome.
---