19th November 2003
0 Uploads
#1
13 years ago
Righto guys, last night I busted a knee, a wrist, an elbow and two toes playing Soccer. Good new is we won and I got four goals...I'm not going anywhere any time soon. So...
I'm going to do a tutorial on using the Transparency technique, by popular demand. =D
Feel free to ask any questions after the tutorial is finished. Thanks.
[SIZE="4"]Transparency Tutorial[/SIZE]
1. Create two new projects. One at 400 pixels x 160 pixels set to Transparency and a second project at 400 pixels x 100 pixels set to White. The second project can also be a pre-made image that's been cut out if you want to have a scene background.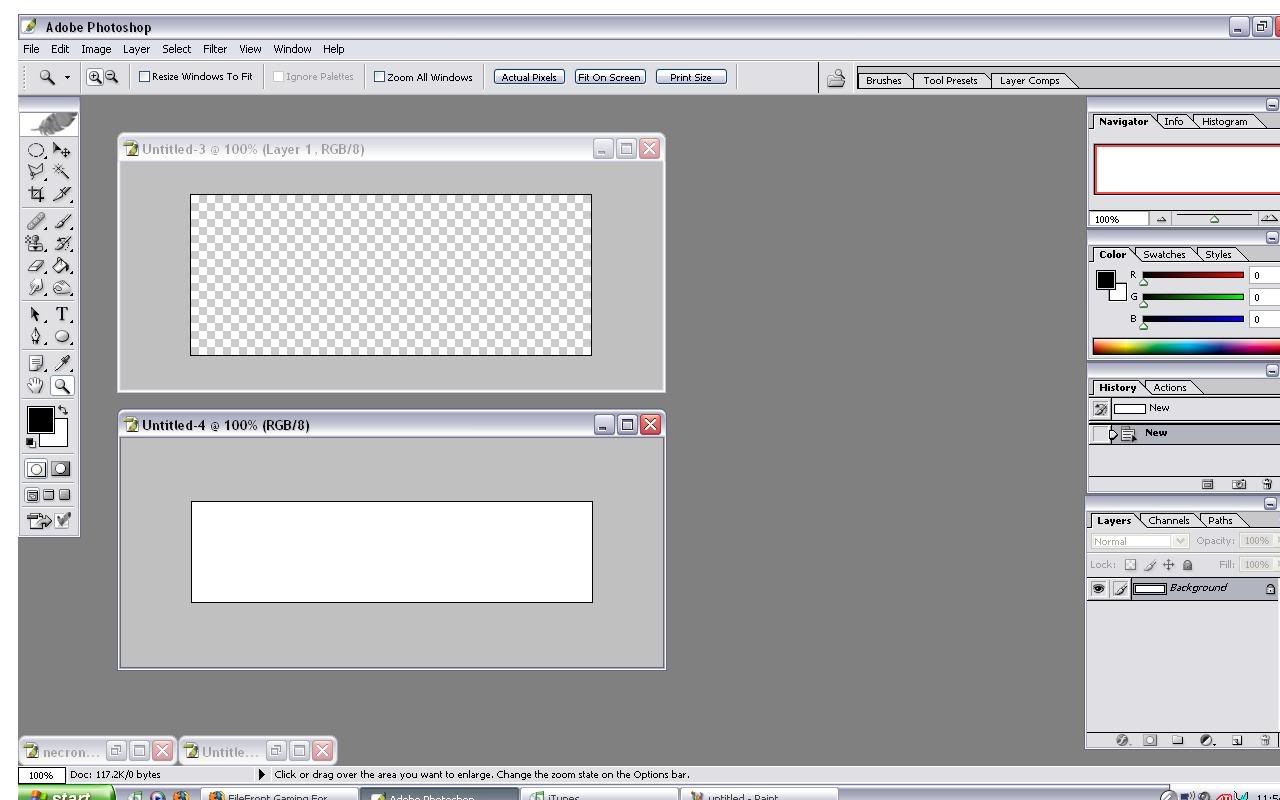 2. Open up your render. I'm going to demonstrate this in two ways; using a pre-made render and an image that I will cut out. I will continue using the image that I cut out in this tutorial, but there's another technique to getting the best Transparency image with a pre-made render.
2.1. Cut down the pre-made render so that you can fit in the part of the image that you want. Remember, our transparency limits are 400 pixels x 160 pixels so this image must be these limits maximum or else we will get a FUBAR result.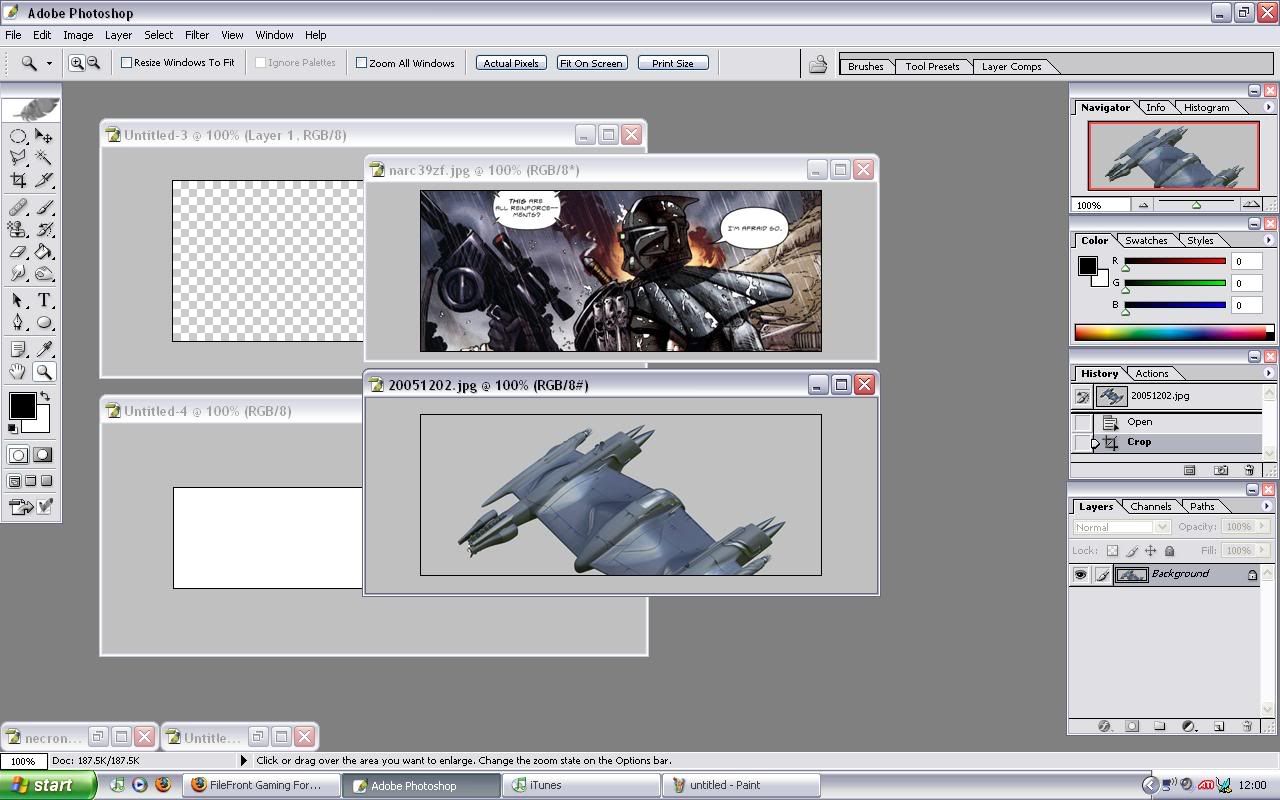 2.4 Do not Flatten your layers and save as .PNG. There, that's your simple Transparency signature done. For more advanced steps and tips on how to cut our your own image and make a more complete Transparency signature, keep reading. =D
2.2. To cut out the pre-made render, simply drag the resized render to your Transparent 400 pixel x 160 pixel project and using the Magic Wand Tool (W) begin to select the background color. TIP: Before hitting Backspace to delete the background color, right click and go to Feather and select it to 1 Pixel and click Ok. Now click Backspace. You will notice that the render now has a fuzzy 1 pixel wide haze around it. This is okay, it's not noticable to an extent that it ruins it, in fact it improves it because it removes any clipping errors as stated earlier.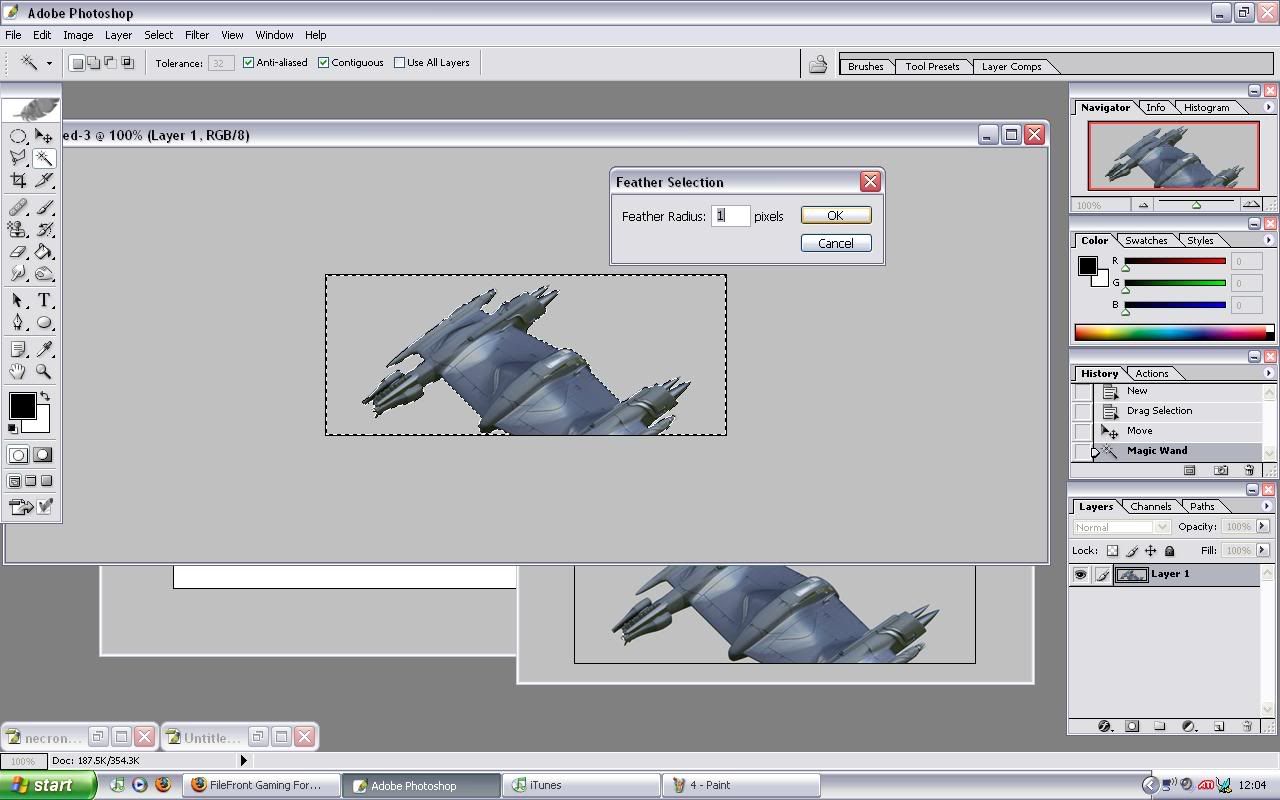 Finished result: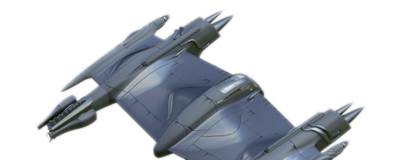 2.3. For a non pre-made render, simply resize your image to the Transparency project size (400 pixels x 200 pixels) and selecting Polygonial Lasso Tool slowly but accurately go around the image that you want to cut out. This may require more than one or two goes as this tool is very sensitive. Make sure not to double click as it will select what you've cut out and not the whole image, causing you to restart again. When you've cut around your image, do not hit Backspace yet but Right Click and select Feather. Set it to 1 pixel and select Ok. Now CTRL + C the selected image and paste it onto your Transparency project layer. Position it to where you want it.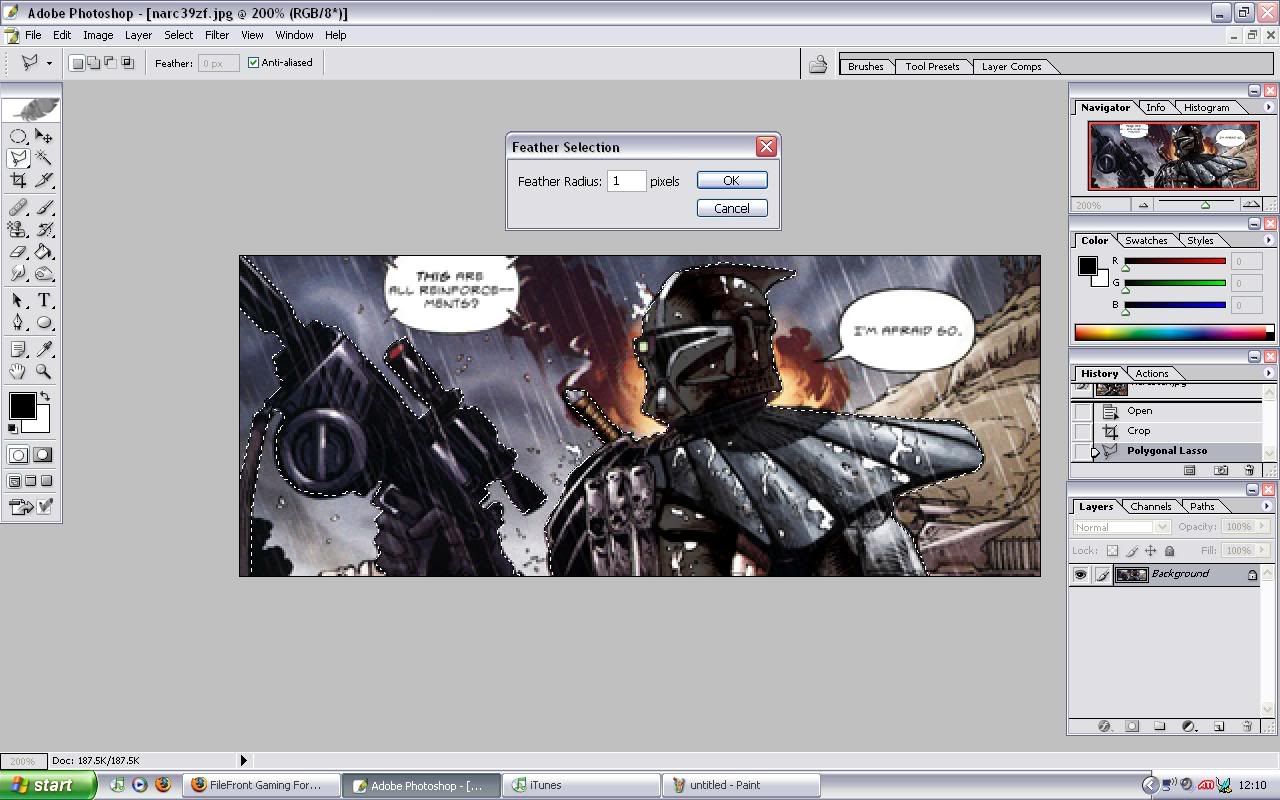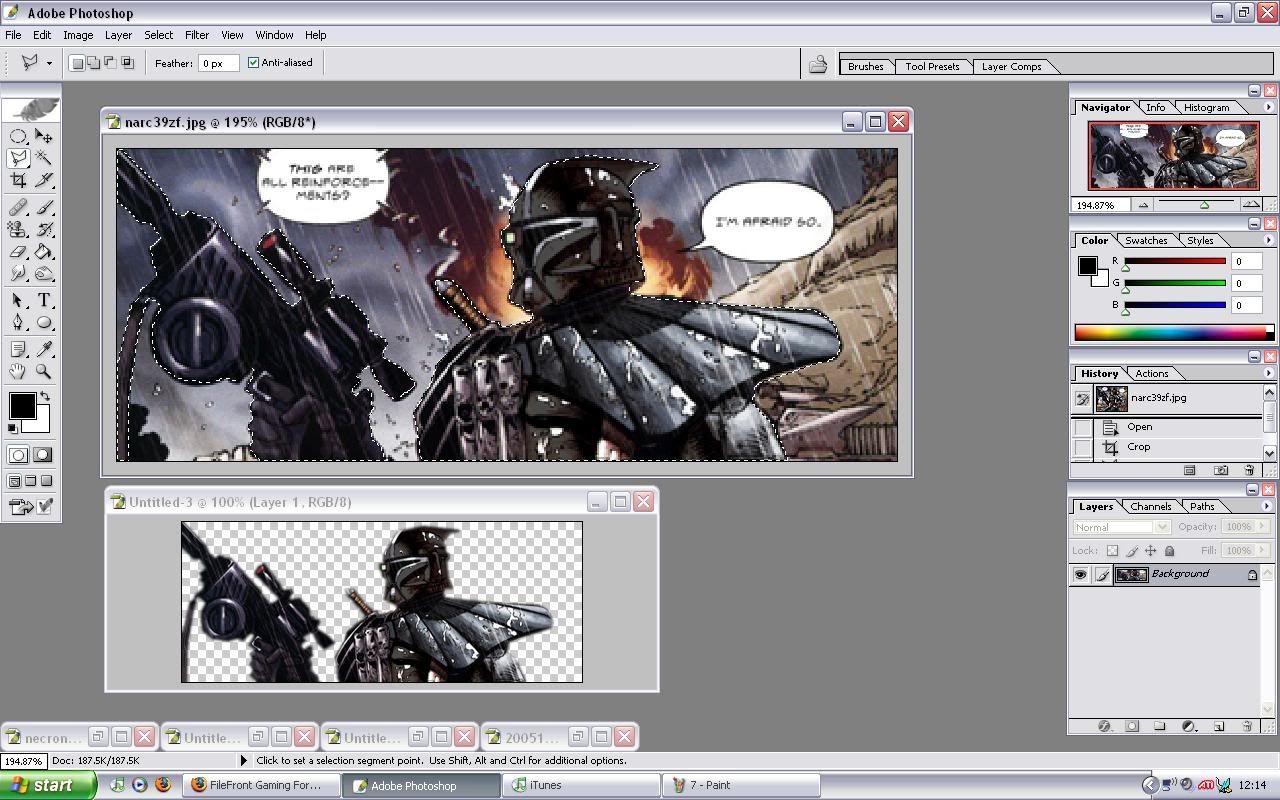 [SIZE="4"]Note: The next stages are optional[/SIZE]
3. Now that the hard part is done, you can select your White 400 pixel x 100 pixel project layer and drag it onto the Transparency project and place it behind the cut out render.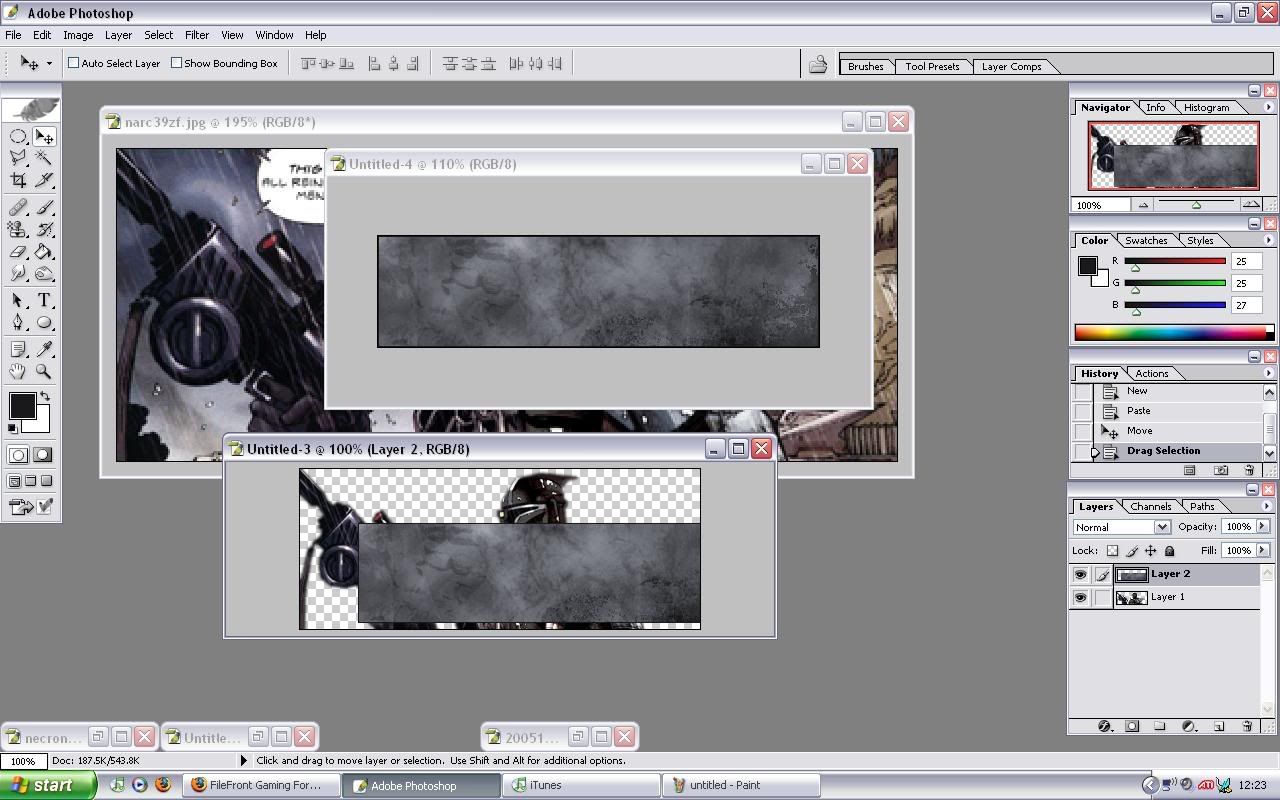 I created my own White 400 pixel x 100 pixel White project layer by following my own Grunge background technique. Although your background can be anything; an image, anything. At any size. As long as it does not exceed the dimensions of the Transparency layer (or else you dont get any Transparency 0= ). Add any text you want etc.

OPTIONAL: If you feel as though your render should stand out more, then simply go to Blending Options and set Drop Shadow to any % that you want. Just make sure that the direction of the shadow makes sense. In my example, I wanted it to be strong so I set it to 100%.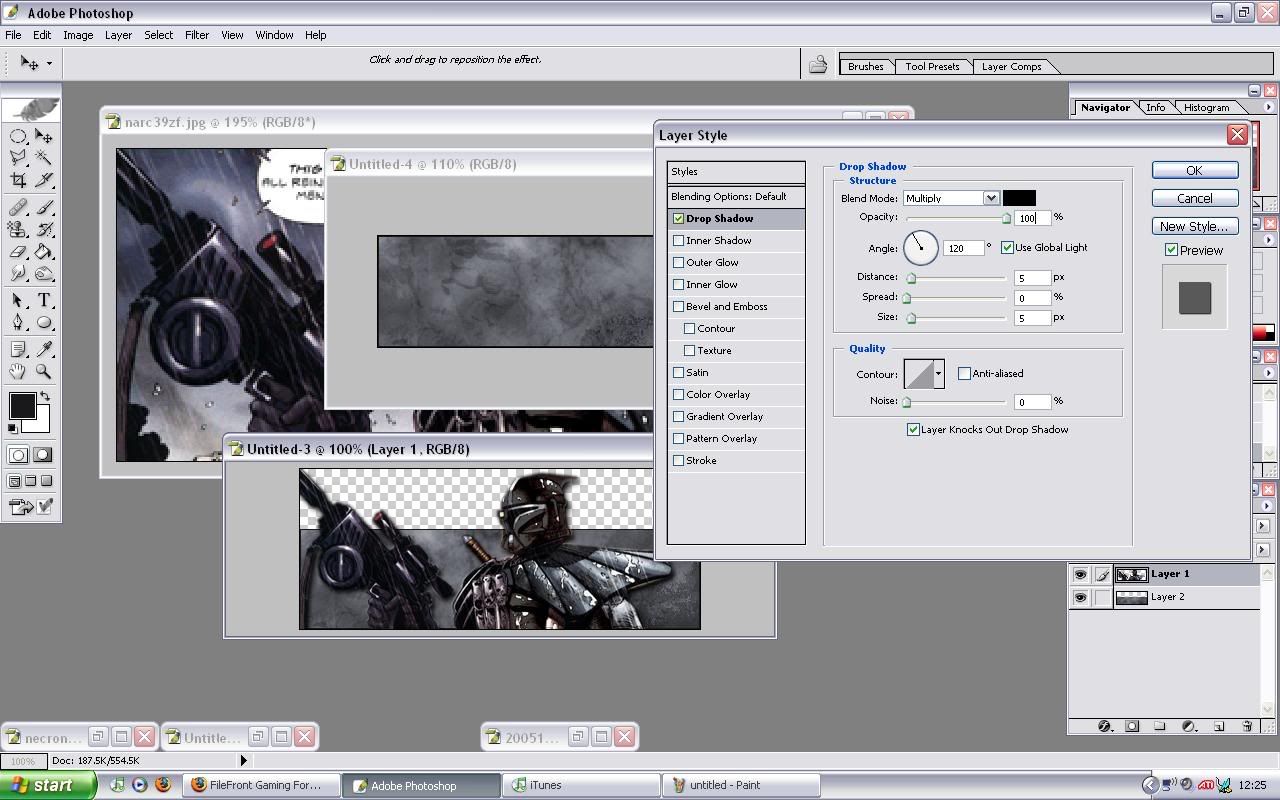 Done!
Finished result: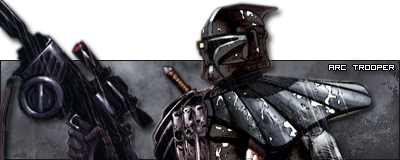 [SIZE="4"]IMPORTANT: FOR TRANSPARENCY IMAGES TO WORK, DO NOT FLATTEN YOUR LAYERS AND INSTEAD GO STRAIGHT TO SAVING THE IMAGE AS .PNG.[/SIZE]
My other works using this technique: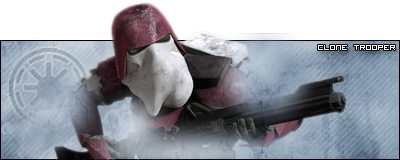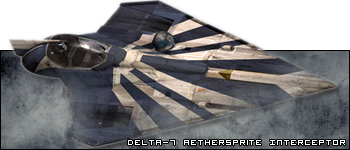 ---
16th September 2006
0 Uploads
#2
13 years ago
/me Gives a big clap. Nicely done mate. easy to understand as well
---
#3
13 years ago
Whoa.. Some parts were a bit confusing (to a total PS-newb, though), but I found my way, I think. Anyway, very nice tutorial!
So, I made my first PS 'signature', with the help of your tutorial. Note that it's just my first, so it isn't that good; and I was messing around a bit too. Anyway, here is what I made with your tutorial:
Heheh. Just messin' around, don't critize my signature ;).
Edit: Seems I missed a few steps, too :p.
---
#4
13 years ago
Nice tutorial man, looks really nice. Going to try it out when i get some time.
---
#5
13 years ago
Big props to NCOL. Nice tut, gonna try this out. Loving the technique, I'll try not to steal it too much.
---
12th November 2003
0 Uploads
#6
13 years ago
wooohooo, awesome mate, green for you!
---
19th November 2003
0 Uploads
#7
13 years ago
Thanks guys, those sigs look good!
---
Phoenix_22
VIP Member
46 and 2, are just ahead of me
255,785 XP
23rd September 2004
0 Uploads
#8
13 years ago
The pop-out sig style is a very good one, especially your's in particular (mostly because they aren't grungy as hell). However, there are two things I noticed in your tutorial that are odd to me: 1. Polygonal lasso tool? I would think that the pen tool would get alot more precise cuts. 2. Feathering. The feather tool is very tricky, the sig with boba fett (jango fett? not sure which one he is) is pushing it. Usually I would use the pen tool and set the filter radius at .2 or so, this way it wouldn't produce any really blurry edges, or glows. Great tutorial though, I really like the style of the backgrounds.
---
#9
9 years ago
HiMy name is Sue. Just got registered. Looking forward to learning a lot from you peeps and possibly make some additions where necessary. I will use the search facility so that I do not ask useless questions that have been asked previously.
---