#1
2 years ago
Hey guys. I'm starting a thread to share my KSP creations throughout my current career mode playthrough. I'm not going to share anything from the start since I assume everyone pretty much builds the same thing, so I'll start from my current mid-game. Currently, I've made 3 landings on the Mun (some crash landings) and one on Minmus. My current focus though is on completing a space station in Kerbin orbit, one which is running hellaciously overbudget thanks to many failed launches (thank you 1.0 aerodynamics).
If anyone is curious, I run the following mods:
[x] Science!
Alternate Resource Panel
Asteroid Day
Chatterer (with a mod to play Interstellar music)
Contract Configurator
Contract Window +
Docking Port Alighnment Indicator (very useful!)
Engine Lighting
Environmental Visual Enhancements
Interstellar Endurance Ship (might remove this)
Kerbal Alarm Clock (another must-have)
Kerbal Engineer Redux (good for any advanced players)
Kerbal Inventory System (wish this was stock)
MechJeb 2.0 (good for all skill levels)
Module Manager (I have no clue what this does)
Olympic1's ARP Icons (not sure I need this)
PlanetShine
Progress Parser (dunno what this is for)
Raster Prop Monitor (fun IVAs)
Real Plume
SCANsat
Science Alert
Surface Mounted Lights (I don't remember installing this)
Waypoint Manager
So, my current mission is to get the first of two Jumbo-64 fuel tanks to complete the fuel requirement for the space station contract. The fuel tank doubled as a rocket first stage lofted with the assistance of large SRBs. The Skipper engine is attached to a decoupler will be jettisoned after rendezvous with the station. This saved launch costs at the risk of aerodynamic and structural instability causing a launch failure. Furthermore, I'm carrying some new parts to help free a capsule stuck to a docking port (thanks Kraken) along with the repairs needed after freeing the capsule (thank goodness for Kerbal Inventory System).
I know, my game window is cluttered. Future screenshots will have the HUD off, but I wanted to show my game window.
Anyway, we need to rendezvous with the station.
Yeah, my low Kerbin orbit is messy.
After a short burn at the maneuver node and some time, we arrive at the station.
After discarding the Skipper, I expose a docking port which we use to dock the fuel tank with the space station.
Next time, I'll free the command ship, and then launch the second fuel tank and dock it. After this mission, I might do a routine Minmus or Mun landing, and then see about launching a fly-by mission to either Duna or Eve (hopefully a fly-by contract comes up for those. I have exploration and landing contracts for Duna and Ike).
Until next time. Feel free to leave suggestions for future content. Maybe I'll do a reddit challenge or build something crazy.
---
Serio
VIP Member
The Dane
149,931 XP
11th November 2006
3 Uploads
#2
2 years ago
I just came to wonder if you could build a massive planetary, orbital net... And then crash it into the planet?
---
#3
2 years ago
You mean a literal net, or satellites?
---
#4
2 years ago
A new day, a new set of challenges. Also, this awesome view from my space station: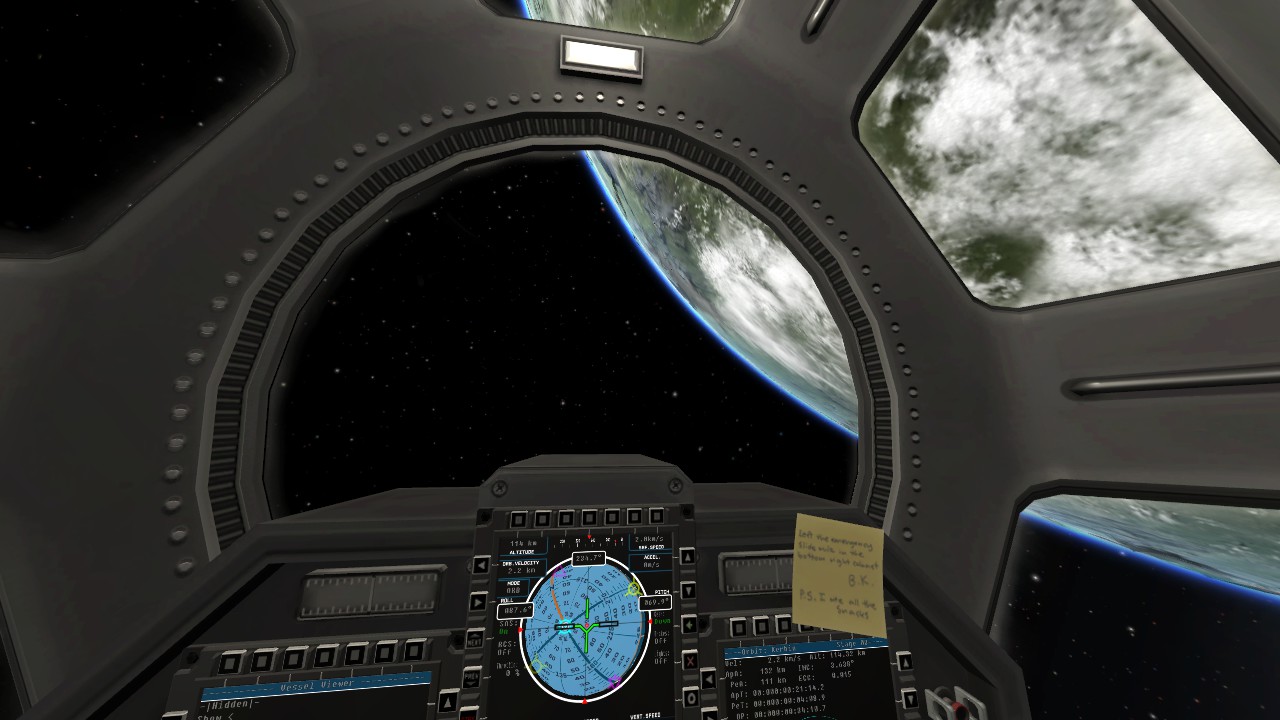 Now I need to separate my ship from the space station by purposefully destroying a malfunctioning docking port.
I get Bill Kerman out on EVA to grab the explosives and prime them. I tested them previously to see how big of an explosion I need, so minimum settings for the explosive radius.
Don't worry, I set the explosives to 0.5m, not 10m.
After capsule separation, I bring Jeb and Bob to the large container to replace the now destroyed docking port.
Now the replacement and rebuilding of the docking port is tedious, so I'm not going to show the process, just the finished product. Let's just say that I'm probably going to have to reload the game a few times to get this right, or I'll give up and send up a new girder section. It depends on how much patience I have.
EDIT:
Good news. Didn't take many tries to replace that port. After doing so, I just redocked the craft onto the end port. I want to use the engine to circularize the orbit of the space station once completed, so might as well dock it to the center while we can. Also, added some struts to each of the permanent ported connections to help prevent the station from vibrating to heck.
---
#5
2 years ago
Here are some screenshots of the launch and docking of the second fuel tank for Kerbin Station 1. Pretty routine launch, which was good since I was launching a new vehicle and worried that the lack of thrust vectoring on my liquid booster stages would cause trouble.
---
#6
2 years ago
More screenshots. I'm bringing the Kerbals home before I embark a new Kerbal on a Munar rescue mission.
Shot of Kerbin Station 1 before circularizing it:
Then I undock from the station and de-orbit:
Before re-entering and splashing down.
---
#7
2 years ago
New shots of my new rocket and night launch. This is the munar rescue mission. I'm hoping to use a variant of this to land on Minmus with a couple of kerbals.
Almost aborted this launch due to the rocket pitching over too fast, creating a shallow launch trajectory that meant the rocket wasted fuel on ascent and almost burnt up from shock heating. The center engine also turned out to be underpowered, meaning that I actually slowed down a bit after SRB sep until I burnt off enough fuel to get my thrust-to-weight ratio (TWR) up enough again for the rocket to start accelerating. This means that I'll either have to use a much more expensive yet more powerful main engine, or upgrade the SRBs and the launchpad to accommodate the higher total rocket mass. I actually get more delta-V with lower costs from the latter option, but a launchpad upgrade is much more expensive than just upgrading the center engine.
---
#8
2 years ago
More shots from the rescue mission, showing me approaching the Mun, breaking into munar orbit, and then rendezvousing with the stranded capsule and transferring Malbree Kerman over.
After that, I burn homeward by breaking out of Munar orbit and fall back to Kerbin, re-entering about about 2.7km/s if I recall correctly before safely splashing down.
---
#9
2 years ago
More KSP goodness, including this shot of a ring of space debris around Kerbin. I really need to clean up my low Kerbin orbit.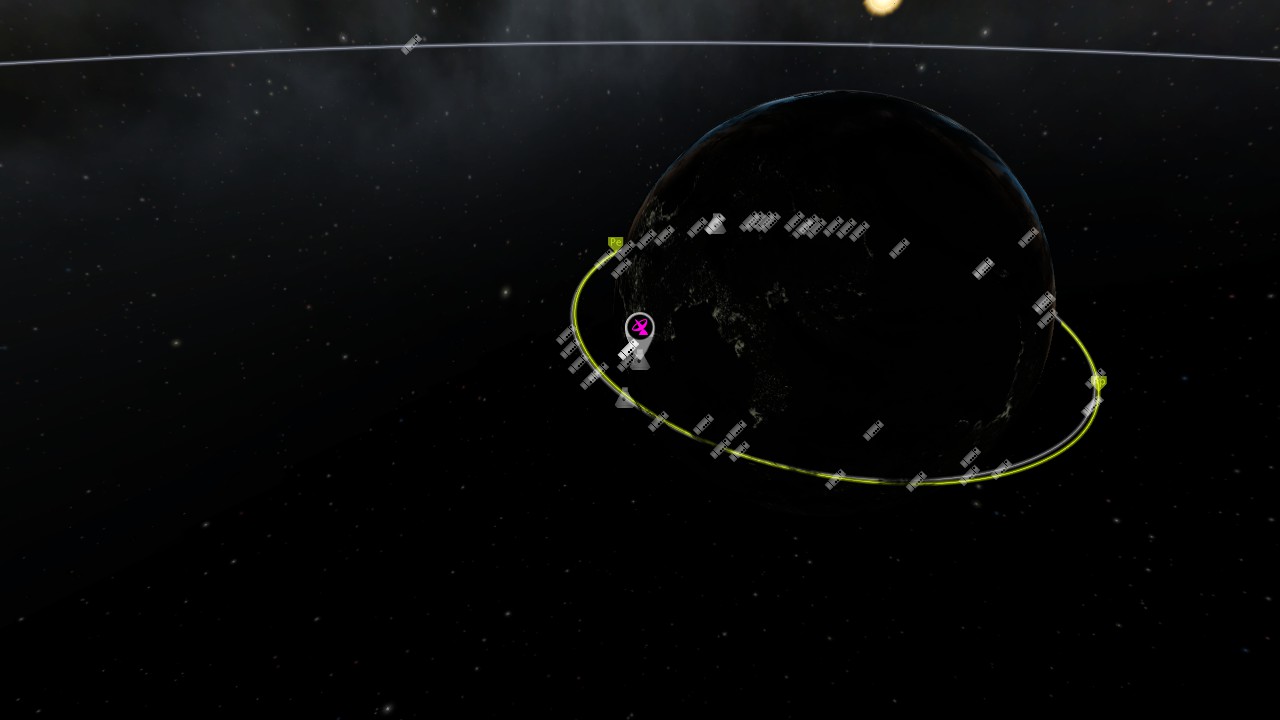 I'm now testing out my new advanced grabbing unit that I unlocked to recover some spent stages and using their fuel to fuel the space station.
I thought this shot of my space station against the skybox was pretty cool.
---
#10
2 years ago
More shots from the same mission fetching another spent stage in orbit to add it's unused fuel to the station. Not many here since it was practically the same as the previous fetch and return. Same Kerbals as well. I haven't returned them to Kerbin yet.
I thought this eclipse was cool BTW. They happen more frequently in this game due to the Mun's lack of inclination with respect to Kerbin. They're also annoying for any solar-power spacecraft since they block the sun out and prevent recharging.
---