#1
13 years ago
The original thread, which can be merged <
Comments? Suggestions? I know, it's very basic. I plan to make an avatar using either this image: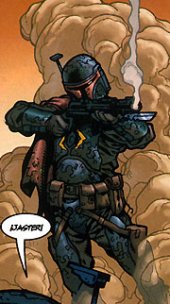 Or this one: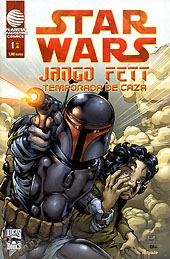 It will be a bit harder, since both images aren't freaking huge like the one I used for my sig. Hopefully I'll get something done by tonight, or if I get unbored, tomorrow.
---
#2
13 years ago
Your best bet is to Google artists who draw for star wars, eg Ed McGuinness, Travis Charest and Jeff Spokes and follow links to their sites rather than just searching based on character names, you'll find better resolution images that way. If you're stuck with a smaller source, I'd suggest, making the sig smaller and more confined because you have a lot of empty space to fill, which can give it that slapped together finish. Try not see the sig limit here as what you're supposed to aim it, I find it better to keep it tighter - it's part of the skill of getting things to fit, but it wont appear flat and slightly unfinished that way either. Also its a good practice with sigs to put a border on them, there's a few ways to do that but even a 1px black line border helps bring it together otherwise doesn't seem entirely finished. What you have now is a good attempt the background matches the colored parts on the character but I don't think the gold embossed text work all that much in that sig - that doesn't mean it's bad just a matter of preference. Maybe flatten it use some sort of techno-font and overlap it with the character a little bit to tie it together. Hope that helps
---
#3
13 years ago
Yeah, it's already smaller than the limit (in width). If I went any smaller, it would be difficult to position the text. If you look very closely, there is a very small border. I should have made it bigger, which I can do later.
As for text color, I didn't have many choices. I had bright red... just ew.. black, too dark and generic, blue, to much contrast, and yellow. While it's not the best color for red, I had yellow already there, so I used it.
---
#4
13 years ago
Deleted the old one, and added more noticable border.
And now a question: How do you make a bevel or something within a selection? When I select one from the Layer Styles, it effects the entire layer, not what I have selected. I seem to have done it before, but can't get it now :p So I compromised for this.
---
#5
13 years ago
New border. Continuing the color scheme. Will probably lighten it a bit.
EDIT: New and slightly improved:
---
#6
13 years ago
I'd shrink the sig and text to fit the render more. You've got a lot of empty space floating around with nothing to really fill it. I suggest checking out some basic tutorials at Good-Tutorials or Pixel2Life, since it's usually better to start with a kind of sig "format" then to play around with the program. My first sig ended up being a black background with a render and text on it...
---
#7
13 years ago
Red Rebel...How do you make a bevel or something within a selection? When I select one from the Layer Styles, it effects the entire layer, not what I have selected. I seem to have done it before, but can't get it now :p So I compromised for this.
Well, I am assuming you're using PS and as 'Layer Styles' suggests those option effect the entire layer, so probably you have combined more than one element in a layer, which is why the bevel is being applied to more than one object ie to the entire layer, seperately everything should be within it's own layer. Layer options, such as bevel, drop shadow etc, apply to that whole layer not just the element, so you'll need to make everything seperate so you can effect changes to one thing at a time, individually.
So assuming that, it's probably easier if you just do this; using the marquee tool, select the part, area or object that you want the bevel to effect, then right-click it, then select 'layer via-copy' this will cut-copy and paste, in other words duplicate that part, then add your bevel as normal, that way it will only effect the part you want because it now exists within it's own layer.
Also judging from your earlier reply, yeah I didn't see your border, it was a bit difficult to make out. You also mentioned not being able to position the text, it took me a minute to work out what you meant because you could just make it smaller as it is taking up way too much space, but it appears you've cut that text out and pasted it in rather than using the Font-Tool which would explain why it's so jaggy around the edge, you can easily match the type-font by a search through many of the font websites, that way you'll have more control over what you're attempting to do and it'll give you many more options for color, blending and style. It can be time consuming but thats part of the process - and you learn - so I'd suggest doing that. Also I've just noticed, that the character is 'hovering' above the border, where it has been cut so it's not sitting as it should be, just move that down a bit or trim the sig to cover that up.
I just want to mention here, since I've seen ppl in the past react badly to a little more feedback like this (and I'm new so everyone wont be used to how much I'll say to help) and I'm sure it is frustrating and a bit of a pain to read thru, it's just what I see. I'm not being nit-picky, it's only a sig after all, you're trying to learn as you go, therefore I am trying to offer a bit more in feedback, comments and suggestions as you've asked rather than just say, change that, fix this or yeah looks good ... I personally don't think you learn that way...
Anyway, if you need some better images to work with, drop me a PM, I'd be happy to send you some better quality images and if you need any pointers after that I could walk you thru some stuff to get you going.
---
#8
13 years ago
Feedback is good :) I don't mind reading through a lot, it helps!
I did use the font tool, I just think that it wasn't made to be that big. I'm using Photoshop Elements 2.0, and it won't let me go any lower than 6pt (or else I haven't firgure out how to go lower).
Sometime last night, I realised that's how I did the border.. make a new layer with the edge and apply the bevel to that. You confirmed my thoughts.
I'll probably restart this whole thing from scratch, still with the same basic idea. Thanks for all the help, more images when I get them.
---
#9
13 years ago
Version 4:
Still working on the border :S
As you can see, it's smaller, lighter, and a different font.
---
#10
13 years ago
Get some better grunge in the background..get some brushes and go nuts. It just does not look right with a plain smooth background.
---