#1
11 years ago
Gidday all you pros that know how to handle PS. (Wish I could :( Section) Could someone please make me a sig to just under filefront specs with the below picture in it and the one word of: = Shinobi =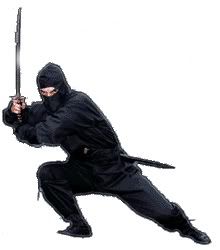 It would mean more than a lot if someone could. :)
---
#2
11 years ago
Was playing with brushes, hope you like it.
---
18th April 2005
0 Uploads
#3
11 years ago
hmm.. maybe not as good as Ram's, but was bored so gave it a shot :
---
#4
11 years ago
AWESOME!!!!!!!!!!!!!! How bout (sorry I shouldve said) some green and brown type tones, like the wooden hutts and bamboo they use alot. Nice guys, youre so good! :)
---
#5
11 years ago
Sweet grunge ultima, and very cool all around both of you.
---