#1
8 years ago
So, I've read the rules and will proceed according to them =p Signature Image(s) : Will be uploaded in spoiler. Text : "Forgiveness is beautiful, But vengeance is much more satisfying..." "Embee" Extras (If any?) : No bordures. Can the background of the signature have the same color as the GF pages pliiizzzz ? :D A'ight, I'll be as specific as possible: Concerning the Image: As you (hopefully) can see, I've drawn a man who's about to stand up. I would prefer that the main color of this character is black, with some dark red/bordeau trimming around his (bulletproof) vest. You can choose the design for the mask, as long as it fits the guy's "grim" suit. I'd prefer it to be dark, and scary. As a background I'd like to have an inferno, like fire everywhere. The idea is that he's standing up in the middle of a blaze. I'd be really, REALLY happy if you could add some kind of "waves", just a little bit. I mean, when you see a fire, right above you can see the background curling like waves, like some kind of gas... Concerning the Text: Some kind of "cool" design, like rusty text, in plain black/ dark red colors, with some bloodstain around it. "Embee" can be in any corner except the right under one. There, I'd like to see the other quote about vengeance. I'd love it if the second line is a little bit further than the first one ... If the designer wants it, he/she can put "designed by 'x' " to earn the credits :) AVATAR: Nup, is fine =p I'd like to thank anyone TRYING to make the signature. If it's not possible, then atleast thanks for reading =) Once I get 300 post, I'll give rep points to the creator =) The Image:
Spoiler:
Show
Uploaded with
ImageShack.us
---
#2
8 years ago
I'm sorry I didn't follow all your requests, I had this idea and I went with it. I won't mind if you won't use it. Never really tried coloring characters but I thank you for the experience. By the way, pretty nice drawing.

Oh and here's the render: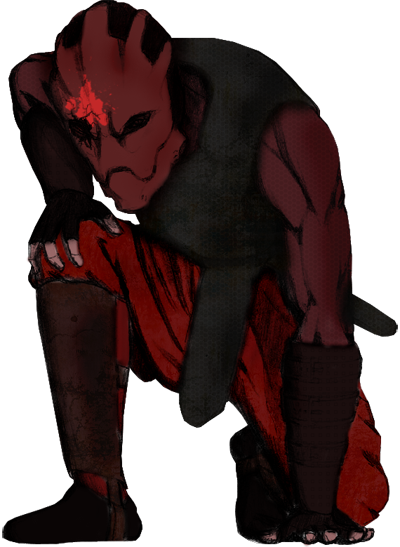 ---
#3
8 years ago
Like I said, I love you. Thanks a lot. It really is good :bows: :bows: Too bad you didn't take off the borders (maybe I couldn't explain it well), but I don't mind it. By the way, you've really surprised me with the costume, I really like it! And thanks for the compliment =)
---
#4
8 years ago
No problem, glad you like it.
---