#1
10 years ago
Hi! I am looking for someone to edit this picture. (I have the permission from the person who made it)
To make it look gore-ified. Someone made it for me as a joke, and I'd like this pic to look completely mutilated, or a similar "My Little Pony" themed sig to look terrible. Thanks to anyone who will carry out this unusual request, you have my deepest appreciation.
---
29th January 2007
0 Uploads
#2
10 years ago
not too good but meh
---
#3
10 years ago
Lol, thats quite good mate. Any1 else want a shot? Maybe make it look brutally murdered :D ( I hate My Little Pony)
---
14th January 2008
0 Uploads
#4
10 years ago
Don't ask. :P
---
#5
10 years ago
Lol, these are great.
Anymore takers? More the merrier :D
---
29th January 2007
0 Uploads
#6
10 years ago
another attempt :P
fun fun fun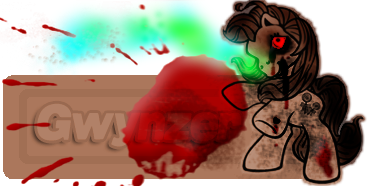 ---