#1
12 years ago
Oke i tried to make my own sigs and im quite happy with the results. Ive made a few to some friends if ya want offcourse just ask. Please feel free to comment or give suggestions to improve the qualties.
---
#2
12 years ago
Oh man Sov I really like the third one what program are you using..
---
#3
12 years ago
photoshop. the third one aah yes the wako one. Interested in having one saquist.
---
Sovereign002
VIP Member
Adeptus Moderatus We purge with chain and bolter
105,915 XP
#4
12 years ago
Man I love them all, except the last one, I dont like the phaser ending. Especially the one with my name rocks :naughty:
---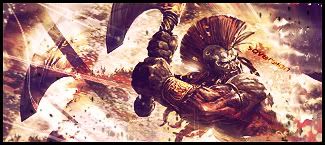 #5
12 years ago
I recently made a CD for my camaro... and decided to turn the CD into a Book by the same name..
Once N'a Quarter Mile....I was thinking of asking one of you guys to make a sig to get me inspired...
Its a racing story Like fast and the furious...let me think about it , huh
---
#6
12 years ago
aaah im your man sov002 is a lazy guy and he cant perform the job.
---
#7
12 years ago
I 'll come up with something hang tight.
---
28th March 2005
0 Uploads
#8
12 years ago
That 3rd one looks cool. Nice work.
---
#9
12 years ago
thanks. ANd the rest?? Ey they are not bad the rest!?
---
3rd January 2006
0 Uploads
#10
12 years ago
First 1 my favourtite the others are good but i dont like renders but the backgrounds good :)
---