#1
12 years ago
im quite new to this (few months) and these are the recent stuff that i made for friends and myself and foxhound forums. Please give some advise or comments.
---
Sovereign002
VIP Member
Adeptus Moderatus We purge with chain and bolter
105,915 XP
#2
12 years ago
the last one is a bit large...and not very attractive oh and the first one seems a bit stredged out...I think you should take a different picture for that one. But all the others are beautifull! Damn man you're getting good m8
---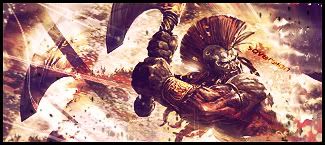 18th April 2005
0 Uploads
#4
12 years ago
They look pretty neat. you seem to have a very experimental style, which looks good in some places, but not so good in others. Perhaps you need to work on your blending a bit more as a lot of the sigs are very bright, and confusing. apart from that- nice stuff for a beginner, I especially like your current Halo/predator sig.
---
#5
12 years ago
aah thank you! oke blending but for spacebattles what kind of brushes do i need to use?
---
18th April 2005
0 Uploads
#6
12 years ago
just experiment, until you find something you like. perhaps you should cut out the spaceships, and brush the background, rather than brushing over the whole image. this would make the stock image stick out more, and give it a good contrast.
---
#7
12 years ago
actually i cut out my spaceships and place them on a layer, but maybe i use the wrong settings. i use 25 for anti aliasing or something like that..
---
18th April 2005
0 Uploads
#8
12 years ago

this one looks like youve just brushed over the whole image, unless the opacity levels have been toyed with. just try making the stock images stick out a bit more from the background. thats my advice.
---
16th October 2003
0 Uploads
#9
12 years ago
Incredible Sovereign 001 you're getting good
---
groddy
VIP Member
The Real Forums Old Skool
50 XP
12th April 2002
0 Uploads
#10
12 years ago
wow you have got some serious talent,keep it up
---