#41
15 years ago
Made these with just filters.
---
#42
15 years ago
made these with only filters:
---
#43
15 years ago
That Jason sig is awesome!, I used to be a big fan of him. You're getting good at making sigs now Tap, learning fast.
---
#44
15 years ago
Thanks Force! Some of these I didn't spend that much time on (Han Solo, Eazy-E, Halo) but I figure I'd just throw 'em in here anyway. Please share any comments/suggestions; I am still learning and am always open to them. Hope you enjoy :drink:


re-did the thief themed one (my first animation):
I think this one is my best:
---
#45
15 years ago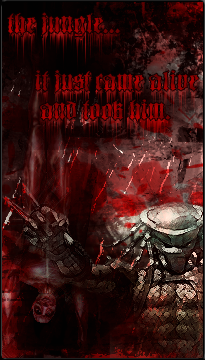 ---
Phoenix_22
Advanced Member
46 and 2, are just ahead of me
255,785 XP
23rd September 2004
0 Uploads
#46
15 years ago
Still making great works, i see. Glad to have you back, you were too good for a perma-ban as far as the graphics forum.
---