#1
15 years ago
Hey everyone. For those of you with Photoshop, I decided to write a tutorial up explaining some of my methods which I use in a lot of my Signatures, and other Graphical work. Its easy to follow, and step by step, all you need is a basic knowledge of the Layout of Photoshop. This tutorial, is on the style of the Signature I am using currently, its widely known as a "Grunge" style signature. -------------------------------------------------------------------------------------------------- 1. Open a blank 400x100 document, make sure the background is Transparent, and the resolution is between 72 and 100. 2. Hit "D" on your keyboard, to reset your foreground to black, and your background to white. 3. Do a "Filter > Render > Clouds" and you will have something that looks like this.
4. Now, get hold of some Grunge brushes, the ones I use can be located here: http://www.dubtastic.com/resources.php Place the .abr file you get into your Adobe>Presets>Brushes folder/directory. 5. Load up your grunge brushes, and start to dab and stroke your work, dont go overboard, and make sure you use lots of different shades of grey. This is what mine turned out like:
6. Duplicate the layer, and set its blending mode to "Overlay" and then merge the 2 layers together. If you dont know how to do this, contact me within this thread, and I will post how. You should now have something that looks like this:

7. Now lets add some color. Hit "Ctrl+U" on your keyboard to bring up the colorisation menu. Tick the "Colorize" box in the bottom right hand corner and adjust the sliders and digits, till you have a color you want. You can use any color you wish. (Keep to a faded "Grungy" feel).

8. Now you have the background layer partially completed. Its time to add some detail, keep your current document open, and open another document, this time a mere 5x5 pixels, and a resolution of 72. (Also, make sure the background is set to "Transparent"). 9. Zoom in as far as possible, and select your pencil tool. Set it to 1px, and draw a backwards "L" shape, like this:

10. Hit "Ctrl+A" which will select the whole piece, and go to "Edit > Define Pattern" and give your pattern a name such as "Gridlines". 11. You may now close the tiny 5x5 document, and get back to work on your sig. Create a new layer above the background layer, select your Paintbucket tool, and at the top of the screen, change it, so it says "Fill: Pattern". Select the pattern we just made from the dropdown box which is right next, and click on your sig to fill the new layer with our Gridlines. Change the layer opacity in the layers menu, so they dont stick out as much, and maybe erase some parts or fade them out, by using the eraser tool. This is what mine looks like so far:

12. Create another new layer, make sure its ontop of the list, as this is the slightly more tricky part. Grab you Rectangular Marquee tool, and draw a rectangle somewhere on your canvas, its up to you how big it is, and what position its in. Anyway, moving on, with the rectangle still selected on your new layer, go to "Filter > Render > Clouds" and use the Grunge brushing techniques within the selected area that we went over earlier. Hit "Ctrl+U" again, and colorise this newly made rectangle, make it so it fits in with the Background. But keep it dull and dirty looking. 13. You can deselect your area now, but make sure the layer is still selected. Go to "Layer > Layer Style" at the top if the screen. Firstly, give the layer a black 1px stroke border, so your settings should look like this: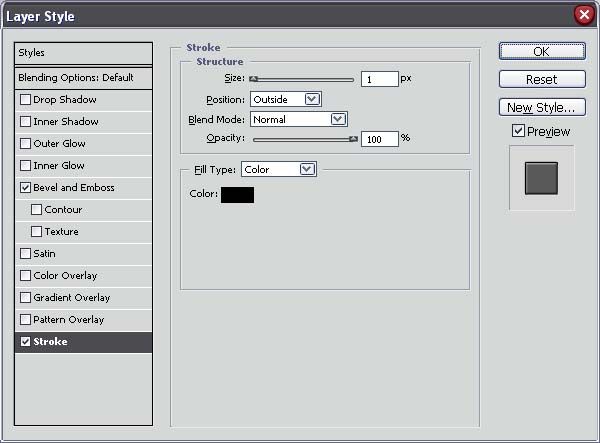 Now, move up to the "Bevel and Emboss" section, and apply these settings: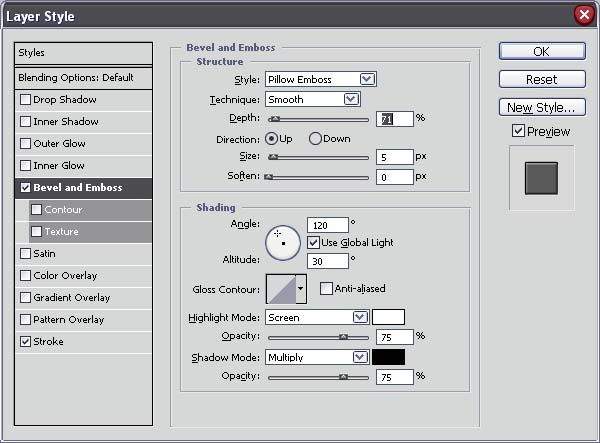 After all these settings have been applied, your piece of work should look something like this:

--------------------------------------------------------------------------------------------------- 14. Now lets add some detail to the rectangle we just made. I added some "Scanlines" you can find out how to do these by following this tutorial here : http://photoshopcafe.com/tutorials/scan%20lines/scan.html Please note: They are very easy to do, and all credit goes to the creator of that tutorial, not myself. I decreased the opacity, and now my sig looks like this:
15. We can now add an image to our rectangle, I chose a cartoon style "voodoo doll", as i think its just generally a cool image. After cutting it out of its background, and deleting the excess stuff so it fits in the rectangle, you should have something that looks like this:
NOTE: I desaturated the image, and moved the scanlines layer above it, so they appear to be covering the image aswell (if that makes sense). --------------------------------------------------------------------------------------------------- 16. Now we are nearing the end of the tutorial, its time to start adding your own individuality, and some text to it. I would reccomend a Messy style of text, and to add some detail. In mine, i added the messy text, I also, roughly erased the edges of the rectangle, giving it a "Burnt Edge" feel. I faded a picture of a skull into our previously created background, as i felt that area was lacking eye candy, and needed something to spice it up:lol:. Last but not least, I added a border which fits in with the rest of the image. The Finished Product :

--------------------------------------------------------------------------------------------------- I hope you all enjoyed this, this is my first tutorial i have ever written up. Please, i'd LOVE to see what everyone else comes up with! Post your finished products here!
Have fun... TheSaint
---
#2
15 years ago
woah pretty sweet i am going around here more often :)
---
9th December 2003
0 Uploads
#3
15 years ago
wow that looks like a good tutorial! You must have put lots of effort in it! (:P you just told me). Good job! I will try to make a sign using your tutorial this very week...
---
#4
15 years ago
:) I'll start making more, maybe one a day, as my friends are all away this week, and i have nothing to do but game, and draw. lol.
---
#5
15 years ago
Where do you find all those cool images to put in your sigs/banners? I can never find anything cool looking. :(
---
#7
15 years ago
hmm... the brush doesn't like me, i can't get it to use the one i downloaded =\
---
#8
15 years ago
I'll post it as an attachment on here, hang on.
---
#9
15 years ago
I luv it dude, its g8. Its given me a better understanding of new things to do. I just made this messing about.
can' wait for some more tuts
---
#10
15 years ago
Ok here they are, sorry for Double posting, but meh! this thread took me 3 hours! Wow, thats nice Maccius Daddius. Well played! :p
---