#1
14 years ago
http://www.lionhead.com/bw2/bwgold.html I thought it wouldn't be ready for ages(2006) but it gone gold. I wonder what the specs will be on it. Im really looking forward to this, I thought the first was ok but this one looks like its fixed a fair few problems and added heaps of mad stuff too.:)
---
24th August 2005
0 Uploads
#2
14 years ago
My cousin worked on the original Black & White. :)
---
#3
14 years ago
Black & White 2 is gonna be amazing, I can't freakin' wait.
---
#4
14 years ago
Urak'kul. I wonder what the specs will be on it. [/QUOTE]

[quote=http://www.lionhead.com/bw2/about.html]SYSTEM REQUIREMENTS: - OS - Windows 2000/XP - Processor - Intel Pentium 4 or equivalent 1.6 GHz - Memory - 512MB RAM - Hard Drive - 3.5GB - DVD-ROM - 8 SPEED (PC CD-ROM version also available in USA) - Video Card - 64MB with 1.1 Pixel Shader* - Sound Card - DirectX 9.0c compatible - DirectX - Version 9.0c - Input - Keyboard, mouse
This game looks wierd to me... what are you supposed to do, raise armies of queer animals and kill your opponents?
---
#6
14 years ago
Hmm... sounds... different.
---
Sovereign002
VIP Member
Adeptus Moderatus We purge with chain and bolter
105,915 XP
#7
14 years ago
I have watched a dutch kickstart of it it looked pretty cool
---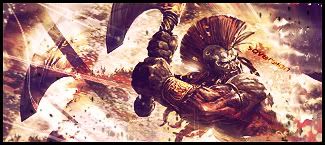 #8
14 years ago
Great I'll be buying this - I loved Black and White 1!
---
20th August 2003
0 Uploads
#9
14 years ago
wow, i never fully knew what Black and White 1 was all about. armies AND crazy kill-everyone animals? MY DREAMS!
i shall buy #2 for sure with all those purddy graphics and i may just go and buy a bargin bin $20 B&W1
---
#10
14 years ago
I was in HMV this afternoon, I saw the orignal black & white for £3.69 (thats $5 to you yanks).. I was nearly crying, It cost me £35 ($70/$80) when it first came out. pfft. It was a great game though. to be honest, I forgot B&W2 was coming out, I read a review in some computer magazine months ago, it looks great.
---