29th January 2005
0 Uploads
#11
9 years ago
On the topic of the engine: it seems from some speculation on the forums this particular selection has been passed around:
Bethesda's new game is for current platforms, 'pretty far along' | Joystiq
Additionally, he pointed out that the upcoming project will run on existing consoles and is built on the same engine that powered Oblivion and Fallout 3. "That's our starting point -- the Fallout 3 tech. It started with Morrowind, we went to Oblivion, we did a lot between Oblivion and Fallout 3 because now we had final hardware -- with Oblivion we had six months on final hardware, so Fallout 3 technically does a lot more than Oblivion. The new stuff is an even bigger jump from that," he said. He wouldn't get too specific on when we'd hear more, saying he didn't want to disappoint people by announcing an ... announcement that might shift later on.
Also, the official page has been updated to a teaser for Elder Scrolls V. Take a look:
(by the way, won't this be best suited for the Elder Scrolls forum?)
---
#12
9 years ago
It would but come on! The word needs to spread among all gamers here and let's face it. Nobody visits the game specific forums for anything other than stuff about bugs, problems and mod-related discussions. At least that's what is observed maybe lik 98-99% of the times.
---
#13
9 years ago
Dragon born? Dragons? And the banner at the end? Looks like an invasion from Akavir.
On the topic of the engine, I won't mind if they use the GameBryo engine. It looks alright, and it functions. If they're going to sit around and develop a new graphical engine just so they can get some prettier visuals, then the game runs the risk of ending up with the Crysis-syndrome. Pretty, but not exactly fun to play in the long run.
---
#14
9 years ago
@Serio: Care to explain the banner at the end thing? I can't recall one. Probably on account of the fact that I was paying more attention to the voice.
---
7th December 2003
0 Uploads
#15
9 years ago
Nice. I'd like to see some ingame footage though. The music sounds good too, so far.
---
Nemmerle
Advanced Member
Voice of joy and sunshine
299,101 XP
#16
9 years ago
I remember this game, wasn't it called Conan?
;)
Hopefully combat won't suck quite as much this time, enemies won't scale with you and there'll be quests worth doing other than the Dark Brotherhood.
---
#17
9 years ago
random_soldier1337;5436875@Serio: Care to explain the banner at the end thing? I can't recall one. Probably on account of the fact that I was paying more attention to the voice.
Spoiler:
Show
Top is the one from the trailer(at the end), and bottom is the Akavir banner. But unless I'm mistaken, isn't that the same logo they've used since Morrowind? For the website, that is?
---
29th January 2005
0 Uploads
#18
9 years ago
I always thought that it was the symbol for Talos and consequently the Empire as awhole. It's also on their money: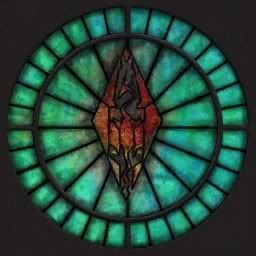 I'm just assuming that since "Talos" (Tiber Septim) was also referred to as the "Dragonborne", as was his descendants, this might in some way involve the next Emperor to the throne.
Though Akavir might be involved in in someway (They were defeated once etc). And since Dragons were more often than not associated with them. The Imperial usage of the dragon may have been influenced by their own use of it since the Tsaesci exerted a lot of influence on them.
---
#20
9 years ago
HOLYFUCKINGGODDAMNMOTHERFUCKINGHELLAHHHHHHHHHHH I've been waiting for this for so long!! This is unbelievable. And yes it's the Akaviri banner, which they used for Morrowind too. Interesting. I guess they used it because that lore is what the series is based on. That's what would make sense in lieu of the voiceover.
I don't mind that they're using the same engine, since they used it for New Vegas and it worked out fine. Just as long as they revamp the textures, it should be good. Mainly I'm hoping they fix AI, use more voice actors, change the leveling system, improve combat... Wow come to think of it, Oblivion was a horrible game in retrospect :D
---