Sovereign002
Advanced Member
Adeptus Moderatus We purge with chain and bolter
105,915 XP
#1
13 years ago
So horror games, what's your opinion about them? Some of them ar pretty well worked out, like Jericho for example: great graphs, good storyline, great gameplay.
Then there are games like Manhunt 2, who look like a combination between GTA and Hostel (which was imo, not that much of a horror movie) the graphs aren't that good, but there's lots of gore.
So anyway, do you like them, love 'em, simply can't stand any kind of horror, be it game or movie? And to tip it all off, do you think kids should be allowed to play them?
Here are two vids about Manhunt and 2. Some of the imaging is quite shocking, for the weak minded.
---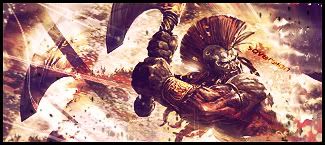 25th April 2007
0 Uploads
#2
13 years ago
I like them, I've played The Suffering 2 and it was great, the best horror game I ever played
---
#3
13 years ago
yeah these manhunt games were pretty raw and sure didnt hold back on the violence but then again it is the perfect game to play if you just came home from a hard or boring day of work
---
Mr. Matt
Advanced Member
#BanRadioActiveLobster
357,146 XP
#4
13 years ago
Jericho sucked. Especially compared to his previous offering, Undying.
Bizarrely enough the only game that really spooked me out was the haunted house level in Vampire the Masquerade: Bloodlines.
Also, gore does not equal scary. Not even slightly. It just equals gore, and that's it.
---
#5
13 years ago
Resi evil yay! Clive Barker's Jericho,nay!
---
#6
13 years ago
Well i saw the manhunt games, they arent really horror, they are more sadistic :D Jericho, etc are more horror games. And yeah its nice to play but with your friends. I would never buy such a game, because i am alone at home :D
---
17th December 2005
0 Uploads
#7
13 years ago
Yay for Horror games. I just don't se many of them.
---
4th November 2003
0 Uploads
#9
13 years ago
I like a few of them. But since most of them are in the "survival horror" genre I stay away from them.
---
#10
13 years ago
I've only played two of them and because of the two I can't really say.. Doom3 just plain sucked... But then F.E.A.R. was just awsome and quite simply the most well put together game I've ever played. The campaign was so complete in every manner I haven't seen anything like it in my ten years of gaming.. It had a lot of new ideas in the gaming world as well and on top of that it innovated some older ideas (such as bullet time). So far I'm 50/50, but it's not really my genre.
---