24th October 2007
0 Uploads
#1
11 years ago
[SIZE="4"]Project Warcry- Sci-Fi RTS by Elseware Entertainment Inc.[/SIZE]
Brief description:
This might seem like an ad, and that's what it is posted as on most sites. But, its main purpose on these forums is to hopefully attract new fans to our Science fiction universe. It was on these forums that Warcry first started out, and eventually moved on to its own site. So to ring in the new year, I'd like to give a big thank you to the community of Filefront, and to ask everyone to please check us out. Thank you for your time, and Happy new year!
Project WarCry has been in the works since November 2007. WarCry will be a 3D RTS game that focuses on strategy and a competitive online experience. Secondary goal is to create a highly polished game that stands apart from its peers by being an original scifi universe with beautifully crafted design and a strong story to support it. Our mission is to create a fun real time strategy game that consumes players in a rich universe full of societies as unique in design as they are in lore.
Target aim: Commercial
Compensation: Revenue share
Technology: NeoAxis Engine commercial SDK
Talent needed: Elseware Entertainment is always looking for serious, talented, motivated and passionate individuals! If you can see yourself as part of this team and believe you qualify, don't hesitate to get in touch no matter your specialization.
Currently we are mainly on a look out for:
GFX Artist Candidates can enjoy an atmosphere of mutual respect and creative problem solving, where your ideas can play an integral part in the development of the next generation games and bring highly detailed artwork to life. For this role we require someone that has a good grasp of design and function. Candidates must be able to work unsupervised to deadlines, and create highly detailed 2D graphics that are as functional as they are beautiful.
Requirements: • Experience designing both intuitive HUDs and navigable menus. • Ability to visualize and create interface transitions with stylish animation. • Knowledge of graphic design and animation software, 2D and 3D, as well as an affinity for learning new software. • Must have a solid portfolio that includes 2D graphics such as menus, UIs, icons.
Favorable skills: • Game industry experience is preferred, but not a requirement. • Outstanding design and layout skills • Working to a consistent style • Any supplemental materials demonstrating skills relevant to this position
Task involved: • Creating game menus • Creating game UIs • Web design • Possible VFX • Icons, buttons, logos, and additional 2D art resources that will be needed.
Concept Artist The biggest characteristics we are looking for is a creative mind, good work ethic and a passion for Science fiction. That's it. You don't need a masters degree or have worked for EA. If you're a talented artist who thinks he/she has what we are looking for, continue reading:
Requirements: • Strong portfolio demonstrating idealization as well as high quality images of character art. • Experience with rapid-iteration of drawings and paintings suggesting atmosphere, lighting and form. • Interest in science fiction design. • Strong understanding of anatomy. • Previous game development a plus. • Must be proficient with 2D applications such as Photoshop, Painter, etc. • Understanding of modern real-time 3d engines. • Outstanding traditional art skills
Favorable skills: • Education, Professional Training, Technical Training or Certification: • BA in art or related field or equivalent experience. • Previous game development a plus. • 3-5 years working as an Artist, Concept Artist or Illustrator.
Task involved: • Fully realized inspirational paintings for the team and marketing. • Environmental studies, mood pieces and screen paintovers. • Sketches of props and individual environmental elements. • Character sketches and creature studies. • Detailed drawings of weapons and armor. • Communicate with production artists to help clarify concepts in order to achieve milestone objectives. • Participates in meetings to share personal ideas.
Team structure:
• Brandon Flowers: Creative Designer, Creator of Project Warcry • Vincent Cabanas : Technical Designer,General modeler • Juri : Lead 3D artist • Steve : Lead programmer • Ibrahim : Writer • Codata : Programmer • Jajce : Shader programmer • Vibhas : Concept artist • Christian : Concept artist • Adelson : Concept artist • Przmek : Concept artist • Rapahel : 3D artist • Andrew : 3D artist • Roland : Sound designer • Maestrorage : Composer
Website: Elseware Entertainment Forum: Elseware Entertainment :: Project Warcry • Index page Moddb page: Project: Warcry PC game - Mod DB
Contact: jobs [-AT-] projectwarcry.com
Previous Work by Team: Our team consists of industry professionals as well as serious, mature and talented people from the indie game development community
WHY JOIN US
* The project is using a powerful commercial engine - Neoaxis. It is a game engine framework build with RTS in mind on the award winning open source rendering engine Ogre3D. * The team consists of industry professionals as well as people with vast indie development experience. The objectives are very reasonable and our asset, progress is a solid proof of this. * Over a year of pre-production phase! 50+ units concepts, 30+ units models most in game working with all the bells and whistles - animations, tanks moving, turrets firing, accompanied by smoke and other VFX. * RTS 3d models are fairly simple and far less time demanding artistically than any other genre(goes double for indie). This greatly enhances the art asset quantity and quality that we're able to produce despite the indie development limitations. * The project is held stable and active at all times by SEVERAL industry and vastly indie experienced core members. * BUDGET. We have invested into this project, members, contractors etc from our own pockets! This is something an average project promising mountains of gold would think twice before doing.
Some images demonstrating various art aspects of the game (design, concept, 3d, low and cinematic, in game). Please visit Website or ModDB for more images.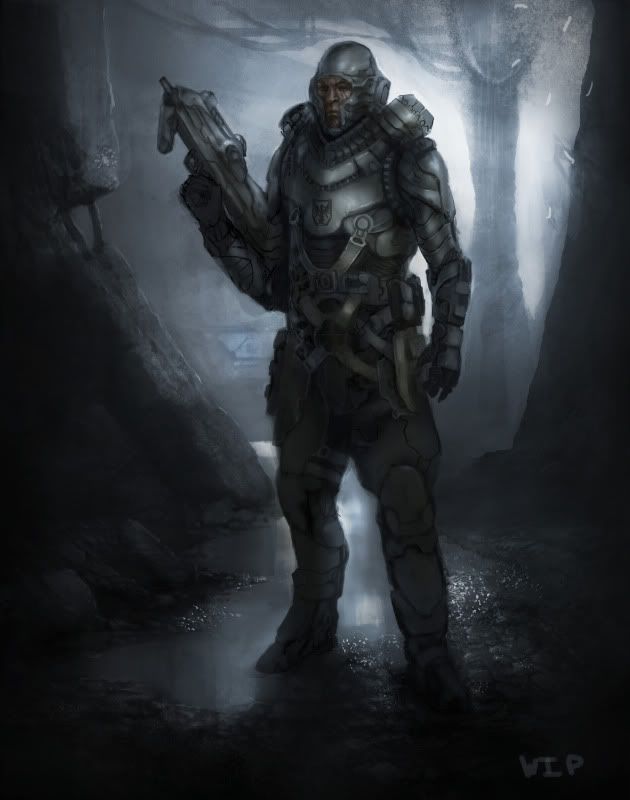 Check our website for more details!
---