#1
12 years ago
Wow.. I think I found me a new MMO.. Friend just sent me a link to this place (Richard Garriott's Tabula Rasa®) and I am amazed.. You don't get a lot of original ideas in the MMO world very often, but this is somethin else..
---
Sovereign002
Advanced Member
Adeptus Moderatus We purge with chain and bolter
105,915 XP
#2
12 years ago
Wow, I just watched the trailer and it looks amazing. The storyline is a combination between originality and cliché and the screenshots don't look bad at all. Is it a free MMORPG like Guild Wars or a monthly subscription like WoW or is a completely free like America's Army? I haven't found any information about paying on the site.
---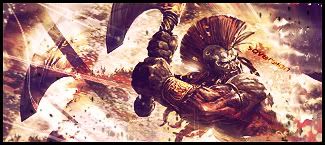 #3
12 years ago
I haven't found anythign on payment either.. You'd hope it would be cheap or free for a title that runs $30, but we'll see.. I need a Power Supply for my 360 (Microsoft *******s) so I'll be goin the the uber electronics store tomorrow. I'll see if they give any payment info there.
---
4th November 2003
0 Uploads
#5
12 years ago
The fee is $15 a month. And while the game does look really interesting, I still won't pay to play.
---
#6
12 years ago
Can't blame ya.. The reason I like MMOs is because of the number of players and the organization on a close server (like Intrepid, SWG used to be).. If I can get a community like I had in Star Wars Galaxies, I'll be set... You simply can't get that from a non-MMO game.
---
#8
12 years ago
You can't role-play in CS....
---
4th November 2003
0 Uploads
#9
12 years ago
You can do 2 things in CS; save/kill the hostages, or you can plant/defuse the bomb. The only time I have fun on that game is being a dick.
---
#10
12 years ago
Thank you for proving my point.
---