18th November 2004
0 Uploads
#41
9 years ago
Nikolai would probably be the embodiment of the loyal(ist) gamers who support IW but aren't really part of it. =p
---
15th September 2004
0 Uploads
#42
9 years ago
#43
9 years ago
Zamamee;5258990I bought MW2 and have been playing it more or less constantly since release. IWNet is sure as hell not a replacement for dedicated servers. It's annoying at times, but it's not the end of the world. 9 games out of 10, my connections are solid, and with the exceptions of a few flaws, it's a really fun game. Many of the issues stem from poor balancing and gameplay issues rather than IWNet, for example the Akimbo G18's...for whatever reason, they're more accurate in hip-fire than a single G18, and with Steady Aim, forget about it. There's really no good counter to them. But, if the previous fiascos with the Model 1887's or the Care Package marker sprinting are any indication, Infinity Ward do give something of a shit about balance, and I'm sure they'll get around to nerfing the akimbo G18's.

I actually played some CoD4 multiplayer this week for the first time in a while...and I instantly remembered why I was excited for MW2 to come out in the first place: fucking 3x Frag. >_<

Am I happy that they replaced dedicated servers with IWNet matchmaking? No. Is the game 100% perfect? No. Does that keep me from enjoying a game that's generally fun as hell? Also no.
Dont play on noob servers then <3
just thought I'd show mr. bud over here which game people actually play While people actually bought it at launch has it been played for more than 3hrs by people before they get bored of it? no.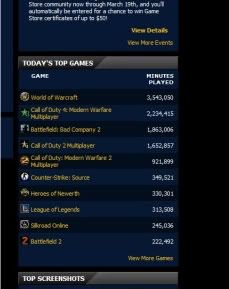 ---
24th September 2007
0 Uploads
#44
9 years ago
I can't wait to see how this whole incident plays out.
---
Mr. Matt
VIP Member
#BanRadioActiveLobster
356,707 XP
#45
9 years ago
Gods of Games Inc announce new title!
GoG Inc, the secretive video games publisher which was formed some twenty years ago by a conglomeration of mythological gods looking for new opportunities, and which now controls the entire industry through magical means, have announced a sequel to their enormous, critically panned 'Electronic Arts' title. Tentatively named 'Activision Blizzard', this new title is promised to be "bigger, badder and longer" than their previous efforts.
Nergal, the God in control of the Viral Publishers department at GoG, explained.
"Electronic Arts was this huge, evil archenemy that everybody loved to hate," he said excitedly, while mauling a teenage nerd with a pitchfork. "They had a virtual monopoly over the world, and the player had to try and navigate a minefield of regurgitated titles and evil business practices that threatened their beloved hobby.
"With Activision-Blizzard we have tried to capitalise on that experience, only with more 'BANG!'. We've got more cash cows, bigger news stories and we're planning even more regurgitation. While in the last title, Electronic Arts was somewhat reformed after a long battle, in the next installment Activision Blizzard will step into the vacuum of horror they left behind, and take evil to a whole new level."
In the brief interview, Nergal explained that Activision would use whips to beat its employees into churning out a 'greater number of recycled titles than predecessor EA could ever dream of', and would grow to be even bigger than the antagonist of yesteryear.
"Activision-Blizzard will start out much the same as EA did," Nergal continued. "But as Electronic Arts starts to mend their ways, somewhat, Activision-Blizzard will pounce on their weakness and grow to be just as terrifying. Only this new enemy will have a powerhouse of slaves working to fund their operation, called the World of Warcraft. This entire planet of slaves will contribute the funds Activision-Blizzard will need to take the concept of 'milking a dead cow' even further than before, and gamers will be challenged by an ever-growing selection of identical, and terrible, game releases as Activision-Blizzard continues the war against good gaming.
"To make them that little bit eviller, Activision-Blizzard will also overtly employ their corrupt business practices to even greater effect, no longer bothering to hide them in the shadows like their predecessor did."
Activision-Blizzard is presently gold, and is undergoing some pre-release patching before hitting the shelves.
---
#46
9 years ago
Bump. Just thought of something.
John Riccitiello = Makarov
---
24th September 2007
0 Uploads
#47
9 years ago
Seeing as how this has been bumped, any news on the lawsuit.
---