12th March 2018
0 Uploads
#1
7 months ago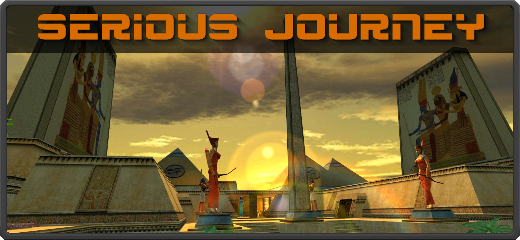 Hi, everyone!
I'll risk paying the attention of members of the forum to my Serious Sam mapping contest. How can it interest you? Mmm ... probably is no way. But still try to get acquainted with the conditions. In advance, I apologize for the wall of the text. In short, the point is that by the end of the year, you need to make a map for The Second Encounter under the style of Egypt and Sci-Fi. The idea itself resembles the Doomworld Mega Project, only with significant limitations, and it should not be mapping only for interest (although it is welcomed, there is simply no one), but for prizes. From DMP here only a minimum quality control to attract newcomers. Actually, I created this topic in the search for some participants. As prizes are Steam-keys (I can not offer anything more valuable so far). All the details, and a list of prizes in the main topic. (seriouszone.com)
If you decide to take part, but you will have some technical problems with the editor at work, you can always contact me directly.
Actually, if you've never before mapped for Sam, here's a short list of what you can expect if you step on the thorny path of mapping with Serious Editor:
1. "Ancient" (but quite powerful for it's time) engine with a very peculiar attitude to optimization, which is achieved by a heap of crutch-methods. It should be remembered that no matter how powerful your computer is, the Serious Engine brings you strong lags, for example, when drawing terrains from more than 3k polygons, illuminated by dynamic light.
2. The map editor is like a minefield. Strives to crash almost with any awkward movement. Without any backups. Of course, you get used to it over time, but for any newcomer it will be ultra-violent to watch how the hours of work suddenly fly into the abyss. Beginners can also "please" a very original system of undo/redo. When, for example, you are trying to correct a texture, you understand that you did not do everything right, try to undo the action... and together with it "canceled" about half an hour of the work done ...
3. Monsters behavior much restricted for battles outside big arenas. With them, it's difficult to create a fascinating gameplay, different from the "waves of monsters". But they have the potential. Actually, I propose to try to disclose it within the framework of the contest.
4. Significant shortage of custom resources. I prohibited the use of commercial games resources in the rules. This is done so that participants try to show skills, rather than show, who will put more stuff into *.gro, inflating it to 9000 mb.
I will be infinitely happy if at least about 1.5 people agree to just try to make something for competition, during this year. Agree only if you really have time for that...
Any thoughts?
---
FileTrekker
Über Admin
I'm spending a year dead for tax reasons.
268,715 XP
15th December 2002
69 Uploads
22,500 Posts
1,734 Threads
#2
7 months ago
Sounds fun. What is the deadline for the contest?
---
12th March 2018
0 Uploads
#3
7 months ago
Dedline is end of the year - December 31th.
If interested, then see the details by the link. There are many important nuances.
---