#1
11 years ago
Mine was a little over a year ago when I was on my HaloCE binge.. I hit the cockpit of a fighter plane from near of a mile on Extinction (think it was the map name) with an anti-tank rifle. The shot killed the pilot instantly which was good cause he had seeking rockets and I had to reload (1-shot rifle).
Spoiler:
Show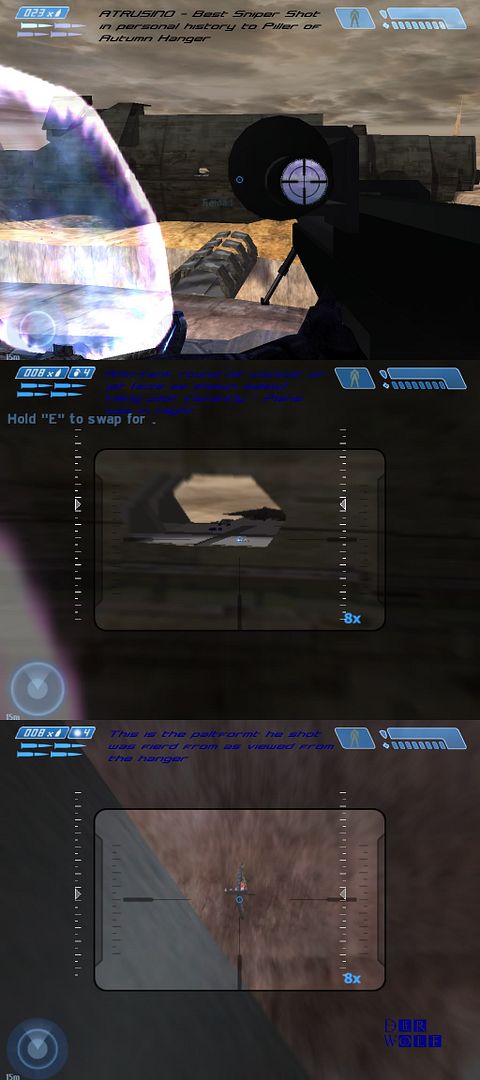 Got that shortly after I had this made:
So what was your defining moment and what role do you most often play in games? I'm almost always a sniper when I can be.
---
29th January 2007
0 Uploads
#2
11 years ago
#3
11 years ago
Aye, but what event made you as a gamer?
---
#4
11 years ago
It was way back in the days of Star Wars Jedi Knight: Dark Forces II. This game was one of the first I ever got to play online with other people.
Long story short, I lightsaber'd my way to a smashing victory.
---
#5
11 years ago
Dude, that was my first online game as well :D Anywho how many people? Just curiosity if you happen to remember.
---
#6
11 years ago
Superb mod for Bridge commander in its early stage, those new ships and graphics, it was really for me the top.Especially if i was able to download some SW and B5 ships and battle against each other! so damn cool.
---
#7
11 years ago
Mine had to be when I was playing BF2 Modern Combat on the xbox. I took down 15 helicopters on foot in one round including 2 c4 kills. It was amazing.
---
#8
11 years ago
I am just an average gamer. There is no one event that made me.
When it comes to strategy games, I have always been better than my younger brothers. When it comes to Racing, we are about equal, but I usually have the upper hand. Mad Driving Skills, man!
The most interesting moments are usually in First person shooters, where I am the underdog. I am more skilled at running away from a fight, than actually getting in a good shot. Hand held weaponry is my least effect means of combat. guns, swords, pokeballs. Completely ineffective. Give me a Tank, or an Apache, and I will dominate. You give me an M4 rifle, you will probably want to go without body armor, just to make it a fair fight. The youngest is the best at Shooters, and the middle kid is the best at fighters (SSBM, SC2)...
The most fun moments are when I get the upperhand on my brothers, in FPS games. One time I managed to get to the higher ground in Day of Defeat 3. My brother was expecting me to be passing below in the streets. When I unloaded my weapons on him, he actually got a little worried. Except for the fact that I barely got off a single hit. Bullets flying, grenades going off, all coming from an unknown source. This went on for about 10 minutes. And he was in the building right across the street. Tons of fun.
Then one time I was walking through a dark room. When I got to the door on the other side, and opened it, the wall erupted in gunfire. I was outside in seconds. My brother says my character on screen actually panicked. (Still DoD3)
There was one other instance. My brothers and I were playing Star Trek: Armada. It was about 1 minute into the game, long enough to build a shipyard and a couple of ships. Well I was concentrating on gathering Dilithium, and building turrets outside my base. My youngest brother managed to slip past my turrets (cloaked), and went for my dilithium station. Three Shrike class ships is all it took to cripple me. I was about to take on two, maybe even three opponents, and I would have won too. This was not even planned, my brother just sent some ships into my base... I usually had 3-1 odds against him, that time the odds were reversed. I ended up sitting there staring at a useless starbase for 20 minutes. While I waited for a fleet capable of destroying it.
---
#9
11 years ago
K7AV;3997634Mine had to be when I was playing BF2 Modern Combat on the xbox. I took down 15 helicopters on foot in one round including 2 c4 kills. It was amazing.
That just sounds awsome! I gott aplay BF2 As to you, Monster Gamer.. Even I run some times in FPS games. Part of bein good is knowing when running is a good idea. That's what Grenades and High Explosives are for :D
---
#10
11 years ago
I was in a CSS server, and I got 23-0. In the server they play songs for the number of kills. One is Capt Picard singing a song about him being the capatin of Enterprize:P
Another is Spongebob singing one of his songs. Its called the G-man song. U need 23 songs in a row. U also get bounties for having a lot of kills in a row.
My bounty was 7.5k. lol
---