#31
12 years ago
For me, it's either Super Mario Bros (NES) or King's Quest (PC), both sometime around 1985.
Mario:
King's Quest: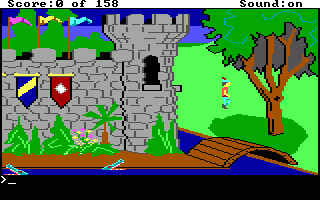 Actually, come to think of it, I now recall beating the Atari 2600 game Adventure around 1982(?).
---
Rikupsoni
Victim of Forgotten HopeForum bystander
50 XP
26th April 2004
0 Uploads
#32
12 years ago
No idea, really. When I played games for the first times I never completed them. And for PS1 I had too many games that I could remember. Atleast I completed Medal of Honor 100% with all stars few times and it was one of my first games for PS1. So it may be that..
---
#33
12 years ago
NASCAR Racing 2 was the first for me
---