#31
13 years ago
Anlushac11;3865284 My mom and later my aunt and uncle who raised me tried their best to get me to stop eating in courses. But I still eat all of one thing and move to the next instead of taking a bite of one thing and then a bite of another.
Ah me too! I don't even know why... :uhm:
---
#32
13 years ago
:faq:French Fries Duh :nodding: :aug2: :aug: :lurk:
---
Sovereign002
Advanced Member
Adeptus Moderatus We purge with chain and bolter
105,915 XP
#33
13 years ago
I always eat the burger first, then eat some of the freanch fries while eating my second burger. There's always a couple of fries left to enjoy while I chat with my mates. During the whole time I drink coke to flush it all down. (free drink refill FTW!)
---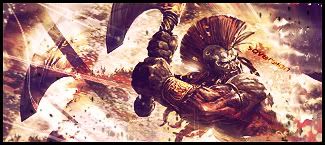 #34
13 years ago
Fries first. Because they're always placed on the left side. It feels weird if you start from the right side. :x
---
22nd March 2005
0 Uploads
#35
13 years ago
Anlushac11;3865284...But when I ate fries I ate them first because they taste best when still hot. If I eat the burger first the fries are cold by the time Im done...
You clearly aren't eating your hamburger fast enough. Size is no excuse, you should finish your hamburger before your fries are less than hot enough to scald you.=p
---
#36
13 years ago
Hamburger. The fries are a side, an attraction, a spritzer. They are not the main course, the centerpiece that is the hamburger. Hamburger naturally gets eaten first. That said, I don't eat at fast-food burger joints at all. They suck.
---
#37
13 years ago
Knives;3858356[SIZE="1"]I like to eat them at the same time... actually, I like to stick fries inside of my hamburger and eat it like that.

I can't even remember the last time I had a burger and fries. o.o[/SIZE]
IIRC isnt that Philadelphia style? To put the french fries inside the sandwich?
I have done that before and it was good but I usually dont like to mix tastes and flavors in my mouth which is strange because I like to try new and different interbational foods.
---
9th December 2003
0 Uploads
#38
13 years ago
I rarly eat fastfood. Almost all the time I eat a hamburger it's at work (restaurant) , a snackbar or at home. And those hamburgers are of much higher quality then the crap they serve in fastfood chains.
Anyway, when eating (flamish ;) =p ) fries with a hamburger/schnitzel/enter meat here/.../ I usually first eat a reasonable part of fries, then take a few bite out of my hamburger, then take some fries, hamburger, fries etc. and make sure my last bite is the hamburger.
Edit: Why? Because the hamburger (or other meat) is the main dish and the fries (or potatoes) are a side dish. I want to end my dinner with the taste of the main course in my mouth. And I start with the side dish because... uhm... probably to increase my appetite ("hmm, damn I want to put my teeth in the main course.. hmmm").
---
Datarock
Advanced Member
Resynchronizing with RealitySorry, You're Not a Winner
65,745 XP
17th April 2006
0 Uploads
#39
13 years ago
When I do, on that rare occasion, have fast food like McDonalds or Burger King or whatever I can be bothered to waste my money on, I will always eat the fries first. It's just a habit I guess. Besides, I don't particularly enjoy the fries, so I save the best thing until last.
---
#40
13 years ago
French frites first with some coca cola and then the burger. After the burger, the chicken dips.
---