#11
12 years ago
cc.;3598163I live in Etobicoke of Toronto Canada. It's quite nice where I live, in a very nice neighborhood where every second person owns a black benz. Things to do - go downtown. everything is downtown. unless your lame enough to chill in the suburbs.
I know exactly what you mean. When not at school in Ottawa, I live in Whitby, aka suburbian hell. There is nothing to do except go downtown and/or get wasted. Most of the time though, we dont bother going downtown since the last GO train leaves Union around midnight, and we like to drink/smoke/snort (only the drinking for me though) long into the wee hours of the morning.
---
8th January 2006
0 Uploads
#12
12 years ago
another thing about Owensboro, probably the best thing i like about it, its not a big city, but its not a small lame community, its 50,000 people which suites me very well, theres everything to do as in the large cities without the traffic and crime (its a very safe town) and pollution , the scenery is great too, downtown on the river front is a great view, and i LOVE driving through the rolling hills of farm land and curvy roads
other thigns we do are paintball (hurts, but its fun), mudding, and buying lots of fireworks and blowing things up, it seems like every person but me hunts in this town, some of my friends go coyote hunting
---
#13
12 years ago
Well here in the moors its very much as you have seen in films...Its very misty with lots of rain and very little sunlight.Right now the rain is puring down and i cannot see 30 cm past my window. This makes life very hard to play any sorts of sports which unfortunatly means that i have to spend all my time around shopping centres purchasing new clothes for whatever climate i may be up against ( oh the pain of shopping (sarcastic) ).The temperature at the moment is 4* and its freezing even with the central heating on.Very soon the rain will stop and then the mist will return and returning with it will be the fear factor of knowing that i have to go out in it and risk getting my hair all wet to go shopping...What a life.
---
#14
12 years ago
I live in Vienna Austria, a typical Central European city. The city has about 1.6 million inhabitants and is the capital of the country. Vienna is somewhat unusual as it is a very large city for such a small country, this is because it used to be capital of a much larger empire. In fact, population was considerably higher a century ago. Anyway, the building i live in, and a great amount of the apartment buildings in the outer districts, is about a hundred and fifty years old. My neighborhood used to be all vineyards, and it's still very green compared to similar sized cities world wide.
Picture of our apartment building:
Spoiler:
Show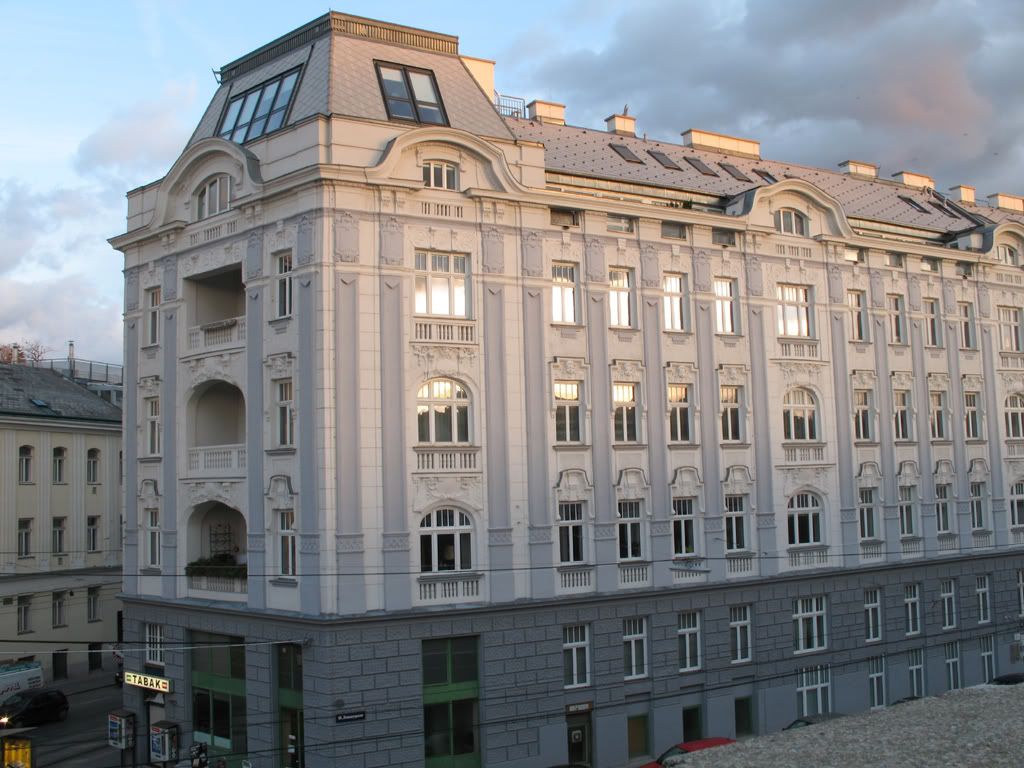 ---
#15
12 years ago
I live in the centre of belgium, between Brussels (approx.20km away) and Leuven (Approx. 15km away) in a very long street of which my farmhouse is the first in the street yet it is 500m. away from it's very beginning. There are crops and fields on the opposite side of the street, and there are woods all around the house. The house is 30m long and 9 m wide (typical old belgian farmhouse style). The planes fly past our house on both sides to land at Brussels National. I've gotten used to the noise over time.
---