#801
12 years ago
1. i have to do homework now 2. i have 1 hour to finish it 3. i hope its easy...
---
#802
12 years ago
- I am so busted for breaking my mom's flower vase. - I am so scared right now - I hope she comes late, she's still not home.
---
#803
12 years ago
1. i still have homework to do 2. pretty late 3... oh crap i have a test to study for too. 4. PANIC!!!!!!!!!!!
---
#804
12 years ago
- Oh shit, my mom's coming! - I'd better get ready to break the news... - I'm gonna get punished for breaking the vase.
---
Sovereign002
Advanced Member
Adeptus Moderatus We purge with chain and bolter
105,915 XP
#805
12 years ago
1) Tomorrow is a national holiday. 2) I don't have Uni tomorrow. 3) I won't wake up before 11am tomorrow.
---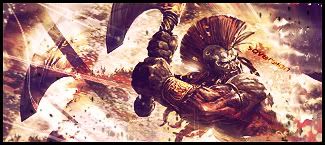 #806
12 years ago
-- i have 3 exams this week [only worried about one]
-- i have a 20 page paper due tues and i've not started it. pressure anyone? i figure i'll work on it in bits. some here, some there. about 3 or 4 pages at a crack. i'm not too worried, but when i got stuff hanging over my head i can't have fun playing games so i guess this works out.
-- everyone on my floor is moving out except for me because my last exam is on the 19th, everyone has to be out by 20th at 10 am. rush baby, rush!
-- i've finished my first FarCry map with custom brushes [website release this week sometime] and i'm still in shock, and it's one of my prettiest maps, BY FAR.
---
#807
12 years ago
n88tr's avatar makes me feel happy :) still late, still working still worried about that history test tommorow.
---
#808
12 years ago
yeah, it makes me happy too! that avy is really old, that kitteh is probably in ceiling cat land by now...
---
#809
12 years ago
1. i dont think i did that bad on my history test 2. i lost my calculator... again. 3. just had cookies and milk.
---
#810
12 years ago
1. im listening to Bach 2. now im listening to Chopin 3. I have a thing for classical music
---