#1
13 years ago
Bit of Internet Comfort this morning, still recovering a little from last night. Had Wicked Breakfast fried eggs, bacon, fried bread, toast. It was gorgeous then i caught the smell of beer and my stomach was like eerrrrg . Anyone have a good friday night . I know i did as i cannot remember much!
---
#2
13 years ago
I haven't gone out much since my local bar closed. Early evening I cooked and ate with my sister which was fun since I don't see her that often, afterwards I just kind of sat around, sipping chilled scotch and doing stuff on the computer.
---
Sovereign002
Advanced Member
Adeptus Moderatus We purge with chain and bolter
105,915 XP
#3
13 years ago
I didn't go out last night, the rain was pouring down. I'm planning on taking my girl to a restaurant later this evening though.
---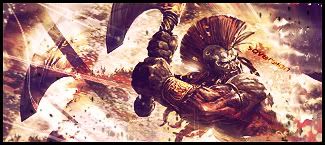 #6
13 years ago
I had a good night: beirut (beer pong for you cretins out there, haha), off to the pub, and then back and more beirut with some friends. I still feel it right now, haha. Ouch.
---