22nd December 2003
0 Uploads
#1
10 years ago
Hello all, haven't been around in awhile, my bunch of nothing has caught up to me and I'm back.
I did a search for "german" and "bunker" and saw nothing about this, so I thought I'd share. (picked it up on fazed last week)
German Bunker in my Garden Original Thread Secret Room 2 ....... "Nazi Bunker"
Basically, this guy had heard (and seen) that other people in his neighborhood had old WW2-era German structures on their property, and had heard that there might be one on his. So he's decided to tear open his garden and have a look. Sure enough, he's found one! Some interesting things about it though, the light switch is at the far end from the doors, and he believes it might be a false back wall. He also noticed there's a metal plate on the floor of this structure, so he plans to tear into that soon too. This all happened about a week ago, so the updates are still coming!
---
2nd October 2006
0 Uploads
#2
10 years ago
Haha that is a pretty good find. In my village (Britain) we have a few old WW2 gunposts. One down the canal end and one up the rifle range, I believe there are also a few up the heath but not to sure.
---
29th November 2003
0 Uploads
#3
10 years ago
That's interesting, I wish I had one too. But meh, I don't even have a garden... There are quite a few Soviet bunkers (the Porkkala area was lent to them after the Continuation war and given back in 1956) close to where my grandparents live though, but they have all been filled and none has yet been uncovered as far as I know. All I've seen anywhere close to here are some old trenches from WW1. There is this one big bunker at the location of the old aircraft factory (which IIRC was the only Finnish aircraft factory during WW2) on the other side of Tampere, but I haven't been down there yet. :( At least one unlocked entrance was found, but the people haven't shared the location of it, so finding it might take a while, besides which I don't have any urge to enter big dark old bunkers that have merely been used by a factory.
---
16th April 2005
0 Uploads
#4
10 years ago
There the remains of a coastal fortress and several artillery batteries built to keep the Russians at bay (in the 1880s) on the outskirts of my city.
Plus a set of secret caverns built as Army headquaters during WWII in case of a Japanese attack, got closed up and were rediscovered in 1987, and which are currently used for testing ring lasers.
---
#5
10 years ago
Nothing like that here though in Gettsyburg, you can still find old bullets and parts of cannons, and various other things left behind by the dead soldiers
---
9th December 2003
0 Uploads
#6
10 years ago
That's quite cool. I would be damn excited even if it would be a useless bunker. :)
---
#7
10 years ago
Great now I have to add German bunker to the list of properties I want. I'm still working on a cave and abandoned factory and/or warehouse.
---
29th January 2005
0 Uploads
#8
10 years ago
That's pretty cool. Lots of history there, and being a bunker is even nicer. Something about things being underground really drives the curiosity in me. If he can find some relics in there, he can sell them off for a good deal of cash to collectors and museums.
The pictures he has taken is interesting, like this one.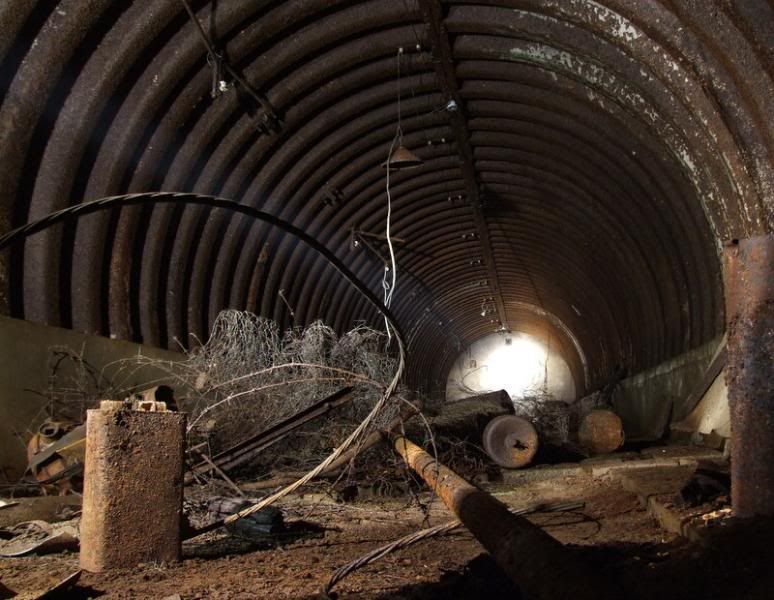 Creepy to think that's all under their neighborhood.
I've seen a few fallout shelters here, but that's about it. Nothing abandoned.
I did come across an old ruin though when I was on my vacation last year to Kurdistan though. The locals don't know who or what it came from specifically.
There's a high res one here Panoramio - Photo of Khanas Ruins
---
2nd October 2006
0 Uploads
#9
10 years ago
That looks like a burial ground to me, or one of those houses built into stone, but then it has no door.
---
Sovereign002
VIP Member
Adeptus Moderatus We purge with chain and bolter
105,915 XP
#10
10 years ago
That's pretty cool. I mean, it's not every day you find some extra storage space. =p
I doubt there would be any old weaponry or some such in the bunkers. Would be cool though.
---