#1
12 years ago
How big is your heart not in the literal sense but spiritually.
Think about it if you had no special influence over anyone in this world would any one think that spiritually you had a good heart?
If you were never the cream of anyones coffee or the friend in need , no one would ever consider you a positive influence or spiritually to have a heart.
Spiritually how big is your heart and why, is it for mainly one person or several people?
How do you commit to your spirituality , your morales?
If you were to pretend that an image was representative or symbolic of your good will in doing good deeds, those ideals you live for if they could be put into a picture or symbol , how large would that symbol be, how clean ? Would the edges be well cut or would it be jagged?
What would your hurt look like, small , large, has anyone ever told you that you have a big heart?
If you can not think in this way simply, how good of a person are you? How loving, understanding do you consider yourself to be?
---
17th February 2007
0 Uploads
#2
12 years ago
17th February 2007
0 Uploads
#5
12 years ago
Oh. Well in that case. I've been told that I'm a kind hearted person and I like to care/help people. I have my times when I piss people off. So....I would have to say 98% good hearted, 1.5% bad, .5% mixed.
---
Sovereign002
Advanced Member
Adeptus Moderatus We purge with chain and bolter
105,915 XP
#6
12 years ago
Well, this is a tricky question. It is very hard to rate yourself, especially when it comes to your own heart. I personally don't know. I try to be friendly and caring. But at the same time I can be an incredible petty minded jerk.
I don't think anyone can rate himself in an anywhere near accurate manner.
---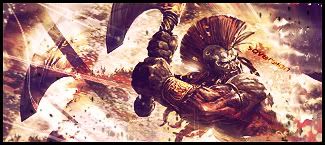 #7
12 years ago
It is interesting to see who has the nerve or understanding of one's self to try though. I do not anticipate many replies. I could be wrong though . I wonder how many people take the modest route and say they are average, and why they take that route.
---
#8
12 years ago
I can safely say I'm a little above average.
I mean, I don't want to do things for the community if I don't have to, yet I'd give money to a begger if I can.
---
#9
12 years ago
About average, I'd say. I'm not really comfortable with getting too involved with helping complete strangers (unless it's something trivial, like getting something from a high shelf at the supermarket - which seems to happen every time I go shopping, and I'm usually only too happy to oblige), however if a trusted friend of mine needed any kind of help or support I'd certainly do as much as I could to help them in a heartbeat.
---
#10
12 years ago
First off, how do you know Mickey Mouse has a small wang? Did you raid Walt Disney's secret stash or something?
---