Sovereign002
VIP Member
Adeptus Moderatus We purge with chain and bolter
105,915 XP
#31
11 years ago
Sovereign001;4007751if you find that strange, then what's this??? YouTube - JUMPEN: X3M JUMPERS JUMP MOVIE 4, HARDJUMP
Hey, that's Hardjump, that's pretty hard to do.
As for those kids, sure they look stupid, but they're having fun. Who are we to judge that?
---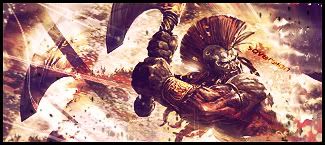 16th March 2004
0 Uploads
#32
11 years ago
That is just weird....
---
[color=#000000][size=2][b][i]Heralds of the coming doom, Like the cry of the Raven, we are drawn, This oath of war and vengeance, On a blade of exalted iron sworn, With blood anointed swords
#33
11 years ago
Hm. There are parts (talkin' bout the first vid.) where the dance looks kind of silly and the music not really good, but some moves they do are rather hard. It kind of seems like crip-walking, which is also much more difficult than it looks. 'New low'? Think not.
However, as I make up from your posts, I believe it is a hype (?) - over here it ain't. I don't really like hypes... Just like the 'Jumping' video posted earlier, that's a hype in The Netherlands/Belgium. Now that's even more annoying. Every one is doing the same jump, over and over. And for some reason, the whole friggin country is doing it.
---
#34
11 years ago
One thing that I should have said in my previous post on page 1: 2 kids do not represent humanity.
nanobot_swarm;4008292I think I just shot myself twice this is funny though YouTube - Exploding Whale
Wa!? Idiots.
---