21st December 2006
0 Uploads
#1
13 years ago
In my school ffs, i just came out of the Sats hall and some year 10 prick shoulder barged me and called me dick head wtf?:confused: Im already stressed from sats and the prick pushed me over the edge and now hes front teeth are missing and im on red report.:mad:
---
8th December 2003
0 Uploads
#2
13 years ago
Don't wuss out... Based on my experience, you will regret the fact that you humiliated yourself... You should confront him and hit him in the face. Who cares? Pain is better than death.
---
16th March 2004
0 Uploads
#3
13 years ago
You could always get some eggs and egg him...or just pull some pranks on. Even better you could forgot about the whole thing
---
[color=#000000][size=2][b][i]Heralds of the coming doom, Like the cry of the Raven, we are drawn, This oath of war and vengeance, On a blade of exalted iron sworn, With blood anointed swords
27th December 2006
0 Uploads
#4
13 years ago
29th January 2007
0 Uploads
#5
13 years ago
9th December 2003
0 Uploads
#6
13 years ago
Why would you hit somebody for "only" saying some minor curse words. I would ignore them at first but if they kept ranting on I would reply (depending on the situation this could be shouting back or asking them WTF they are on about).
---
12th November 2003
0 Uploads
#7
13 years ago
No, punching someone in the face works better, you'll find out sooner or later Donitz ;)
---
9th December 2003
0 Uploads
#8
13 years ago
I never have seen a reason to punch somebody on the face... I might if attacked but I never have been attacked. Actually we talked on work about this, two guys saying they "knew how to fight" and me and an older (26 years old) colleague who never have been involved in a fight and have solved everything by ignoring/walking away/talking things out.
So no, I don't think I will find out sooner or later, unless you decide to attack me next time we meet...
---
Sovereign002
Advanced Member
Adeptus Moderatus We purge with chain and bolter
105,915 XP
#9
13 years ago
Now THAT would be an interesting thing to see on a cool dutch club meeting :nodding: As for fighting, I'm somewhat in between. I try not to engage in fights, but some pricks just don't know when to quit and p!ss off.
---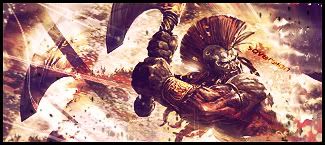 #10
13 years ago
I say explain yourself to the school people, ask for some leniency since you did hit someone and resorting to violence is never the answer.
If that doesn't work, fill a paper bag with dog poo and proceed to place it in front of the doors of said school people (and the person you hit) and light said bags on fire. Even if you get out of this, do it for the sake of lighting a bag of poo on fire.
"He called the shit the poo!"
---