9th December 2003
0 Uploads
#21
13 years ago
Crazy WolfI know^.^ Since I know its not English, I called my writing(typing) American :P
That my friend we call "American English".
British English is superior though, words as armour and color simply wouldn't look as good without the "u" in them. Don't even get me started about how to spell aluminium. :giggle:
---
#22
13 years ago
To be honest, I agree. There is nothing worse than an ill-typed paragraph, with no grammar or no punctuation.
Here's an example from another forum I'm on:
Well i love First Person Shooters but all the new enhancements make them no challenege for me any more Like the auto lock on feature were you aim near an enermy and it locks onto them and and were you cant turn the goddamn option off if i wanted to have a non challenege game i would hire a fucking motion sensor aimer what other things piss me off about these are fucking hackers a clear story of this is when i was playing a BF1942 demo off a site in like 2002 and no one in sight so i get some bullet fire from behind me and bang im dead i check out the area were i thought some one was shooting and boom im dead again like WTF turns out a fucking prick has managed to get a wall hack and hack into a pile of logs i could tell he was in there because the tip of his gun was poking out and flashing so eventualy i get the admin to ban his mother fucking ass but whats the point of hacking it doesn't make you any better at the game or make you more liked by players it just makes others pissed off one day hackers are not gona be able to hack next gen games then they will be the pissed off one because they can't play the fucken game properly i have loads more storys of those fucken pricks. My next Extreamly pissed off thing is Team killers (people who kill thier own team for the fun of it) this is very common in dedicated severs were no admin is present and you always get a unexpected team buddy dude pumping led into you back luckly some dedicated severs have a macro were if you get like 3 team kills its a ban thank god but why they do it is known it dont make them any more better at the game and clearly means they are just those little fags that want to have an arguement. Next one is bitchy admins one time i was playing a female gamer who was the host of the sever she was good but off corse a little FPS pwner like me killed her to stop her killing spree any way i got her more times then she got me then she makes a comment "you just killing me to piss me off" that makes no senece at all i killed her because she was the biggest threat on her team and she obiously wanted to kill me aswell she was shooting at me, in the end she couldn't take the fact she got killed by a higher pinged player and banned me but luckily i managed to pay her back because she was leader of a clan so i made a sever with her clan name on it she didnt see it luckly and i had her name as my name and all of her clan members rushed in i caned em all because she only recruits the people that she can kill and are nice to her so i told em they suck they need to get a life and banned the little fags next time i saw them they didnt have her clan name in thier names i know its not nice using others to get people back but thier was nothing else i could do. My final pissed off rant is idiotic team mate I.E Noobs Eg Conquest Map were you have to capture all the bases and eliminate all of the the other sides team so theres me doing most of the work while the other fags just lolly gag around like headless chickens like shooting senery team killing other team killers or just attempting to do some point less task like do loop the loops in the plane any way there i am killing the other team capturing bases gett bases captured by the other team then once the 5 vs 1 army have managed to get all my bases and kill me theres always a few fags that say get a fucken base and i think "oh you acualy care about playing now fucken prick" or ones that go around dong thier own thing while your sitting there waiting for them to caprure a base then after 13 of doing crap all they fianly notice we need a base so they aprroch a base in some way or another manage to pick out the most highly defenced base then kill them self by throwing a grenade in a silly place or just walking into a blatent trap.
Look at it. I dare you. It is absolutely hideous. It actually made my eyes cry tears of blood reading that, and I have told the poster so too. I hate people like that. He used ONE fullstop in the whole....thing!
---
Sovereign002
VIP Member
Adeptus Moderatus We purge with chain and bolter
105,915 XP
#23
13 years ago
Well i'm happy just as long as they don't write too many mistakes, A friend of me wrote that many mistakes that you just couldn't understand anything that he was saying. (by the way, are there any mistakes in this text?)
---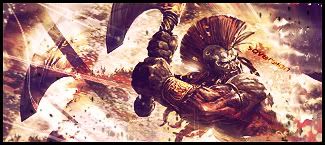 #24
13 years ago
Yeah, there is!
Correct version would be: 'Well, I'm happy, just as long as they don't make too many mistakes. A friend of mine made so many mistakes that you couldn't understand anything he was saying!'
---
#25
13 years ago
People who don't use paragraphs piss me off more than those who can't use "you're" properly. It just makes it hard to read and less modulised, which usually means I and many others I'm sure skip over the post in question. The same goes for those who intentionally change the font of their post via the advanced editor to something ridiculously small and stupid. I almost always skip those - if they intentionally make their post hard to read then I think they must be an idiot anyway.
Misuse of "you're" annoys me too, but I can stand it. It just makes me think less of the poster, that's all.
Let's not turn this into a battle of the hypocrites though. We all make mistakes.
---
#26
13 years ago
The worst are those that continually point errors out. If you can understand what the person is saying, leave it at that. Mispelling you're, there etc is small and there are larger things to be picky over :sillyme:
---
17th September 2004
0 Uploads
#27
13 years ago
Why do people try to make big problems out of insignificant annoyances?
---
#28
13 years ago
Much of the time it's prolly a typo...
---
#29
13 years ago
lol I didn't expect all this! I do see loads of you're instead of your though, which is lame cos that means "you are": "how's you're mum since the accident?"
Why do people try to make big problems out of insignificant annoyances?
it's an insignificant post about an insignificant subject!
---
#30
13 years ago
Why do people try to make big problems out of insignificant annoyances?
it's an insignificant post about an insignificant matter!
---