#21
14 years ago
I am sure you are doing the right thing, I would also have done that. My dog which i had from about 1993 died in 2004 from old age, She was given top quality treatment, But it came to the point where nothing more could be done for her. That dog was with me through Primary school, Secondary school and colledge. Even today i deeply miss her. Here is a pic of her: (Red eyes because of the camera)
Spoiler:
Show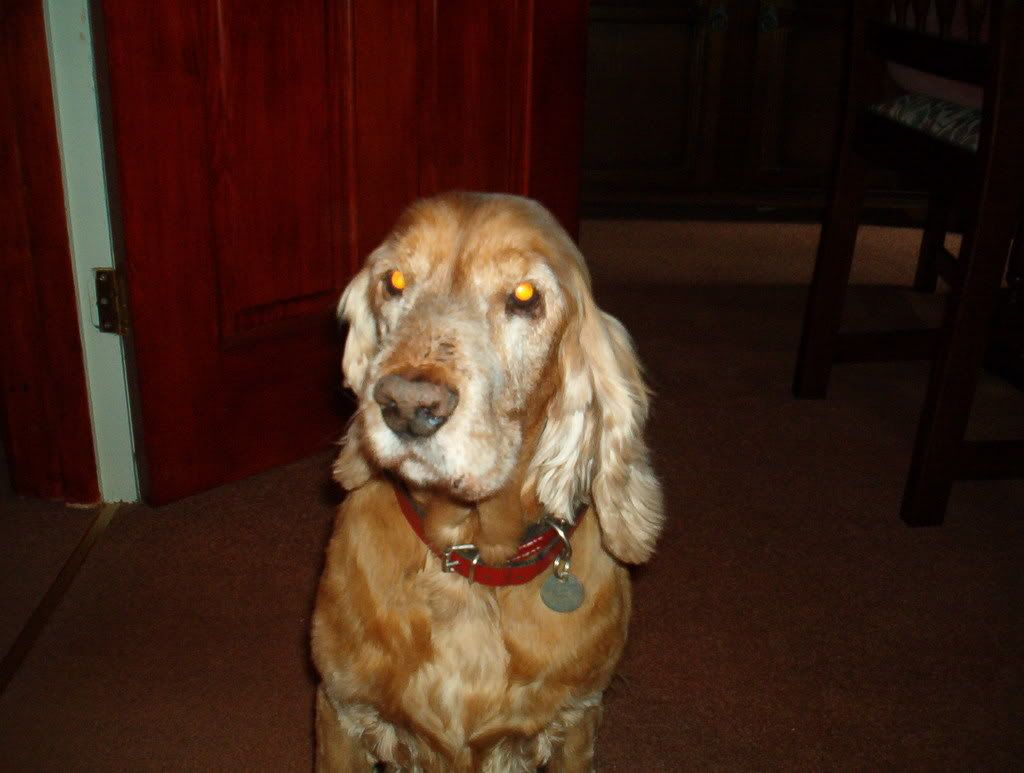 I very much hope you dog makes it through the surgery with no problems.
---
#22
14 years ago
I've always had Dobermans, and I was so sad to put the one before my last to sleep. She had many things going wrong and I couldn't even do it. I had to have one of my relatives take her or else I would've never stopped crying. My most recent Doberman was even worse. She had been biting her one back leg and then one day I let her out of the basement and she would not walk on that leg. If I touched it she growled and whined. It got worse and worse and when I took her to the vet they said she had cancer that had spread all through her leg and was taking her chest. I cried so much when I put her down.
Then I had a cat that died, and it was so sad. The weeks before, he had been doing this very strange breathing thing and it sounded like he was heaving but he had cancer that spread all through his lungs. He's the only pet I've found dead in my house and that made me especially sad to lose him.
---
#23
14 years ago
Pets are a wonderful reminder that nothing ever lasts forever and to cherish the moments you have. They are a bittersweet concept of our own mortality. I have lost several pets in the course of my life, I enjoyed the time I had and hope that they enjoyed the companionship when they were alive and that they are now in a better place. The most memorable was a little terrier (Kayla) that I had to give up when I moved into the city. I left her with a family that had 1200 acres, they were very loving, and I think as a show of appreciation, she gave her life for them. One day when she and her new master was on a hunt, they were surprised by a mountain lion that would have killed Tom if it were not for Kayla. Kayla apparently ripped the throat out of the cat, but suffered severe internal damage. They had no choice but to have the vet put her to sleep. I currently have one pet a cat, she is about 12 years old I know she has a few years left and it will be time for her to go…death is nothing to be afraid of people, it is just how you go that matters.
---
7th December 2003
0 Uploads
#24
14 years ago
I'm sorry for you. One of my dogs also had cancer, a tumor the size of a tennisball. The vet said that surgery wouldn't help and just gave us a vitamin-combination. The tumor just disappeared of it's own after a few months and the dog had 2 more years (then he was 18 years old) before it got so bad that he had to be killed. The worst thing about it was that the dog seemed to know exactly what was going on when we brought him to the vet the last time. Before our dogs were always very scared on the way to the vet and barked all the time, but that time he just looked at me in a very sad way as if he wanted to say "don't do that to me".
---
3rd September 2005
0 Uploads
#25
14 years ago
i feel your pain. my old dog had a heart problem for its whole life. the vet told us to take it back 2 days after we bought her. we didnt, she stayed with us and was a good dog. She died from her illness at mid-age. my new dog which i have had for a few years has had not problems and is the best dog i could have.
---
15th March 2004
0 Uploads
#26
14 years ago
my dog had kidney failure....then my cat....then....I got a new Dog he's kick ass dog lol...he barks at leafves...it's funny
---
[color=#000000][size=2][b][i]Heralds of the coming doom, Like the cry of the Raven, we are drawn, This oath of war and vengeance, On a blade of exalted iron sworn, With blood anointed swords
#27
14 years ago
I know how much pets can mean to you, sad for that to happen Mullet.
---
#28
14 years ago
I appreciate all the support guys! Thank you. I will let you know how the surgery goes.
---
21st December 2003
0 Uploads
#29
14 years ago
My last dog died when she went in for surgery on her leg. The anesthesia stopped her heart almost on the spot. Stay strong in the last months you have with her.
(She's a beautiful dog, btw)
---
#30
14 years ago
My dog, a beagle,is only 2 years old but I hate to think how I would go without her.It is very sad when a pet dies,almost unbearable.
---