#1
14 years ago
Well, Tropical Storm Frances completely missed my area, which is the ONLY part of florida that wasn't hit by it. After the weather people predicted it to be remaking landfall on our location, it made land fall about 75 miles east of us, and turned the other way...what a sissy.
Now, frances is gone, and caused about 23 - 26 deaths in the Florida peninsula. Not to mention major flooding and damage. The storm was actually not too strong (relative to its category), but because of its amazingly low speed, it flooded many low points of Florida.
Hurricane Ivan, on the other hand, is currently a category 4 hurricane, and completely ripped up the Caribbean. Ivan has already killed 10 people in Tobago, Grenada, and St. Vincent. The concern for me and my area, is that they are predicting, due to its current position, to possibly come into the Gulf of Mexico, and right up our alley.
For those of you who aren't familiar with the waters around Florida, the Gulf of Mexico is warm water, and therefore, will allow Ivan to strengthen. The governer's mansion on one of the islands in the Caribbean was completely torn apart. The significant thing about this, is the mansion was built of concrete.
I'll report back in with more info on Hurricane Ivan. For the record, here's some updated info on the storm.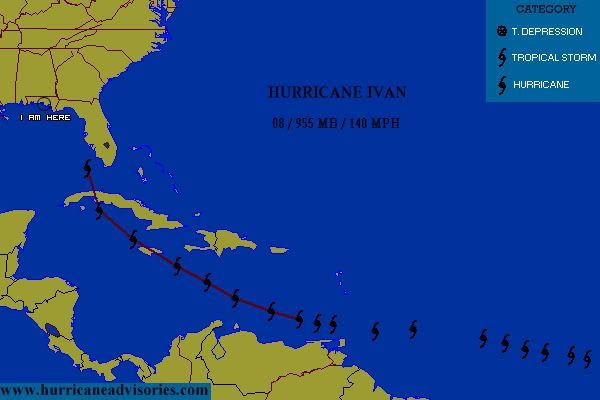 ---
#2
14 years ago
Holy shit man you're lucky!!!
---
#3
14 years ago
Damn, another one?!?! That's going to be 3 right?
---
#4
14 years ago
ExploderHoly shit man you're lucky!!!
Lucky? :uhoh:
---
22nd December 2003
0 Uploads
#6
14 years ago
i got this image from a doplar radar i made from a few tin cans, an old gameboy, a calculator, and a twinkie (i ate it)
no, as you can see from the scratched out top right, from the weather channel... (i added the logo in to scratch out
---
#7
14 years ago
That's a perfect image.
Lucky? Not this time around i don't think.
And yes, that would be 3; Charlie, Frances, Ivan
---
22nd December 2003
0 Uploads
#8
14 years ago
yeah, i know its perfect, i freehand sketched it.... i'm a gud drawder!
---
#9
14 years ago
ROFLMFAO GONERSON!!
I just read the text above and below it...for a second there i almost believed you :D
---