#101
14 years ago
Yeah, it's just not Christmas without the socks.:bawl:
---
#102
14 years ago
You can have a pair of mine.
---
#103
14 years ago
Suh-weet! You can wire 'em to me!
---
#104
14 years ago
I got an xbox 360,MP3 Player, and tooo many other things toi put on here those were just the big gifts!!
---
Sovereign002
Advanced Member
Adeptus Moderatus We purge with chain and bolter
105,915 XP
#105
14 years ago
A new DVD-r/rw and a DVD-player for the TV and some money too offcourse.
---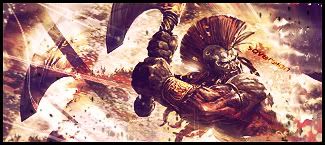 #106
14 years ago
A book... a Hershy Kiss ( The large one, unfortunatly i dont mean one not made of Choclate ), a Wireless controller, $50, True crime streets of LA ( Holy shit that game sucks ), Starwars Monopoly bitches! ( Whos up too lose? )... I think thats it.
---
#107
14 years ago
Lot of history related books, always a good choice for me. :p One of the most interesting is one dedicated to "what if?" scenarios. Historians talk about what the world may have been like if D-Day had failed or Socrates had not be forced to commit suicide, things like that. A few DVDs, finally saw Star Wars: Revenge of the Sith yet felt that the books were better this time. :p New Leatherman multi-tool, my other one was getting worn down after eight years of use. :uhm: Few other interesting trinkets...
---
Rod Menass
공화국의 영원한 주석
50 XP
29th March 2005
0 Uploads
#108
14 years ago
The Good, the Bad and the Ugly on DVD and Katamari Damacy for PS2. Gran Turismo 4 for PS2 is sadly not getting much use because I can't be assed to get the licenses. Got a new webcam for tinkering purposes (plan on turning it into an infrared cam) and a tiny digicam that eats AAA batteries. BF2 Special Forces and Dawn of War (and FEAR, now) for PC have been keeping me entertained. I got a nice red multicolored belt to go with my bright green one and a shirt with a rabbit on it.
And I talked my way into getting a MS Sidewinder Precision 2 stick before Christmas, along with a ton of CDs.
---