#1
13 years ago
I'm laying here in bed, surfing the forums on my laptop when I hear the blades of a chopper, maybe a few choppers, very close by. No TV helicopters fly that low, so it has to be something cool. I run outside in only my boxers and I look towards the sky to see 5 US Army blackhawks in formation going right over my house. I have no clue what they were doing here, the closest military base is Travis Air Force Base in Fairfield, and Beale Air Force Base in Marysville. This brought me to think about other times things like that have happened - military related - and it brought me to create this thread topic... [color=Red] What military related aircraft/ground vehicles incidents have happened to you? (like helicopters buzzing your house) Or...cool things, like having the Blue Angels fly in your town. (maybe a tank rolled by your house? :D)[/color] Personally, when I was at highschool last year, an old WW2 bomber, maybe a B17 or something buzzed the school. It looked like it was gonna crash into us, but then pulled up and flew very close above us. Another time, we were eating dinner, and some military jet let out a sonic boom over Santa Rosa...shaking our house amazingly. Lastly, an assorted amount of jets/helicopters have flown over my house. (also, Santa rosa is part of the approach to San Francisco Airport...so we see all the airliners waaay up in the sky everyday) When I lived in San Francisco I would see the Blue Angels every year and go to Navy Day.
---
#2
13 years ago
The last holiday I went on, I was walking along the Pennines (range of hills in Midland Britain) and two (I think they were either Harriers or F-somethings) flew over the crest of the hill I was on at the time. They could only have been 30 feet or so from the deck, the noise was unbelievable. After that a few more went past, but slightly higher up.
---
#3
13 years ago
Well, we've had a few helicopters, but mostly you can see military stuff on the highways. There's an army reserve base near us, so sometimes you can see a lot of different army trucks on the highway around there.
---
#4
13 years ago
from time to time, a navy helicopter flies over my house, and sometimes some of the danish airforce F16s fly over my summer house.
---
27th April 2003
0 Uploads
#5
13 years ago
At school once 3 Ah 64 Apaches flew over
---
28th November 2003
0 Uploads
#6
13 years ago
Haha, I was thinking of making a thread like this! Because this morning a Hkp 4C (see pic below) flew like 50-70m over my house, scared the shit out of me!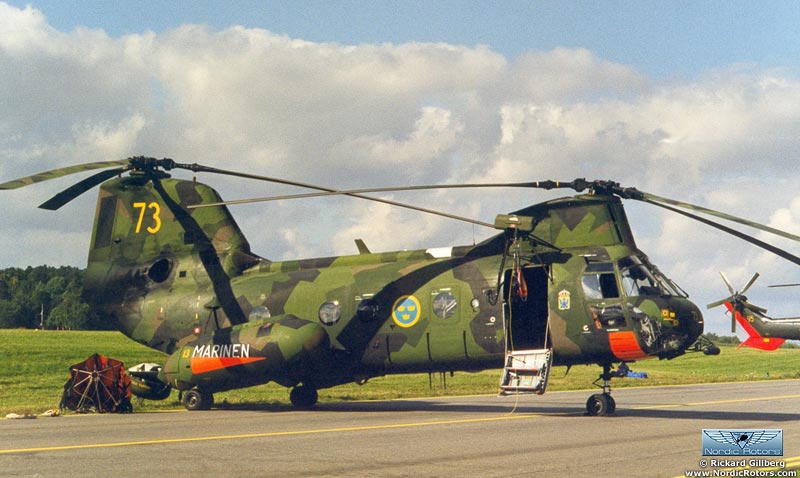 A formation of 2 JAS 39 Gripens (see pic below) has also flown over my summer house about 3-4 times. It's neat stuff.
I also remember once when I was a kid (this was along time ago, just so I can remember it), when we came home from a trip with our sailboat there was like 200-300 soldiers and a few tanks running around at the parking lot and the forest surrounding it. I started to cry :lol:, it turned out to be an army exercise.
---
Rod Menass
공화국의 영원한 주석
50 XP
29th March 2005
0 Uploads
#7
13 years ago
A few F-15s flew right over my house a few weeks ago. They were loud and low, and even though commercial jets fly over a lot, I ran outside to see what the hell was going on, and I had a few seconds to see them.
---
7th November 2003
0 Uploads
#8
13 years ago
I live near the Dutch (former) airforcebase of Soesterberg. Americans were staying here that time... The Dutchies still use it for some purpose, dont know what but when choppers and all fly, it's pretty loud..
---
6th December 2004
0 Uploads
#9
13 years ago
I've seen many jets fly past my head on WW2 Remembrance day. Red arrows flying past my head, old WW2 planes flying past my head and all sorts! I even saw one of those carriers!
- Carrier.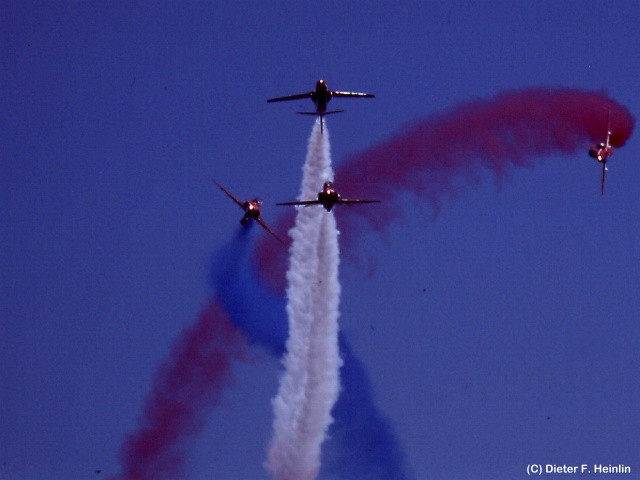 ^Red Arrows. I hear (and sometimes see, but I can't see it very well to work out what it is) a military jet doing a patrolling every week or something. I see helicopter patrolling the town also, but I don't think that's a Military Heli. ;)
---
#10
13 years ago
I have had chinooks, blackhawks, apaches (or cobras...to far away to tell), the stealth bomber, and the goodyear blimp
---