9th August 2003
0 Uploads
#11
14 years ago
It can play pr0n. :nodding: :D My brother gave it to me for christmas 2 years ago because he didn't need it anymore and he'd gotten it as an option on the renewal of his contract.
---
28th November 2003
0 Uploads
#12
14 years ago
Sony Ericsson T610, a great phone (the camara sucks but I don't really care about that).
---
11th March 2005
0 Uploads
#13
14 years ago
I had a Siemens C55, got it stolen (thank god), and now planning to buy either Nokia 3510i or Siemens M55.
---
25th January 2004
0 Uploads
#14
14 years ago
Siemens C45 No color screen No poliphonic ringtones No camera No radio No MP3 player No Satelite navigation It does this weird thing... it makes phone calls!!!! :dropsjaw:
---
#15
14 years ago
Samsung SCH A670 Verizon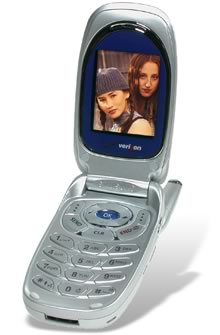 ---
#16
14 years ago
i be owning a Motorola V620
---
#17
14 years ago
Here was my very first cell phone. Ain't she nice.
---
14th September 2004
0 Uploads
#18
14 years ago
I have t or nearly two years now, a nokia 3300a. I can even play the latest java2D games on it. And it has a MP3 player, with a radio. Ha ha. As if anyone cares. This phone is just old. It has a strange shape too.
I love gadgets that seem strange.
---
Phoenix_22
Advanced Member
46 and 2, are just ahead of me
255,785 XP
23rd September 2004
0 Uploads
#19
14 years ago
I hate you all :'( god, mine sux soooooooo much. I think it is a Nokia 2000 or something like that, just about the crappiest base model phone out there...it takes 5 minutes to turn on, on a good day. But this is the one i want:
Oh god.../me drools.:bows::bows:
---
#20
14 years ago
Does anyone have the Motorola Razr? I am thinking about getting one and want to know if it's worth it. thx
---