#1
13 years ago
Recently, I have been doing a lot of serious weight lifting and love the changes it has made in my body. Does anyone else here workout or love to weight lift?
---
Sovereign002
Advanced Member
Adeptus Moderatus We purge with chain and bolter
105,915 XP
#2
13 years ago
Me and my matey Sov001 go to the gym about twice a week. Biceps, triceps, chest and abdomen mostly. We've been taking heavy weights for about a month or two now. It's hard sometimes, but in a way it's fun too.
---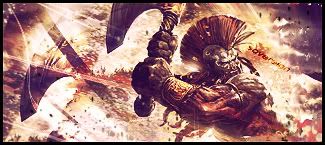 #3
13 years ago
Yeah, I love the getting the "pumped" feeling. It's so awesome to see your muscles get pumped up and to see your veins pop out. If you want to get massive, you should also train your back and legs. Doing heavy compound lifts like squats, deadlifts, barbell rows, bench presses, etc. causes your body to release growth hormone and other muscle building chemicals.
---
#4
13 years ago
Dose this inclued sports? If so, I love basketball, soccer, and taekwondo, I get a pretty get good work out out of those. Like sacrafices, gutchecks, lots of running drills.
---
#5
13 years ago
I don't really workout at the gym, but I run and do push-ups, pull-ups, and sit-ups. I play soccer, so it helps to run a lot and keep my body in shape. I'm not really looking for tons of muscle mass until I feel like I've worked my body up to it. I'm really into running and I want to get good at that, so I'll be focusing mainly on my legs.
---
#6
13 years ago
I don't work out at a gym, I do basic things. On a day when I want to work out I will start out with 10 min of stretches. Then I will do 15 min of wall sits(Hard and takes ALOT of concentration) Then I do 75 pushups and 30 sit ups. I move onto 45 pull ups. Then I do 20 min of jump rope(Helps a lot in endurance) Then I run 3 miles, come home smoke a joint and chill out. I don't recommend smoking and trying to stay fit, I just love bud so yeah. =/
---
#7
13 years ago
oh my god you smoke marijuana?? dude that is against the law and will make you go crazy
---
#8
13 years ago
ZomG!!!, MY brains are FRIIIIIIIEEEEDDD. Jk, It is against the law... and no it doesn't make you go crazy, fortunately....
---
#9
13 years ago
It made me go crazy, and now look what I am: happy!
I know. WTF! Happy!??
---
#10
13 years ago
Aeroflotte;4016604It made me go crazy, and now look what I am: happy!

I know. WTF! Happy!??
Well I've been smoking for 8 years, and I'm perfectly fine. =) any ways, back on topic.
---