#1
13 years ago
Yesterday while playing Half-Life: Opposing Force a bit I teleported myself with Displacer Device to that certain Xen location where you also get teleported to during Resonance Cascade in Half-Life. Therefore I checked the original game to make sure it wasn't creation of Gearbox team and well, screens wich you can see below come from Half-Life Soruce. I've never noticed it before, but there appear to be 3 collosal towers (nothing like those weird skinny, tall green rocks) on three levitating (like any other land in Xen) on huge pices of rock with smaller around them. Although things are painted on the skybox they are still pretty detailed and look like some structures.
In case someone wouldn't know wich location I mean, here's a screen:
Spoiler:
Show
There are already pretty obvious clues on Universal Union - Combine presence in Xen at teh time of Half-Life. From the fact that Black Mesa administartor - dr Breen was very interested in the test wich caused Resonance Cascade to interior of citadel like factory we see in the Xen, finally with Nihilanth as the overseer and slave at the same time wich he admits himselve. So apart from this being another proof it's just interesting sighting imo. We've never seen outside of the structure we fought in at the end of Half-Life and one of these could be pretty much it.
---
#2
13 years ago
Interesting, Iv'e seen the towers to, but I dont think Value was thinking about HL2, the combine and the citadel in the making on HL1 and Opposing Force. But I could be mistaking.
---
#3
13 years ago
Mark Laidlaw surely has full story concept, but yes, Citadel wasn't fully developped concept in the beginning of Half-Life 2 developement. Still though, they wanted some alien structure in the middle of City 17 from the very beginning. As it seems from Raising the Bar book.
---
25th April 2004
0 Uploads
#4
13 years ago
The combine were not a Xen acording to laidlaw
2ltben: In the September 2005 issue of PC Zone, Doug Lombardi stated in an interview that the Combine wern't in control of Xen during the course of HL1. He said that the Nihilanth's homeworld was invaded by the Combine, prompting the migration and takeover of Xen by [the Nihilanth]. Is this HL2 canon? And if so, are the Vortigaunts enslaved only the Earth Vortigaunts, or is the Combine in control of Xen at the contemporary date?

Marc Laidlaw: Yes, that's fairly accurate, and I'm pretty sure Doug was restating something I'd told him; I [am not] clarifying it, since it's the foundation on which the series continues. What we saw in HL1 was the very end of a long struggle between the Combine and the last of the Nihilanth's race...although it's a bit different than the word "prompted" implies. The Nihilanth's "world" (if it could be said to have) was long since in the past as far as the Nihilanth was concerned; Xen was their final retreat, and they had their back to the wall, as it were, when the fissure appeared that let them spill into our dimension. Xen itself is sort of a dimensional transit bottleneck--an area of continual contention.
---
#5
13 years ago
That's very interesting, I missed that since I basically didn't read any interviewes. Well, it has raisen alot of questions though and prepare to read through very chaotic thoughts expression.:p That makes alot more sense now with what Nihilanth says '...the last, I am the last, I am...' and possibly '...their slaves, we all are their slaves, we all are...' referred to his own world wich he had to left behind, though why 'we all'? That doesn't explain though why, how and by who the Vortigaunts were enslaved. Till now they seemed to have strong relevance to Xen with all the cristals and teleportation abilitys, just like Nihilanth himself. Additionally they look quite similar. Nihilanth himself seem to be technologically modified and be wearing some kind of bounds, so are Vortigaunts. In Half-Life 2 they seem to imply thoguh that they were bounded to him and didn't held much admiration to his cause. This would lead to believe that they were enslaved by Nihilanth himself, but then why do we also see Combine putting same 'rings' around their necks, and now why Nihilanth being slave himself would enslave others, unless willingly (as Vortigaunt seem to say themselves, since would they dislike him if he would do this against his will?). Now it seemes that soldier factory and Xen exploatation was Nihilanth's desperate move and trail to conquer Earth before the Combine. Then did they took advantage of possible Breen's plan to open the way for Combine, and attacked themselves in the course of Resonance Cascade? One could theorise that sample in test chamber (wich is the missing crystal from Nihilanth's chamber) was infact allowed to be taken from Xen to cause the catastrophy, but alot at the same time indicates that BM administrator was very 'interested' in the test and knew what'll happen. This all got alot more interesting.:)
---
21st October 2005
0 Uploads
#6
13 years ago
#7
13 years ago
Those skyboxes never came from HL:Source. It's from Half-Life, and that's the way it's been. And what your'e looking at has always been there. Nothing against you really, that's just the way it's been. :D
---
#8
13 years ago
Read my post again, I have never said that those are not in original Half-Life, I jsut mentioned that I've seen them in Half-Life: Opposing Force but taken in Half-Life: Source since it's a bit easier to navigate through it with a console.;)
---
#9
5 years ago
8 years later...
The skyboy texture reveals that it is just a regular alien pillar on an asteroid which you encounter throughout Xen all the time.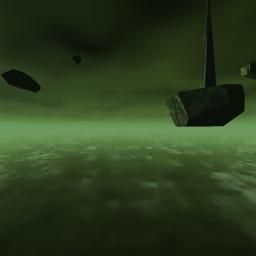 ---